36th America's Cup: Emirates Team New Zealand and Luna Rossa Prada Pirelli still locked together
The third day of the America's Cup Match saw both teams gain another victory apiece to lock the first-to-seven contest at 3-3; racing continues on Sunday, and every race day will be live on Sky Sports from 3am
By Emma Thurston
Last Updated: 13/03/21 12:35pm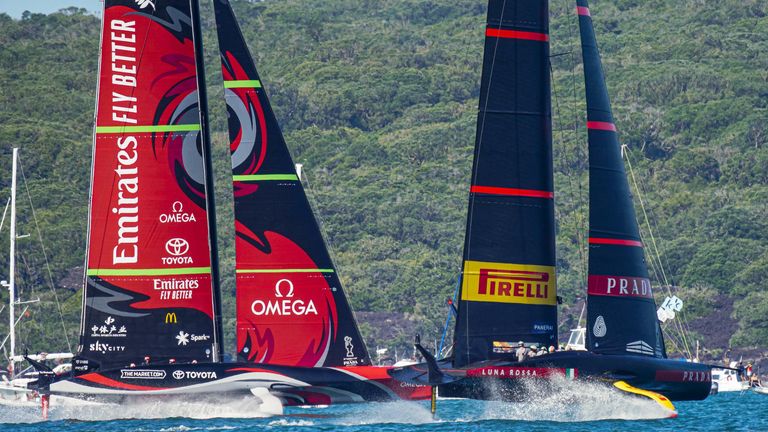 After the third day of racing in the 36th America's Cup Match, it remains all-square between the challenger and defender as each team gained another victory apiece on Saturday.
The first-to-seven victories contest, which is now locked at 3-3, followed the same pattern as the previous days of racing with neither team being able to stamp their authority on both contests.
Saturday's action took place in lighter air conditions (around nine knots) and once again, the pre-starts were a crucial factor in determining the respective race winners.
Luna Rossa Prada Pirelli secured the opening duel by 18 seconds before Emirates Team New Zealand bounced back to finish the day on a high, with a one-minute and 41-second result in the second race.
The action continues on Sunday with races seven and eight, and after that there will be two races each day until the winner of the 36th America's Cup Match is decided.
36th America's Cup - Live on Sky Sports from 3am each race day
| | |
| --- | --- |
| Sunday, March 14 | Races Seven and Eight |
| Monday, March 15 | Races Nine and Ten |
| Tuesday, March 16 | Races 11 and 12 |
| Wednesday, March 17 | Race 13 |
Luna Rossa show agility in race five
With the wind floating just above the average required for racing, both teams went into the start sequence of race five with their senses heightened.
On AC75s, coming on and off the foils is an incredibly difficult dynamic to manage, and Luna Rossa Prada Pirelli showed their ability to do that well in the moments before crossing the start line.
Both teams had approached the line a little early, so needed to slow down, and with their greater dexterity, Luna Rossa Prada Pirelli were able to gather themselves quickly and leave Emirates Team New Zealand behind.
Just minutes into the first leg they had opened out into a 250m lead and following strong communication and decision-making from Francesco Bruni and Jimmy Spithill, the Italian challengers stayed controlled and never looked back.
36th America's Cup Match - Race Results
| Race Five | Race Six |
| --- | --- |
| Course: A | Course: A |
| Current: 0.4 knots @ 194 | Current: 0.4 knots @ 194 |
| Start time: 4.15pm | Start time: 5.15pm |
| Wind: 8-9 knots | Wind: 8-9 knots |
| Winner: Luna Rossa Prada Pirelli - 0.18s | Winner: Emirates Team New Zealand - 1m41s |
A spot of America's Cup history
With their victory in race five, Luna Rossa became only the seventh challenger in 170 years to score three points or more in an America's Cup Match.
Emirates Team New Zealand hit back
The conditions remained the same for the second race, however, this time Emirates Team New Zealand were the ones to gain the advantage from the get-go.
The defender applied the pressure in the final 30 seconds of the restart. Exactly when Luna Rossa Prada Pirelli encountered a light patch of air, the home team surged, and they reached the start line sailing 10 knots quicker than their Italian opponents.
With that level of advantage, no team has lost a race yet in the America's Cup Match, and although the patchier and lighter wind conditions increases the risk to both outfits, Emirates Team New Zealand kept their foot to the floor.
A 51-second lead at gate one turned into 67 seconds at gate two, by their final rounding of the top gate they were 1400m ahead.
Spithill focused on the present
Jimmy Spithill, co-helmsmen on Luna Rossa Prada Pirelli, has been in four America's Cup finals, so he knows the importance of taking each race day as it comes.
After securing race five, the Italian team could have gone 4-2 up in the series, had they replicated that feat again in race six. That did not happen, but the Australian will not be losing too much sleep over what could have been.
"It just goes to show how tough the racing is out here," Spithill said of their missed opportunity to edge ahead in the series.
"It just takes one bit of split-second timing or a lack of wind, and instantly you can be on the back foot in a big way, as we saw in both starts actually.
"We'd love to be 6-0 up, and you could think that we missed opportunities in those other three races, but when you are going against the best in the world [you can't think like that].
"This is two great teams battling it out in tough conditions - sailing these boats in the bottom end of the wind range is very technical and changes quite quickly.
"From a sporting point of view, it's fantastic to see it being so close and to see that there's a fight on."
Watch every moment of the America's Cup challenge, live on Sky Sports. Coverage continues with the fourth race day of the 36th America's Cup Match on Sunday from 3am.