Stipe Miocic defeats Francis Ngannou to defend heavyweight title at UFC 220
By AP Sport
Last Updated: 21/01/18 8:51am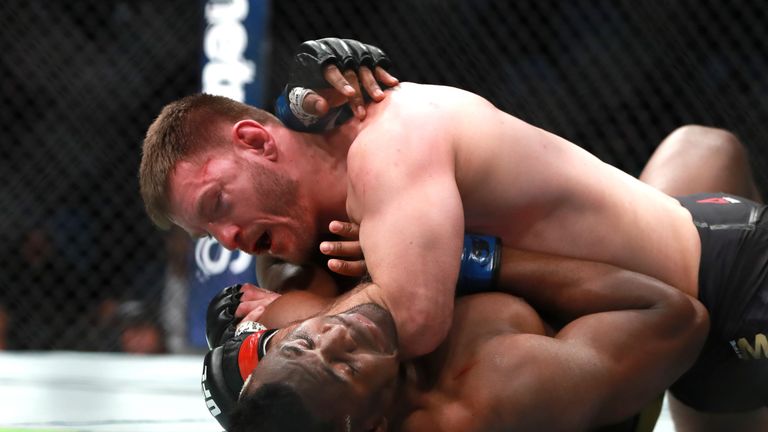 Stipe Miocic set a new UFC heavyweight record with his third straight successful title defence, turning the anticipated slugfest against Francis Ngannou into a methodical ground-and-pound bout to win the main event of UFC 220.
Miocic won 50-44 on all three scorecards on Sunday and was never seriously tested by the raw but unrefined Ngannou.
"He's a tough dude. Caught me in the first round but I took control," Miocic said.
"I think I underestimated [him] a little bit," said Ngannou, whose rise from homeless to heavyweight contender captivated a sport eager for a new star.
Miocic beat Fabricio Werdum to win the heavyweight title in May 2016, and followed with wins against Alistair Overeem, Junior dos Santos and now Ngannou to write his name into the record books.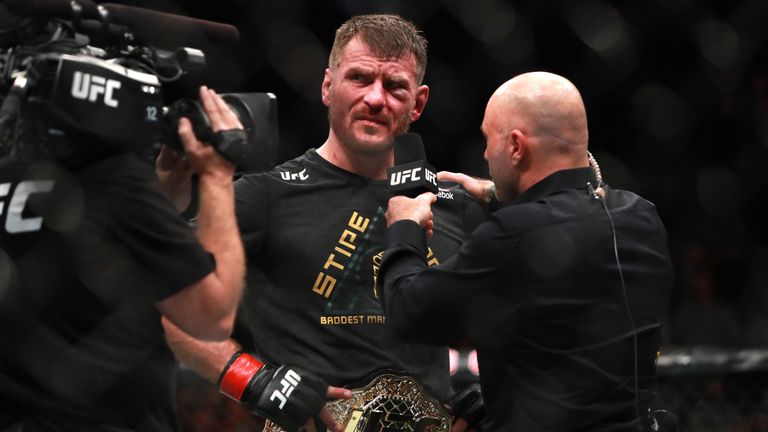 Daniel Cormier put on a dominant effort to defeat Volkan Oezdemir via TKO to retain the 205-pound belt.
Cormier was awarded the title in September after Jon Jones was stripped of his light heavyweight championship when he failed his latest doping test.
Cormier has lived in Jones' shadow for the last few years of his career, but against Oezdemir, he proved worthy of the title.
The 38-year-old nearly put away Oezdemir in the first round before the bell sounded with the Swiss under pressure.
However, Cormier pinned Oezdemir against the canvas early in the second and finished him off with a series of shots to the face.
"I've lost twice to Jon Jones," Cormier said. "I said coming in here that I felt like I was fighting for a vacant title again. I got the job done, so I'm the UFC champion again. I can't ignore what happened in July. I'm a competitor. Even though I came in here as a champ, I needed a win to feel like one."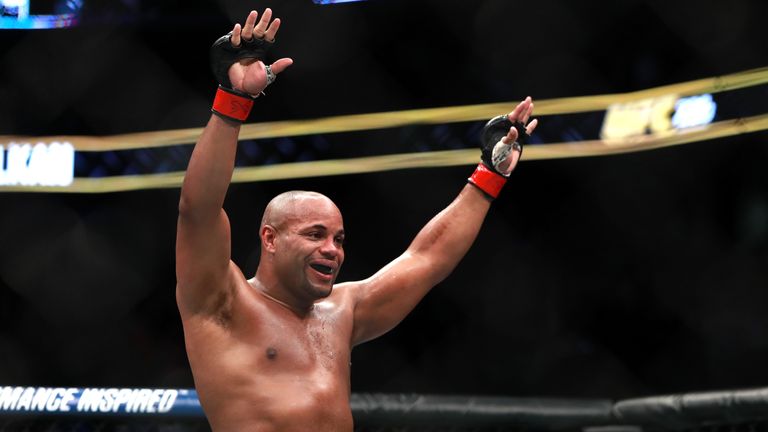 "I proved I'm worthy of being called champion, but Volkan's on that level," Cormier added. "Every guy who makes it to this point is on the level. Volkan Oezdemir, I leave a piece of myself with every opponent. I'm glad you can take a piece back with you to Switzerland."
On the undercard, Islam Makhachev needed just one left hand and 57 seconds to knock out Gleison Tibau in the first preliminary bout, while Abdul Razak Alhassan caught Sabah Homasi flush with a right uppercut in the first round for one of the more spectacular knockouts in recent UFC history.
Meanwhile, Chael Sonnen defeated Quinton 'Rampage' Jackson by unanimous decision at Bellator 192 to advance to the semi-finals of the Heavyweight World Grand Prix Tournament.