DeMar DeRozan got the better of a scoring duel with rookie Luka Doncic as the San Antonio Spurs outlasted the Dallas Mavericks in a 113-108 overtime win.
DeRozan, traded to San Antonio from the Toronto Raptors in the offseason, nailed 12 of his 21 shots on his way to 34 points in 42 minutes.
The Spurs gunner ultimately won the game for his team but was pushed all the way by Mavericks rookie guard Doncic, who scored a career-high 31 points.
With four minutes remaining in the fourth quarter, Doncic followed his own missed lay-up to score with a tip-in that tied the score at 94-94. He followed that up immediately with a deft 'teardrop' shot inside the paint to give the Mavs the lead.
But DeRozan would respond, executing a sweet spin for an easy lay-up to bring the Spurs back within one point with 73 seconds remaining. He then made two clutch free throws to give the Spurs the lead but committed a foul that allowed Dennis Smith Jr to connect with 1-of-2 from the line to tie the game at 102.
DeRozan then missed a difficult turnaround jump shot to win the game as time expired but made amends in overtime.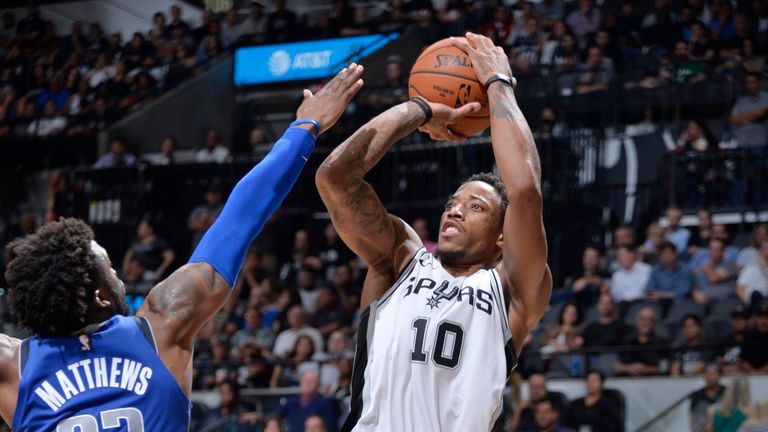 Undeterred, DeRozan simply took over in the extra period, teasing Wesley Matthews with crossover dribbles before blowing past the Mavs defender for a lay-up. He followed that up with a step-back jumper over Matthews to close out the win.
Monday night's results
Toronto Raptors 109-124 Milwaukee Bucks
Golden State Warriors 149-124 Chicago Bulls
Brooklyn Nets 96-117 New York Knicks
Los Angeles Lakers 120-124 Minnesota Timberwolves
Portland Trail Blazers 103-93 Indiana Pacers
Atlanta Hawks 92-113 Philadelphia 76ers
Sacramento Kings 123-113 Miami Heat
Dallas Mavericks 108-113 San Antonio Spurs
New Orleans Pelicans 111-116 Denver Nuggets
Sky Sports is the new home of the NBA in the UK with live coverage throughout the week, including selected live games free to all Sky subscribers via Sky Sports Mix.
And www.skysports.com/nba will be your home for news, reports, video and features throughout the season while you can follow us @SkySportsNBA