With the Golden State Warriors' superstars orbiting around his gravitational pull, Draymond Green is the furious force that holds the defending NBA champions together, writes Ben Reynolds.
Live NBA: Golden State @ Portland


Golden State Warriors 2-0 Portland Trail Blazers
Game 3: Warriors @ Trail Blazers, May 19, 2am
Game 4: Warriors @ Trail Blazers, May 21, 2am
Game 5 if necessary: Trail Blazers @ Warriors, May 23, 2am
Game 6 if necessary: Warriors @ Trail Blazers, May 25, 2am
Game 7 if necessary: Trail Blazers @ Warriors, May 27, 2am
All games broadcast live on Sky Sports Arena
Rarely does the name Draymond Green make it onto an SEO-friendly headline.
In a recent poll conducted by The Athletic, the 29-year-old power forward was voted the most over-rated player in the NBA.
And when he does make the headlines, it's often been for the wrong reasons. Not only over-rated then, but occasionally a liability too. After all, plenty blame him for Golden State's capitulation to the Cleveland Cavaliers in the 2016 Finals.
To recap that particular episode, Green had already earned a Flagrant Foul 2 for kicking Steven Adams in the groin in the Western Conference Finals when he repeated the trick on LeBron James in the Finals.
A suspension followed and with the Warriors 3-1 up in the series, Cleveland pulled out three straight wins and won the title.
There have been more recent problems.
An argument with Kevin Durant during an overtime defeat to the Los Angeles Clippers in November 2018 led to a one-game suspension for "conduct detrimental to the team" and a fine of over $120,000.
With his play in the regular season also on the slide - he lost his shot and looked out of shape, averaging 7.4 points per game on 44 FG%, 29 3PT%, 69 FT% shooting at one point - maybe the over-rated tag was fair. Maybe he was more trouble than he was worth for the Warriors.
His box score for the Game Two win over the Portland Trail Blazers on Thursday night - 16 points,10 rebounds and seven assists in 33 minutes - was impressive, but not elite. Oh, he also had five blocked shots. Standard Draymond defense, suffocating the opposition.
Yet here we are again, with the Warriors - without the injured Durant - two wins away from their fifth straight Finals appearance and Green, in reality, is holding it all together.
Draymond Green is the fourth player in NBA history to record 100+ rebounds and 100+ assists in at least five straight postseasons. The others are Magic Johnson (1982-1988), Larry Bird (1984-1988), and Michael Jordan (1989-1993).

— Justin Kubatko (@jkubatko) May 15, 2019
Green is not Johnson, Bird or Jordan, but his importance to this team cannot be overstated, yet is often understated.
Which other team would have deployed the seemingly-undersized Draymond as a defensive anchor in the way Steve Kerr did in 2014/15? Now look at the teams that try to replicate that defensive scheme, yet none of them can match the Warriors' efficiency because of Green's ability to defend all five positions on the court.
He is the quiet, furious force that allows others to create eye-catching headlines and jaw-dropping Instagram clips. In their 14-3 run over the final 4:28 of Game 2 against the Blazers, Green scored or assisted on all five plays.
His lightning-quick decision-making and precise passing make him the perfect foil for Curry, Thompson and Durant. If Curry is double-teamed, he'll instinctively, instantly, find Andre Iguodala for an uncontested dunk.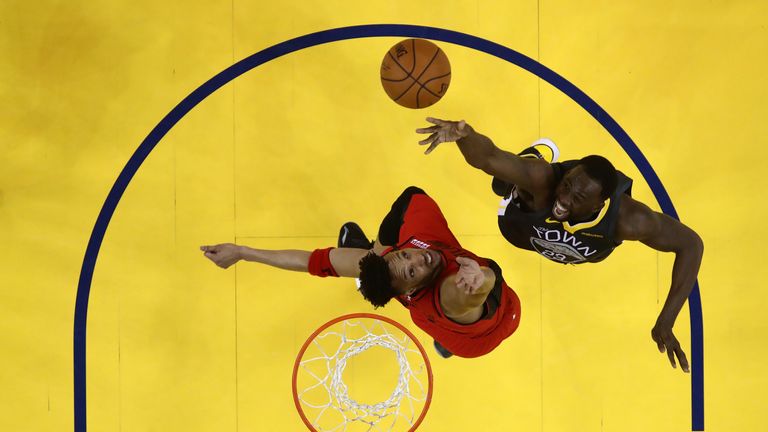 He is perfectly happy scoring no points if his play is facilitating game-winning buckets for his team-mates.
"You know, I love to make a play for someone else more than I even like shooting the ball, and I've been that way my whole life," he said after Game 2.
He might play on the absolute limit of what is acceptable, a near-constant flirtation with the cliff-edge - check out James Harden's eye after Game 2 of the Houston series or the blindside screen that flattened Austin Rivers 50 feet from the hoop in Game 3 - but he leaves everything on the court and drags his team-mates along with him.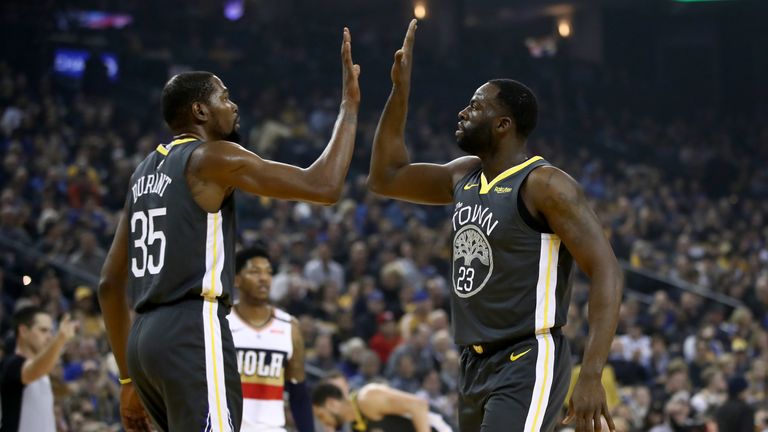 With four superstars orbiting around his gravitational pull, he is the middle dot on the dice, the centre of the quincunx.
Speaking after Game 2, Kerr said: "The way people play Steph allows Draymond to be the playmaker frequently in our games because he catches the ball out of the traps, and he's just a great passer and great decision-maker, throwing the lob, throwing the cross-court passes.
"He's a fantastic two-way player and a guy who was just been irreplaceable around here for a long time."
With Green due to hit free agency in 2020, we may find out how irreplaceable he is before too long, although it's certain those inside the Warriors organisation know just how ludicrous that over-rated tag is.
And in the meantime, he will continue to quietly, and not so quietly, lead these Warriors into historic waters.
Watch Golden State Warriors @ Portland Trail Blazers Game 3 live on Sky Sports Arena in the early hours of Sunday morning (2am)
Want to watch the NBA but don't have Sky Sports? Get the Sky Sports Action and Arena pack, click here.