The Houston Texans beat the Oakland Raiders 27-14, taking advantage of key injuries to progress to the divisional round. Connor Cook became the first rookie quarterback to make his starting debut in a play-off game, but struggled under the pressure.
In 140 Characters...
Brock Osweiler stayed mistake free, while the Texans defence bullied a depleted Raiders attack, which struggled to maintain rhythm.
MVP
Whitney Mercilus led a dominant defensive performance for the Texans. Two sacks and seven tackles, three for loss, made it a tough debut for Cook.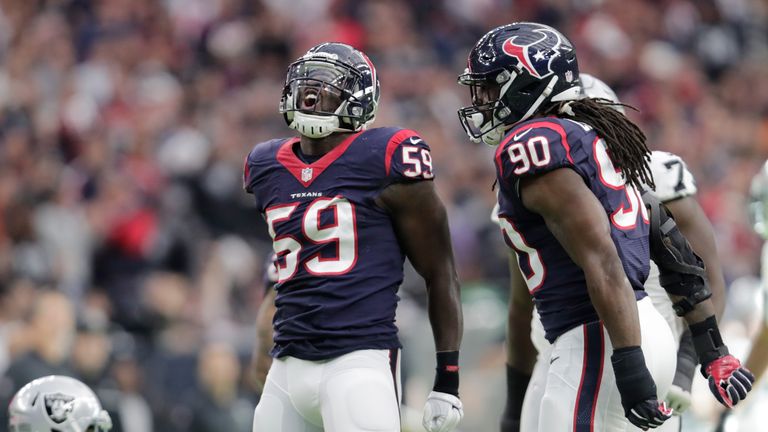 Game-changer
After the Raiders' second touchdown, it looked as though they might be rallying for a fight back. However, on their next possession, Cook threw a high pass over Amari Cooper and into the arms of Corey Moore, extinguishing any last Oakland hope.
Stat of the night
19 - Bill O'Brien has a 100% win record as head coach of the Texans, when his team lead at half time. That's 19-0, for those counting.
Scoring Summary
| | | |
| --- | --- | --- |
| 1st Quarter | | |
| OAK 0-3 HOU | FG - N. Novak 50 yd | |
| OAK 0-10 HOU | TD - L. Miller 5 yd rush | Extra Point - N. Novak |
| OAK 7-10 HOU | TD - L. Murray 1 yd rush | Extra Point - S. Janikowski |
| 2nd Quarter | | |
| OAK 7-13 HOU | FG - N. Novak 38 yd | |
| OAK 7-20 HOU | TD - D. Hopkins 2 yd pass - B. Osweiler | Extra Point - N. Novak |
| 3rd Quarter | | |
| 4th Quarter | | |
| OAK 7-27 HOU | TD - B. Osweiler 1 yd rush | Extra Point - N. Novak |
| OAK 14-27 HOU | TD - A. Holmes 8 yd pass - C. Cook | Extra Point - S. Janikowski |
The game
Houston got out to an early lead, taking advantage of a short punt from Marquette King. From 50 yards, Nick Novak slotted the field goal, before they got the ball back, courtesy of Jadeveon Clowney's first career interception. 
Taking over at the Raiders' five-yard line, running back Lamar Miller made no mistake, cutting to the left-hand side and into the corner of the end zone. 
Oakland made it 10-7 after Jalen Richard returned a punt 37 yards. Latavius Murray added 29 yards from three runs on the drive, before completing the score from the one-yard line.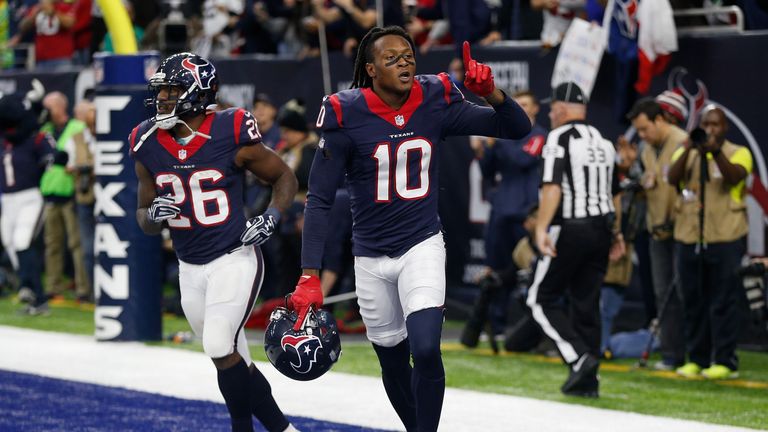 Novak added another field goal early in the second quarter, and Houston scored again with a minute left to play in the half. Osweiler, back in the team after Tom Savage failed to recover from a concussion sustained in week 17, connected with wide receiver DeAndre Hopkins for a 38-yard gain, before finding the veteran again, this time for a two-yard end zone throw to complete the drive. 
It looked as though Houston may have added another score at the end of the third quarter, as Tyler Ervin returned Marquette King's punt 57 yards all the way to the end zone. However, the touchdown was chalked off, because of a late hit on the kicker by Mercilus.
They did make it 27-7 early in the fourth, driving 53 yards in seven plays. Osweiler finished the score himself, scrambling in from a yard out. 
Cook threw his first play-off touchdown pass, connecting with rookie wide receiver Andre Holmes, but threw a costly interception to Corey Moore on the Raiders' next drive, handing possession back to Houston, who were able to wind down the clock. 
The Texans played mistake-free on offence, which allowed their defence to make plays and keep Cook under pressure. They will now face either the New England Patriots (if Pittsburgh beat Miami), or the Kansas City Chiefs in the divisional round.