NFL confirm dates and times for International Series in London
By Tom Julian
Last Updated: 21/04/17 3:59pm
NFL UK fans received final confirmation of the dates and times for all four International Series games to be played in London, as part of the 2017 season.
The NFL has confirmed that both Wembley fixtures, which involve the Baltimore Ravens and Jacksonville Jaguars in week three, followed by the Miami Dolphins and the New Orleans Saints in week four, will both begin at 2:30pm UK time.
Following the release of the complete 2017 schedule, the NFL also confirmed times and dates for the two Twickenham games. The Arizona Cardinals will play the Los Angeles Rams on Sunday October 22 (week seven) at 6pm BST, while the Minnesota Vikings and the Cleveland Browns will face off a week later, with their game kicking off at 1:30pm GMT.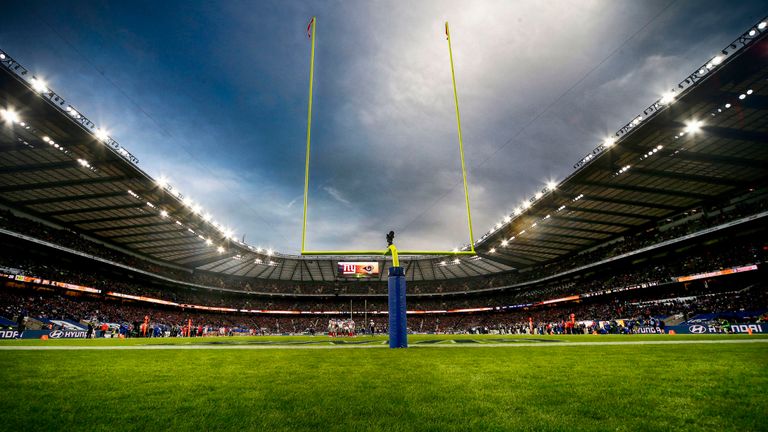 NFL London games
| | | | |
| --- | --- | --- | --- |
| September 24, 2017 | Baltimore Ravens at Jacksonville Jaguars | Wembley Stadium | 2:30pm BST |
| October 1, 2017 | New Orleans Saints at Miami Dolphins | Wembley Stadium | 2:30pm BST |
| October 22, 2017 | Arizona Cardinals at LA Rams | Twickenham Stadium | 6pm BST |
| October 29, 2017 | Minnesota Vikings at Cleveland Browns | Twickenham Stadium | 1:30pm GMT |
The series sees a London debut for three of the eight teams, with the Ravens, Browns and Cardinals all making their first appearance in London. The Jaguars have 'hosted' a home game at Wembley every year since 2013, and have plans in place to continue until 2020.
Newly appointed Jaguars head coach Doug Marrone is familiar with London, having played as quarterback for the London Monarchs in the NFL's now-defunct World League.
It is the first time four regular season games - half a regular season home fixture list - will be played in London, marking another potential step towards an overseas franchise.
Super Bowl winning quarterback Kurt Warner believes there is an "international excitement" surrounding the NFL, and the possibility of a permanent team in the UK.
To hear more of Warner's thoughts on the growing NFL presence in the UK, watch the video above.