Two of football's best offenses, and two of its worst, meet on Sunday's live NFL triple-bill on Sky Sports.
Kicking us off on Sky Sports Action (407) from 5.30pm are the owners of the NFL's best record, the 7-1 Philadelphia Eagles - giving us the chance to have a first look at Jay Ajayi in action for his new team - up against the meanest defense in the league in the Denver Broncos (3-4).
Next, at 9.25pm, it's a battle between two top five offenses as the Kansas City Chiefs (6-2) travel to Dallas to take on the Cowboys (4-3), who have star runner Ezekiel Elliott available once again.
While, finally at 1.20am, the dire Miami Dolphins (4-3) offense, minus the recently traded Ajayi, host the Oakland Raiders (3-5) who, despite their star-studded line-up, have also struggled so far this season...
As well as all of that, NFL RedZone will be live on Sky Sports Mix (121) from 6pm. Here's a look ahead to another super Sunday of NFL...
Denver Broncos @ Philadelphia Eagles, Sky Sports Action (407), 5.30pm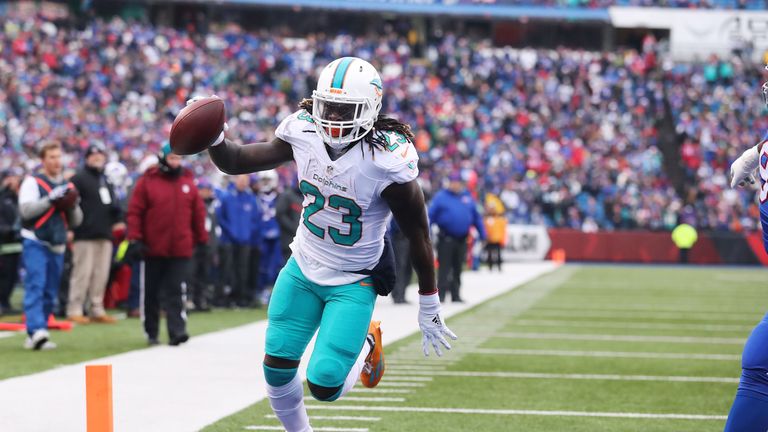 In 140 Characters...
Jay Ajayi's Eagles debut. The former Dolphins back faces one of the NFL's fiercest run defenses, second only to Philadelphia's.
What's the latest?
The NFL-leading Eagles bolstered their running attack mere hours before Tuesday trade deadline, acquiring British-born back Ajayi from Miami for a 2018 fourth-round draft pick. Eagles vice president of football operations Howie Roseman said. "This was an opportunity that came to us, a good player who could add to our team. He's a young player who is under contract for the next couple years."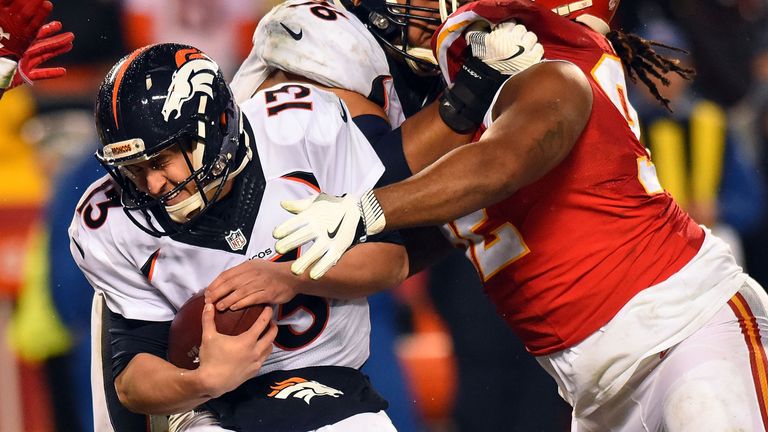 The Broncos, meanwhile, are contemplating a change at quarterback after several weeks of struggles for current starter Trevor Siemian, who has thrown six interceptions over the last three weeks. If he is to be benched, it would be the much-maligned Brock Osweiler who would take his place, and not Paxton Lynch, who has only practised a handful of times since spraining his throwing shoulder two months ago.
Stat attack
Denver owns the league's top overall defense this season, allowing just the 261 yards per game. The Broncos have been particularly strong at stopping the run, their 72.9 YPG allowed ranking second in the NFL, behind only Philadelphia (70.4).
Key battle
Ajayi versus that Denver run defense. The Broncos have only allowed one 100-yard rusher all season, and that's despite facing the likes of Melvin Gordon, Ezekiel Elliott, LeSean McCoy, Marshawn Lynch and Kareem Hunt already - it was New York Giants' Orleans Darkwa who somewhat surprisingly reached a century.
But, Philadelphia already have the NFL's fifth-ranked rushing offense and have now added Ajayi to that. Though he doesn't have any rushing touchdowns yet on the year, his 1,272 yards in 2016 was good enough for fourth in the NFL and a Pro Bowl spot. Will he get the better of the Denver D on debut?
Game-changer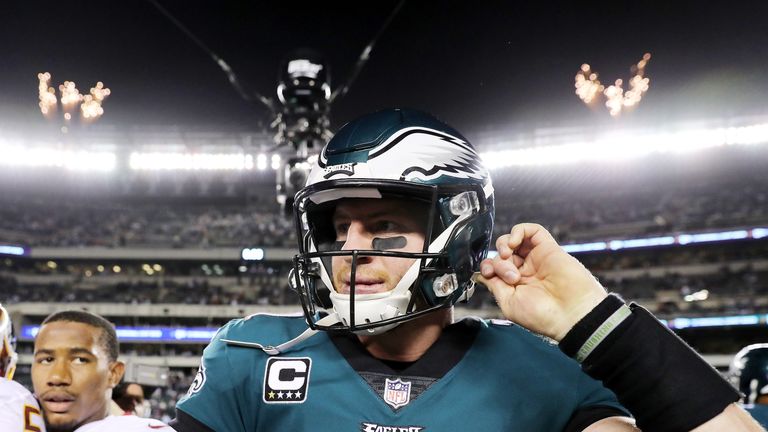 While all eyes might be on Ajayi, the Eagles may be wise to turn to the air to beat this Denver defense, given their current success in stopping the run. Sure, Carson Wentz would be entering into the 'no fly zone' as a result, but he is currently on pace for a league-MVP year, currently tied with Deshaun Watson atop the NFL with 19 passing TDs.
Kansas City Chiefs @ Dallas Cowboys, Sky Sports Action (407), 9.25pm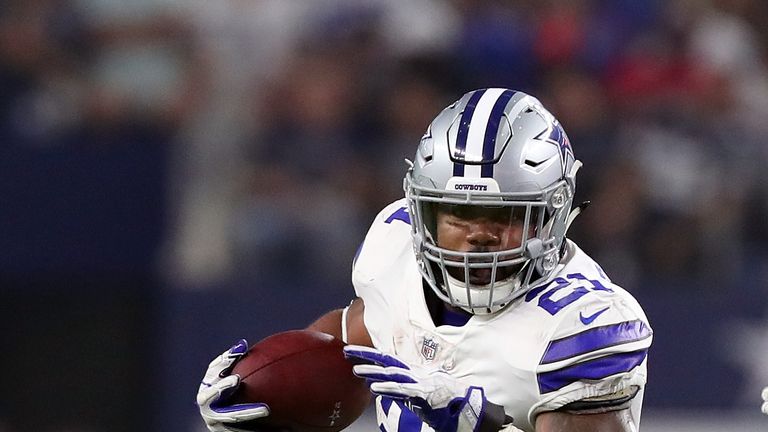 In 140 Characters...
Cowboys running back Ezekiel Elliott is cleared (again!) from a six-game suspension to take on Chiefs rookie star Kareem Hunt.
What's the latest?
Elliott has said he felt a "burst of adrenalin" surge through the Cowboys locker room after a federal appeals court freed him to play Sunday rather than begin his suspension. He also blasted the claims against him, saying: "I'm not an abuser".
The ruling by the 2nd US Circuit Court of Appeals was granted following a request on Elliott's behalf by the NFL Players Association. Elliott is only cleared for this weekend's game and he will be suspended for the November 12 clash with the Atlanta Falcons unless a panel of federal judges next week rules in his favour once more.
Stat attack
Kansas City kicker Harrison Butker is the first rookie in NFL history to have converted at least five field goals in his first two career starts.
Key battle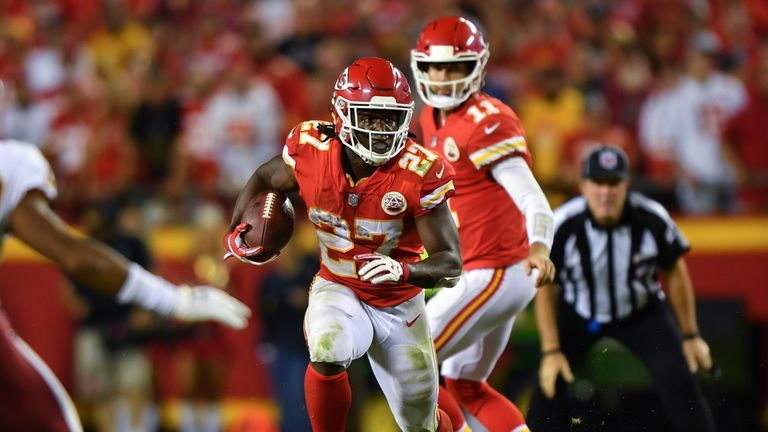 Top five offense versus top five offense. Who has the edge in this one?
At running back, with Elliott back, there is little to chose between the two, as the Cowboys can match Kansas City's explosive rookie runner Kareem Hunt with their own from last year. At quarterback, Alex Smith and his league-MVP worthy campaign thus far has the edge over Dak Prescott of Dallas - the Chiefs QB has 16 touchdowns to zero interceptions! But, on defense, while Chiefs have got turnovers - their +10 differential is second best in the league - it's very much of the bend, don't break mould, currently ranked 30th in yards per game allowed. Could Dallas be the team to break them?
Game-changer
It just has to be Elliott. The suspension saga rumbles on, and on, and on. But, he is available once again for Sunday's clash with Kansas City, who have allowed 100+ rush yards in seven of their eight games this season - the most in the NFL. Dallas, meanwhile, have had at least 100 yards on the ground in four-straight games. Elliott will be licking his lips.
Oakland Raiders @ Miami Dolphins, Sky Sports Action (407), 12.20am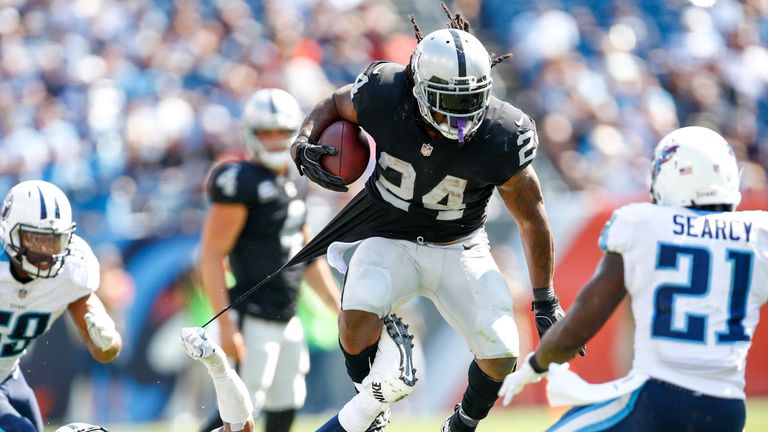 In 140 Characters...
Two struggling offenses meet in Miami - the Dolphins without Jay Ajayi, while the Raiders get back Marshawn Lynch following a one-game ban.
What's the latest?
The Dolphins were busy before Tuesday's trade deadline, dealing away running back Ajayi to Philadelphia for a fourth-round pick, while they were also rumoured to be shopping leading receiver Jarvis Landry around the league, though he ultimately stayed put.
Miami have placed starting guard Anthony Steen and starting safety Nate Allen on injured reserve, ending their seasons, while the Raiders will be without three cornerbacks for Sunday night's game - David Amerson (foot), Gareon Conley (shin) and Demetrius McCray (knee) will all be missing.
Stat attack
The Dolphins have the worst point differential (-60) of any team with a winning record after seven games in NFL history. Their four wins so far this season have come from a combined 14 points, while their three losses have been by a staggering 74 points. Miami's 13.1 points per game this season would also be the fewest in franchise history if that stayed their average for the 2017 season.
Key battle
The Dolphins own the NFL's worst offense, in total yards per game, and in scoring, and they have just traded away their lead running back - Ajayi accounted for 82.1 per cent of the team's carries this season, the highest rate in the NFL. How do they fill that gap?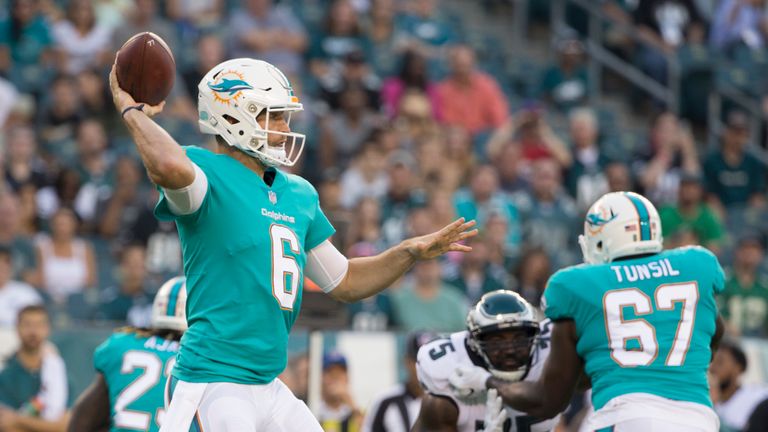 In all likelihood, they don't. Though back-ups Damien Williams and Kenyan Drake will come in, Miami could, and perhaps should, lean on their passing attack. QB Jay Cutler is set to return under centre after injury, and while neither he or back-up Matt Moore have operated with much success this season, they take on a beaten up Raiders secondary still without an interception - the first team in NFL history without one through eight games. Oakland also have only 12 sacks on the year so far, the fourth-fewest in the league.
Game-changer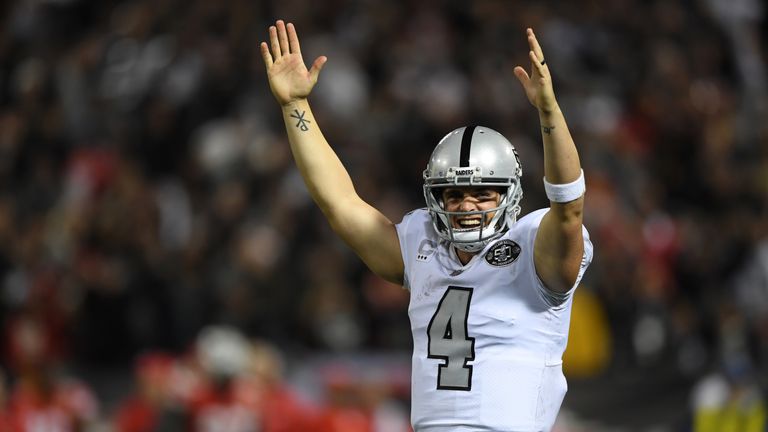 Derek Carr. The Raiders offense has also struggled for large parts of the season, but you feel they're not far away from clicking again. A thrilling Thursday night win over Kansas City was undone with a dismal effort in Buffalo last week, but with Carr another week removed from his early-season injury, and against a team seemingly in turmoil, this could be just the game Oakland need to recapture their 2016 form.
Week Nine continues on Sunday with three live games on Sky Sports Action, starting with Denver Broncos @ Philadelphia Eagles, from 5.30pm.
Follow the 2017-18 NFL season with us on Sky Sports and through our website skysports.com/NFL also our app for mobile devices and iPad, or follow our Twitter account @SkySportsNFL