Kansas City Chiefs' young pretenders take on the New England Patriots dynasty
Watch the Chiefs @ Patriots, live on Sky Sports Action from 1.10am on Monday
By Kalika Mehta
Last Updated: 14/10/18 11:57pm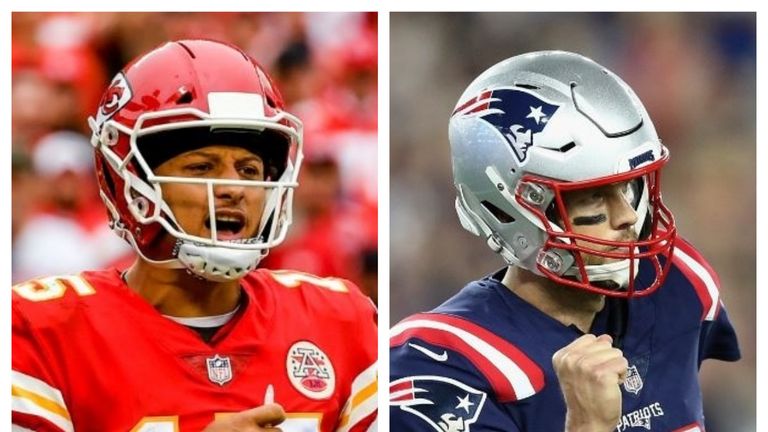 It is a repeated tale of the young, fresh-faced pretenders coming up against an aging dynasty with the naked ambition of overthrowing them.
Will the 2018 Kansas City Chiefs show truly prove they are the new NFL powerhouse, or will the New England Patriots' experience prove any talk of their demise has been greatly exaggerated?
Sunday night's much-hyped match-up sees the 5-0 Chiefs - one of only two remaining unbeaten teams in the league - take on the Patriots and their two-decade long dynasty that has returned five Super Bowls.
The game has many fascinating narratives including, most notably, the duel between Kansas City's second-year star quarterback Patrick Mahomes and a quarterback he would have no doubt grown up watching, and admiring, in 41-year-old Tom Brady.
On paper, the two quarterbacks are at completely opposite ends of the spectrum, Brady holding those five Super Bowl rings - having thrown his 500th touchdown pass in last week's win over the Indianapolis Colts - while Mahomes is only five games into his first year as an NFL starter. So, anything other than a Patriots win on Sunday night would be a shock, right?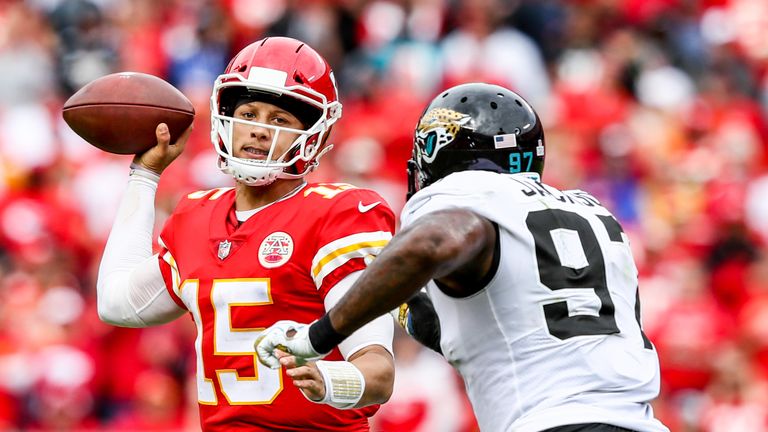 Wrong. It is the No 10 overall pick from the 2017 draft who has been lighting up the NFL so far this season, throwing a league-leading 14 touchdown passes. While Brady looked every inch his 41 years as New England limped out to a 1-2 start, the Patriots strung together a couple of wins to get his mojo flowing once more.
But, be wary of crowning the Chiefs too early. They began the 2017 season similarly 5-0 before their impressive opening came to a jittering halt as they lost six of next seven matches and only just scraped into to a Wild Card playoff spot.
Much of that unit remains one year on, with the notable exception being Mahomes taking over as QB from Alex Smith - traded to the Washington Redskins. But the brilliant offensive trio of tight end Travis Kelce, wide receiver Tyreek Hill and running back Kareem Hunt remain and have been pivotal in helping Kansas City off to fast starts - the Chiefs have racked up 59 first-quarter points across their opening five matches.
New England will know all too well their opponent's offensive weapons, having been torched 42-27 by Kansas City in their season opener at home last year. Hill had seven catches for 133 yards and a 75-yard TD, while Hunt - in his first game as a rookie - racked up a simply staggering 246 all-purpose yards and three scores, despite having fumbled on his first NFL carry.
The Chiefs haven't solely relied on their explosive offense in their unbeaten start to 2018. Their defense looks better built to weather the hard yards.
Mahomes threw his first two interceptions of the season last week against the Jacksonville Jaguars and their intimidating defense. But Kansas City's unit outshone even the Jags, forcing five turnovers.
Dee Ford, in particular, put in a noteworthy performance. The pass rusher is leading the NFL with 12 quarterback hits and has four sacks to boot. Alongside Justin Houston and Chris Jones, the Chiefs have a healthy, albeit not always disciplined, defense they can rely on - Jones and Ford were both ejected during the win over Jacksonville
As for the Patriots, they have been here before. Written off as ageing and losing their edge, not quite competing at the level expected, and expected to be usurped by some young upstarts. But they so often recover, and blow away the competition en route to yet another Super Bowl.
For example, New England's record in September over their five Super Bowl wins is a combined 10-6 - returning winning records in only the 2004 and 2016 campaigns - as opposed to a stunning 55-9 thereafter.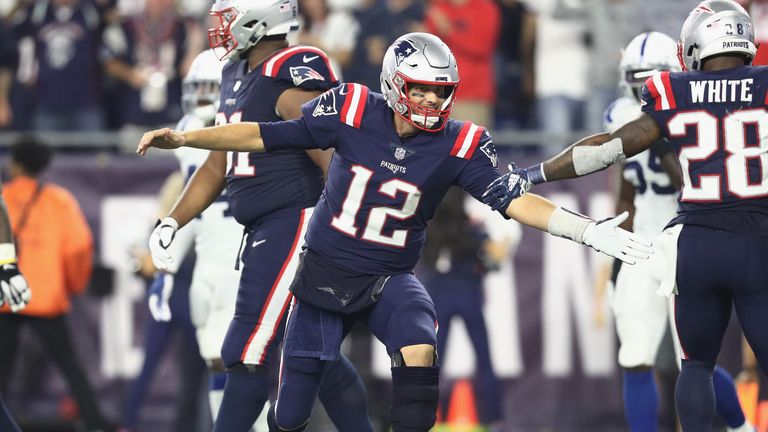 But, that said, last year's Super Bowl loss to the Philadelphia Eagles does appear to have taken a bit more out of Brady and head coach Bill Belichick than usual. Early season losses to the Jaguars and Detroit Lions were by 10 points plus and left them 1-2, with many questioning if this was the start of the end.
But, Brady's go-to target Julian Edelman returned last week from an early-season suspension and having missed all of 2017 to injury, they comfortably beat the Colts following on the back of a Miami Dolphins drubbing.
Josh Gordon picked up his first touchdown as a Patriot against the Colts - Brady's 500th - and the offense, in particular, looks to be clicking once more. Brady, the reigning league MVP, has too many years worth of experience to concern himself too much with a couple of losses.
While it may look from the outside to be a case of a team on the rise facing one on the decline, don't be fooled by that simplified summary as Sunday's match-up will be a supremely hard-fought affair that will go some way to crowning the Chiefs as the new kings of the NFL, or adding to the questions in New England.
Watch the Kansas City Chiefs @ New England Patriots on Sunday Night Football, live on Sky Sports Action and Main Event from 1.10am on Monday morning.
Follow the 2018-19 NFL season with us on Sky Sports and through our website skysports.com/NFL also our app for mobile devices and iPad, or follow our Twitter account @SkySportsNFL.