American Football Expert & Columnist
Pick Six: Alex Smith and Chiefs slump as Eagles and Falcons soar in Week 12
Last Updated: 27/11/17 11:50pm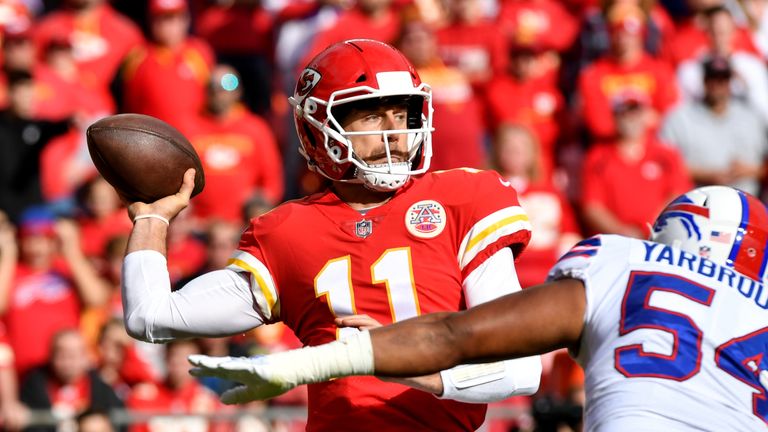 With our Thanksgiving Day special now in the rearview mirror, the race to Super Bowl 52 begins in earnest and Sunday's Week 12 action gave us a few pointers in terms of the potential runners and riders.
That said, some playoff-chasing teams still have huge question marks as we move into the business end of the season.
And that's where we start today's Pick Six - the fast-falling Kansas City Chiefs...
End of the road for Smith?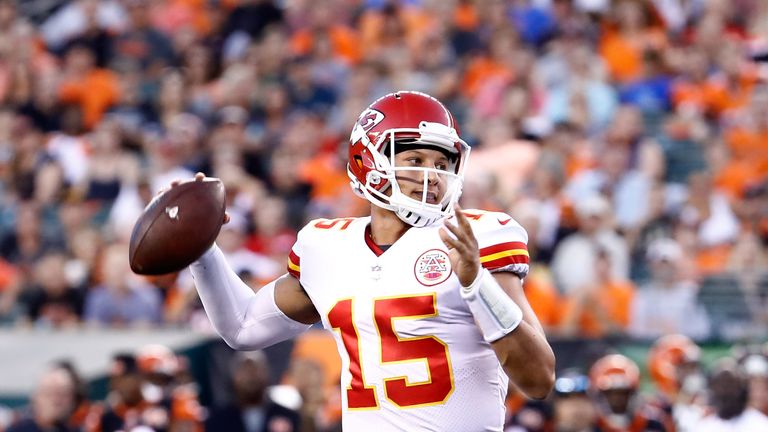 The Chiefs are in trouble. Their 16-10 home loss to the Buffalo Bills on Sunday evening was their fifth reverse in their past six outings and it appears that opposing defences have figured out how to stop what was once an explosive attack.
It seems hard to fathom that the Chiefs were the last undefeated team in the league this season after winning their first five contests. They look devoid of ideas on offense and quarterback Alex Smith could be in danger of losing his job to rookie first-rounder Patrick Mahomes.
The knock on Smith has always been that he has been too cautious and too conservative. At the start of this year, the Pro Bowl passer could not have been more adventurous and explosive. But as defences backed off to take away the big plays, the Chiefs have not been nearly as successful with short to intermediate gains. Smith's seat is warming and Mahomes may be asked to save a slumping season.
Eagles for the Super Bowl?
The NFC playoff picture is crowded with very good teams such as the Minnesota Vikings, Los Angeles Rams, Carolina Panthers, New Orleans Saints and Atlanta Falcons vying for post-season places. But the top dog in that conference remains the Philadelphia Eagles, who improved to 10-1 on the season with a 31-3 hammering of the Chicago Bears.
That result marked the fifth straight game in which the explosive Eagles have scored 30 points or more. Carson Wentz pulls the strings from the quarterback position but so many offensive players are contributing to the cause that defenses don't know who to take away.
Philadelphia's defense also looks to be top notch and, for now, they look set fair for a berth in the NFL title game in Minneapolis in February. They have all the pieces in place to make a serious run at what would be a first Super Bowl victory in team history.
The growth of Goff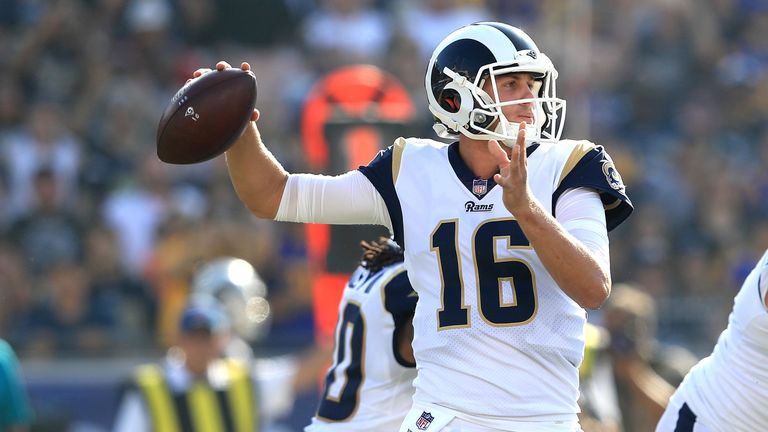 Jared Goff is now regularly showing why the Los Angeles Rams traded up to the top of the 2016 NFL Draft to make him the first overall pick. As a rookie, Goff lost all seven of his starts and had too much of a rabbit-in-the-headlights look for my liking.
His growth in 2017 has been one of the stories of the season and when given a clean pocket, he looks every bit a franchise quarterback. In Sunday's massive 26-20 win over the Saints, Goff threw for 354 yards and two touchdowns and looked in command for much of a very important game.
A lot of the credit for Goff's accelerated growth has to go to Rams head coach Sean McVay. But let's also hand out some praise for general manager Les Snead, who added offensive linemen Andrew Whitworth and John Sullivan, and wide receivers Robert Woods, Sammy Watkins and Cooper Kupp to the 2017 Rams.
Falcons ready to take flight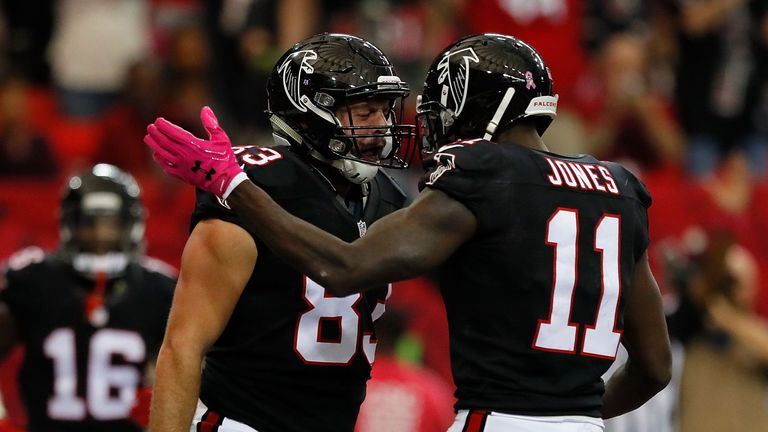 It took a while, but the Atlanta Falcons are finally starting to resemble the team of destiny that made it to and should have won Super Bowl 51 last season. Their 34-20 win over Tampa Bay on Sunday gave the Falcons three straight victories and improved them to 7-4 on the year.
Most pleasing to the Falcons will be the form of wide receiver Julio Jones, who was slowed with toe and ankle injuries earlier in the year. The physically-impressive Pro Bowler was impossible to stop on Sunday as he caught 12 passes for 253 yards and two touchdowns.
That marked the third time in Jones' illustrious career that he has gone over 250 receiving yards in a game. No other receiver in league history has achieved that feat more than once. The Atlanta defense still has the occasional meltdown but the potent offensive firepower from a year ago appears to be back in place to pick up the slack.
Collision course in AFC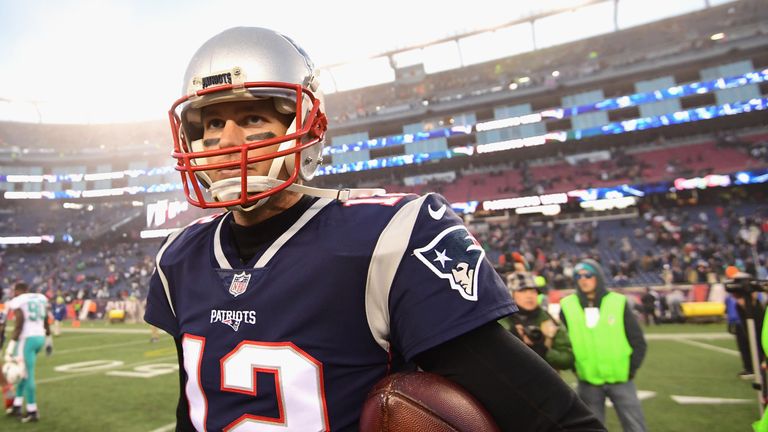 The Pittsburgh Steelers and New England Patriots remain the top two teams in the AFC and I'm not sure it's even close when it comes to finding the next-best team, particularly after the Jacksonville Jaguars stubbed their toe with a narrow defeat to the Cardinals in the Arizona desert.
Tom Brady threw for 227 yards and four touchdowns as the Patriots easily handled the Miami Dolphins to win their seventh straight on the way to a 9-2 record. while Pittsburgh took everything that Green Bay could throw at them before improving to 9-2 with a 31-28 win. In the end, the Steelers simply had too much firepower in the form of wide receiver Antonio Brown (10 catches for 169 yards and two touchdowns) and running back Le'Veon Bell (183 scrimmage yards).
This pair are far ahead of the rest of the pack in the AFC. They will meet in Week 15 in Pittsburgh and the winner of that clash will host a seemingly-inevitable showdown in the AFC Championship Game in January.
More dysfunction in Cleveland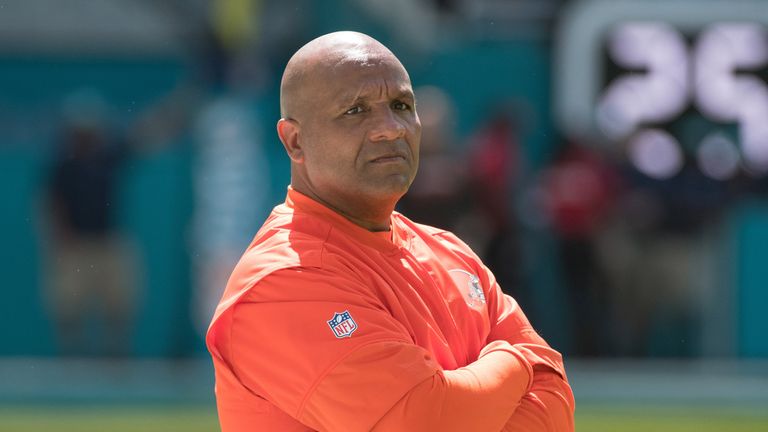 There were some incredible scenes playing out ahead of the Cleveland Browns' 30-16 loss to the Cincinnati Bengals as Hue Jackson continues to suggest he clearly has no feel for his team or his players right now.
Jackson spent part of the pre-game warm-ups hugging (and weirdly swaying from side to side like they were the oldest and best of friends) with Bengals back-up quarterback AJ McCarron. Jackson and the Browns tried to swing a trade for McCarron in October but failed to file the paperwork in time after a deal was agreed by all parties.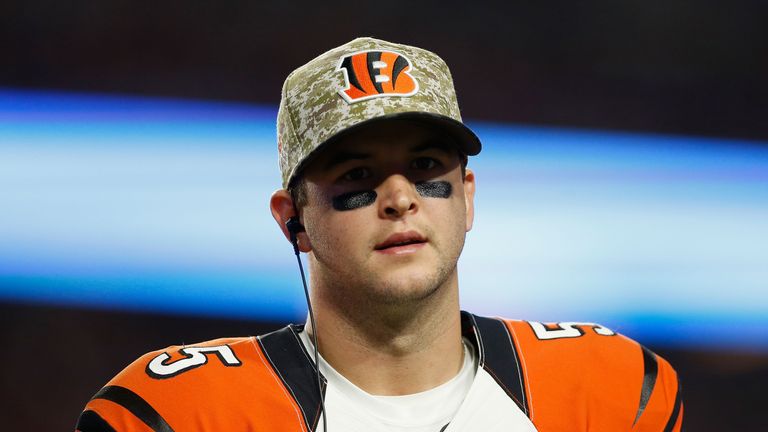 As if that love-fest were not enough, Browns owner Jimmy Haslam then marched over and showed McCarron some love. That must have really motivated current Cleveland quarterback DeShone Kizer… not! If Hue spent more time nurturing his current players rather than courting those he hopes to coach in the future, he might not be 1-26 since taking charge of the Browns last season.
Stay across the 2017-18 NFL season with us on Sky Sports and through our website skysports.com/NFL also our app for mobile devices and iPad, or follow our Twitter account @SkySportsNFL