2018 Super League Man of Steel: The contenders
By Fraser Dainton, Sky Sports News
Last Updated: 03/10/18 12:17am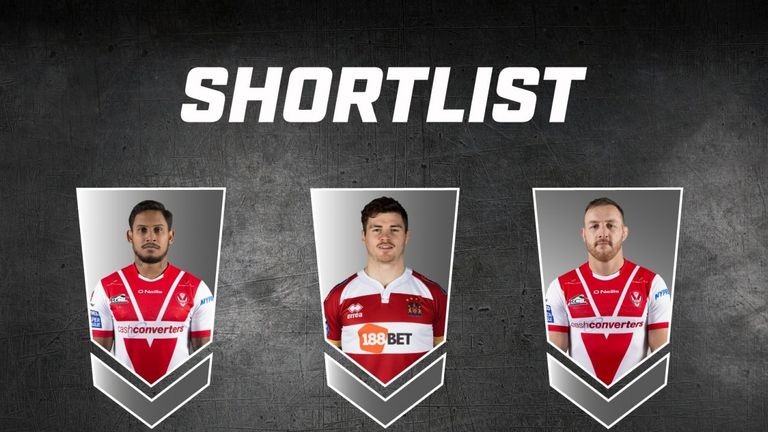 As the Super League season nears its climax, thoughts will turn to who will be walking away with the silverware, including the winner of the Steve Prescott Man of Steel.
This year's shortlist of nominees have all had a suitably impressive season.
I caught up with each of the nominees at an event in Manchester, as they were all named in this year's Super League Dream Team.
Ben Barba has had a huge impact on St Helens, and his stats make for impressive reading. He is Super League's leading try-scorer with 28. The 29-year-old also managed 24 assists, carried for 2279 metres, and made 141 tackle busts. But it hasn't all been plain sailing - a mid-season dip in form had many wondering whether his bubble had burst.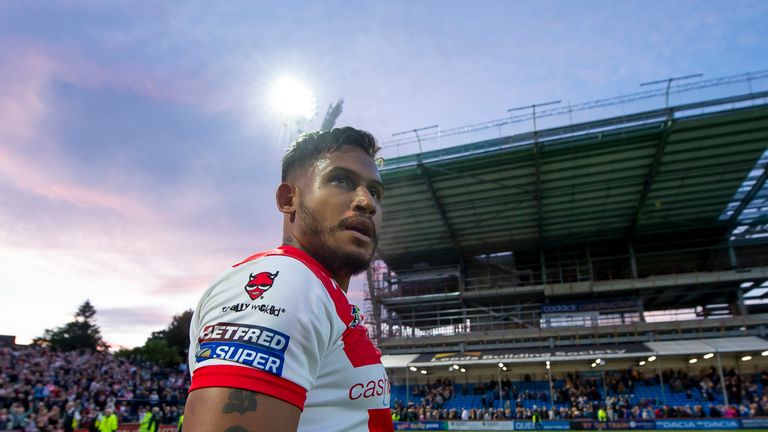 "I almost rubbed myself out of it halfway through the year when my performances weren't quite up to scratch, but just to be nominated is a real honour, and to be in that final three with John and James is unbelievable," Barba said.
"It started really well, but as you do, you struggle with injuries - you try to play yourself through them, but I guess that in a league like this you can't hide your way through games. Super League is a high-level game.
"Now we're into the semi-finals, and I think we're picking it back up, not just myself but as a team."
Barba's St Helens team-mate James Roby is the very epitome of consistency, not just this season, but throughout his whole career, having been selected for Super League's Dream Team no less than six times, and was crowned Man of Steel in 2007.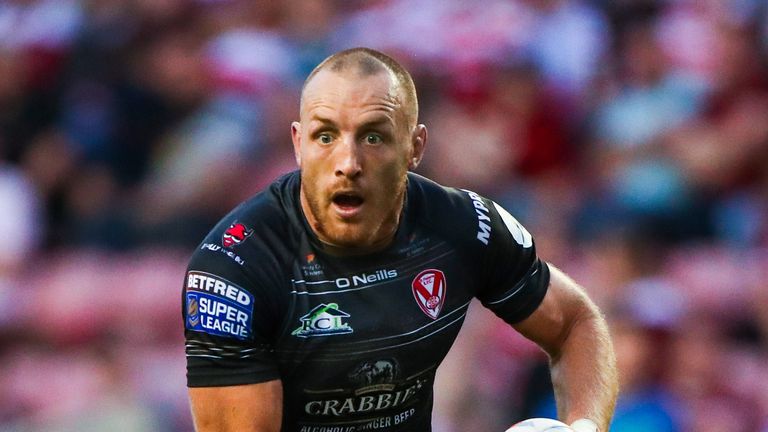 The 32-year-old hooker has made 226 runs from dummy half so far this season, more than any other player in Super League. But in defence he is just as effective, making 984 tackles, and 174 marker tackles.
"It came as a bit of a surprise, to be honest. Its' great to be nominated and recognised in the top 3," Roby said.
"I think consistency is the best word that comes to mind for us as a team, we want to carry that on now. I'm pretty happy with how I've been going, I just turn up week-on-week and try to keep on doing my job, make it as simple as I can.
"In my own mind, I just try to simplify a lot of things, and hard work pays off. I do my bit for the team, and I think the way we're playing, we all complement each other."
The third nominee is Wigan Warriors centre John Bateman. He is formidable through the middle with ball in hand - he has made 442 carries this season, making 3150 metres, busting 118 tackles, and has offloaded 64 times - more than anyone else in Super League.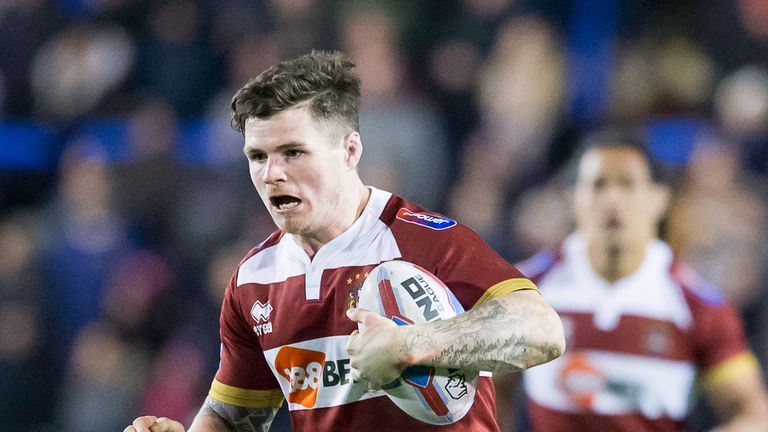 "I was pretty taken back by the nomination, I didn't really expect it. On a personal level. I've enjoyed my rugby," Bateman said.
"When I enjoy my rugby, that's when I play my best. That's all I ever go out to do.
"As far as the team is concerned, it's been fantastic. We're peaking at the right time - I hope we haven't peaked yet though, but we're going in the right direction."
So what do each of the nominees think of each other?
Barba on Roby: "He's unbelievable. I can't speak highly enough of the guy. What he does at the club - not just on the field but off the field - he's a leader of leaders. Words can't describe what he does for you on the field. If I don't win it, I'm definitely rooting for him. He's like a fine red wine, keeps getting better with age, and he's not showing any sign of slowing down."
Barba on Bateman: "He's an unreal player. He was in the three players that I picked from the other sides. A class player, he's heading over to the NRL too, so I will be seeing a lot more of him."
Roby on Barba: "He's been massive for us. Ever since he came over with a big reputation, that's probably got even bigger with his performances on these shores. He's done stuff for us that he makes look relatively easy, but other players can only dream of doing. He's obviously very naturally gifted, but he obviously works very hard as well, I've got a lot of respect for him, the way he's played and what he's done for us as a team, on and off the field."
Roby on Bateman: "He's a great competitor, and one of those who rolls his sleeves up - he loves getting the tough work done and he gets his rewards from that. I think a lot of the success and a lot of the joy that Wigan get, a lot of it comes off the back of John and his strong defence, he's such an important player for them."
Bateman on Barba: "Some of the stuff he's brought to Super League this year, we probably haven't seen the like of that for many years. Some of the tries he's scored have been fantastic. I hope he doesn't peak now in these next two games!"
Bateman on Roby: "He's been at the top of his game for years and years. I played with James a good few times with England and he's a great bloke. It's different sometimes being a great rugby player but being a different person off the field, but he's fantastic there as well. You just want to set yourself in that category of players like he's done for so many years, he's been amazing."
The Steve Prescott Man of Steel winner will be announced at a star-studded awards dinner in Manchester next Monday night. But given the strength of the candidates on the short list, trying to predict the outcome would be very difficult indeed!