We look at how Arsenal fare when Pierre-Emerick Aubameyang and Alexandre Lacazette start together ahead of their Monday Night Football match at Watford...
'Do you reckon Aubameyang and Lacazette will both start?'
When the clock strikes 7pm on Monday night, one hour before kick-off and just as Sky's coverage begins, the pre-match question Arsenal fans invariably ask will be answered once again.
The question is asked so frequently because the answer changes so often. Sometimes both start, but in an equal number of Premier League games this season, just one of Aubameyang or Lacazette have featured from the off.
Ahead of Arsenal's trip to Watford, we delve into the stats to analyse if the duo are better off together, and see if any patterns have emerged regarding Unai Emery's team selection this season.
What do the stats say?
After 32 Premier League games, it is split right down the middle; 16 games with Aubameyang and Lacazette both starting, 16 when just one of them starts.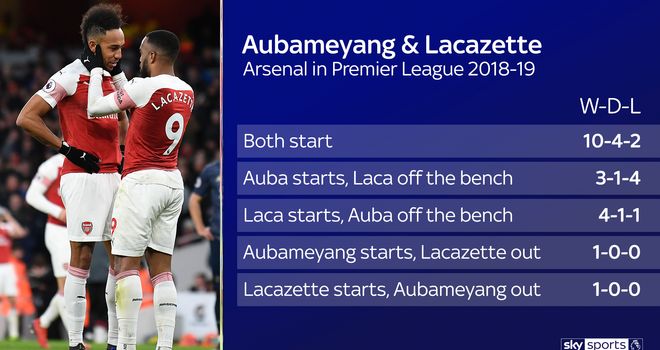 As the graphic shows, Arsenal have a win ratio of 62.5% when both start, losing just twice, and a win ratio of 56% when one starts, losing on five out of those 16 occasions.
The two defeats when both started came away at West Ham and Manchester City earlier in 2019, the four losses with Aubameyang in the XI were at home to Manchester City and away to Chelsea, Southampton and Liverpool.
The only loss when Lacazette has started without Aubameyang was in last weekend's 1-0 defeat to Everton at Goodison Park. On all but two occasions, the player who has not started has come off the bench.
Can we predict who will start?
In short, no. If we dig deeper into Arsenal's 32 league games so far this season, no pattern emerges.
The duo have started 10 home and six away games together, and even when considering the opponent's position in the table, there are few clues on offer.
Both have started at home to Liverpool but also Fulham. Only Aubameyang started away to Liverpool and Southampton, while just Lacazette started away to Tottenham and Fulham.
Different needs for different scenarios, as suggested last week by Emery, who has deployed the pair as a front two on seven occasions, but more often than not pushed Aubameyang out on the left.
"Sometimes you need to play both, with two strikers, and sometimes you can play with one player wide, and sometimes you can play with another on the bench," Emery said.
"Aubameyang and Lacazette, I am very happy with them. They are scoring, they are playing both (roles).
"In training, I said to them, 'When I have one ball, I imagine you'll score one goal, every time. Score, score, score'. That's my mentality. I push them with this. That's the best development for them and for the team."
This unpredictability arguably has two benefits; it keeps both Aubameyang and Lacazette on their toes in training, knowing a starting spot is not guaranteed, while it also keeps the opposition guessing.
Ahead of Monday Night Football at Vicarage Road, Watford head coach Javi Gracia could make the assumption both will start, but he must plan for every possibility. More work amid less certainty.
The key to their chemistry?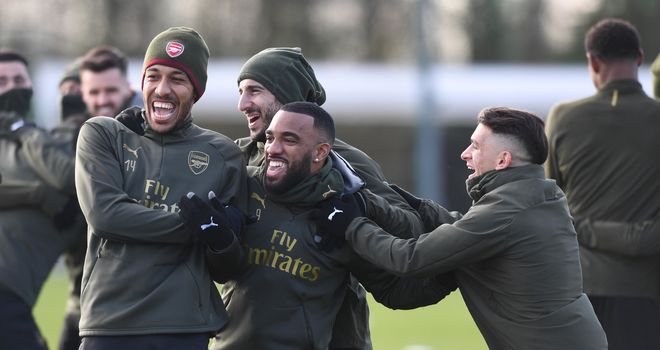 From their trademark hand-shake celebration to photos of the pair beaming in training, Aubameyang and Lacazette evidently have a rapport on and off the pitch - but that did not always seem likely.
Lacazette and Aubameyang were the centre forwards at their respective former sides. Lacazette started 28 Ligue 1 games up front in his final campaign at Lyon, while Aubameyang was Borussia Dortmund's first-choice in 16 of the German club's 20 Bundesliga games before he joined Arsenal last season.
As a result, there was a belief something had to give when Aubameyang arrived at the Emirates, with Lacazette's importance to the club - and his own future - set to come under scrutiny.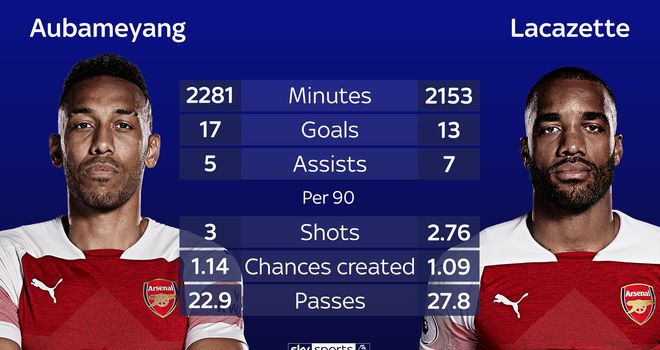 But that has not been the case, with Lacazette insisting he never considered leaving in the summer, and instead thriving in the relationship brought about from Aubameyang's move to Arsenal.
"I never said Aubameyang's arrival was bad for me, only people in the press said it was bad," Lacazette told reporters in pre-season. "I was happy because I knew I could play with him. I didn't see him as a rival more than a team-mate, so since the beginning I was happy about his signature.
"Of course, it's good that we have a good relationship off the pitch. If people are good off the pitch, on the pitch it will be easier to play."
Of the many tasks Emery took on from Arsene Wenger when becoming Arsenal head coach in the summer, it is evident his man management of Aubameyang and Lacazette has been a success. The proof is in the smiles still present on the pair in mid-April.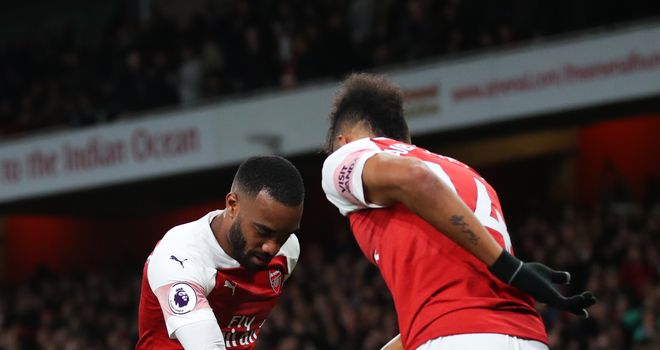 A long run out of the team could have affected their confidence, but instead, Emery has carefully rotated and considered what the best approach is for each game.
And that partnership, whether they start together or not, will need to maintain its strength as Arsenal enter the final stages of the season fighting for Europa League glory and a finish in the league's top-four.
All the while, the guessing games continue... Do you reckon Aubameyang and Lacazette will both start? We'll find out from 7pm on Monday Night Football.
If you're reading on skysports.com comment below to get involved in the debate, but please adhere to our House Rules. If you wish to report any comment, simply click on the down arrow next to the offending comment and click 'Report'.