Harry Kane has again told Tottenham he wants to leave this summer.
Spurs are now making enquiries about replacement centre-forwards, in the first indication that the club are willing to consider the feelings of their 27-year-old talisman.
They do not want to sell their prized asset, but Manchester United, Manchester City and Chelsea have all been in touch with Kane's representatives CK66 expressing a desire to sign the England international.
Kane's preference is to remain in the Premier League and he wants to have his future resolved before turning out for England at this summer's European Championships in June.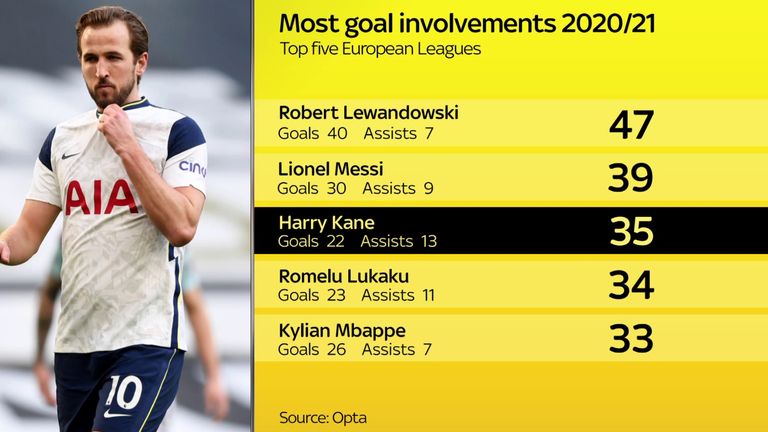 Kane has made no secret in recent interviews that he wants to compete for Europe's top team trophies, having found them out of his grasp at both White Hart Lane and the Tottenham Hotspur Stadium.
It is understood that Tottenham even persuaded Kane to delay plans that he harboured to leave last summer, after Jose Mourinho had replaced Mauricio Pochettino earlier in the 2019-20 season.


Spurs hoped their first full season under Mourinho would be a successful one, and they were top of the Premier League in December, but amid a Kane injury their form disintegrated and they are set to miss out on Champions League football again with a finish outside this year's top four.
A Tottenham spokesperson told Sky Sports: "We have a season to finish and we want to finish it as strongly as possible. That's all everyone should be focussing on."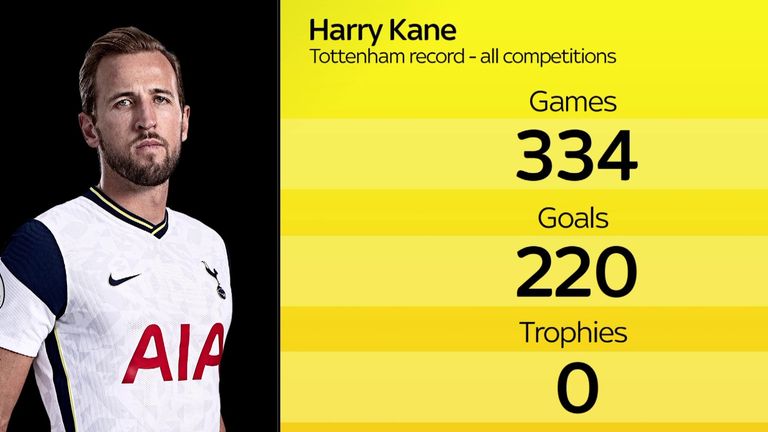 Sky Sports News reported last week that United are not expected to target another centre-forward this summer after re-signing Edinson Cavani, preferring to focus on strengthening at centre-back and central midfield, amid an expectation that obtaining Kane will be too difficult and that Erling Haaland will stay at Dortmund.
Meanwhile, City also have Kane, Haaland, Romelu Lukaku and Danny Ings on their list as they look to replace Sergio Aguero. Chelsea too have been linked with Haaland, Lukaku and now Kane.
'The ball is in Tottenham's court'
Sky Sports News reporter Paul Gilmour:
"It's been no secret that Harry Kane has wanted to compete for the top honours, both as a team and individually. It's been a frustrating season for him personally. It hasn't happened for Spurs with Champions League qualification. It will be a second season that he hasn't had that.
"He is valued at well over £120m, probably, and the rest, if Spurs and Daniel Levy have anything to say about it because let's face it, the ball is in their court.
"He has a contract until 2024 and they will certainly, if somehow, they do agree to this, they will want to get their money's worth, of course.
"But we have been told Tottenham managed to persuade Kane to stay last summer when one English club came in for him, and they said to him they had Jose Mourinho for a full season, give it a go and let's see what happens. And clearly, as the season has gone on, it did not happen for Spurs and Mourinho has since left the club.
"Harry Kane has had a brilliant season under Mourinho personally, but as a team, they are not going to qualify for the Champions League. The chances are very slim.
"The season hasn't gone to plan and as the season developed, those feelings of wanting something else and wanting to move away have come to the forefront."
What is his contract situation?
Kane signed his current contract with Spurs ahead of the 2018 World Cup. It's a deal which ties him to the club until 2024.
Tottenham had just finished third in the Premier League and reached the semi-finals of the FA Cup under former boss Mauricio Pochettino when Kane - who had scored 30 Premier League goals that previous season - put pen to paper.
"I'm looking forward to the future," Kane said after making the six-year commitment. "It's been fantastic to consistently get in the Champions League so I'm really excited to have another go at that, and with the Premier League and FA Cup, we'll look to go as far as we can."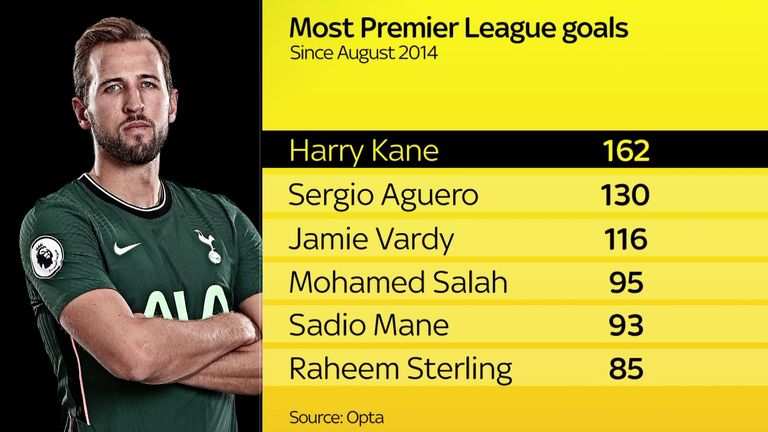 Kane was recently named as the Premier League Player of the Year at the 2021 London Football Awards, but expressed his desire to win 'team trophies' rather than individual accolades, with Spurs having fallen short in the Carabao Cup earlier in the season.
"When I look back at the end of my career, these are all the things I'll go over and take in a little bit more, but the goal right now as a player is to win team trophies," he said.
"As much as this is great, I want to be winning the biggest team prizes. We're not quite doing that. It's bittersweet, but it is what it is. I'm proud to win [Premier League Player of the Year], it's been a good season on the pitch."
With three years still to run on his contract, it won't be easy - or cheap - for any buying club to prise him out of Tottenham.
So how much would it cost to sign a player of Kane's calibre? That question is a tricky one to answer - and even harder amid a pandemic which has badly hit football club finances across the world. It's a number senior figures at major clubs in Europe will be weighing up.
Paris Saint-Germain signed the world's two most expensive players, Neymar and Kylian Mbappe, for around £198m and £163m, respectively. Will clubs be prepared to shell out a figure north of £150m this summer, given the financial hit they've taken since the emergence of this coronavirus?
It seems unlikely and, while Kane seems a guarantee of goals, at the age of 28 clubs will be buying him knowing they stand little chance of making a profit at the other end of the deal with his sell-on value probable to reduce with age.
Interestingly, a study released in January by CIES Football Observatory valued Kane at £97m.
If that figure is a reasonable starting point, then it narrows the number of clubs who could make that type of financial commitment.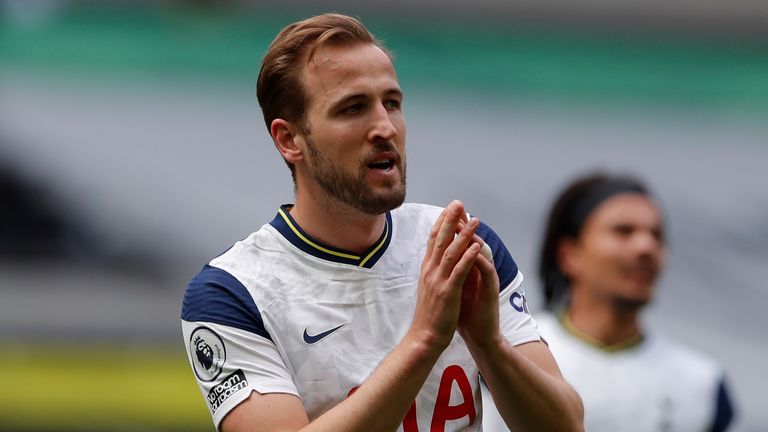 Domestically, Manchester United and Chelsea have shown they are prepared to invest large sums in the current environment. Both clubs could also do with a central striker in the mould of Kane. Manchester City and Liverpool appear to also need strengthening in that area of the pitch - although, they have both tried to downplay how much they could spend in the upcoming window.
In terms of foreign clubs, Real Madrid and Barcelona have a history of attracting Premier League stars but the financial status of both clubs is perhaps not as commanding as it once was, while their standard of play has also dipped in recent seasons. But still, the attraction of one of those La Liga giants remains.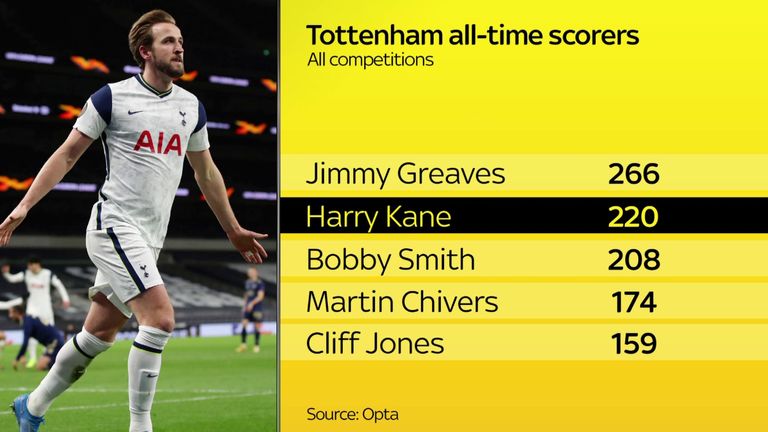 PSG and Bayern Munich are Europe's two other big-spending sides but with Neymar and Mbappe playing in Paris, and Robert Lewandowski scoring extraordinary numbers of goals in Munich, their need for a striker isn't as apparent.
Of course, all of this could prove immaterial if Spurs chairman Daniel Levy - the notoriously tough negotiator - decides he doesn't want to even consider selling Kane.
Tottenham have always insisted Kane is not for sale.
It is hard to imagine the relationship between the Spurs hierarchy and their homegrown star striker deteriorating if they start to pull in different directions but, if Kane does express a desire to leave, Levy is unlikely to make that exit an easy one for any club that would swoop in.