Oliver Harrison slams Joe Gallagher ahead of Callum Smith v Rocky Fielding
Last Updated: 30/10/15 6:14pm
Rocky Fielding's trainer Oliver Harrison has hit out at his counterpart Joe Gallagher ahead of the showdown with Callum Smith, saying he talks "garbage".
The Liverpool super-middleweights will fight for the vacant British title in their hometown live on Sky Sports on November 7, and while the fighters have remained respectful, both trainers are already exchanging comments.
A pre-fight promotional video showed Harrison insisting Gallagher was "given" the fighters that have become successful under his guidance and while he was happy to emphasise it again, he did not let up when it came to a fellow Manchester trainer.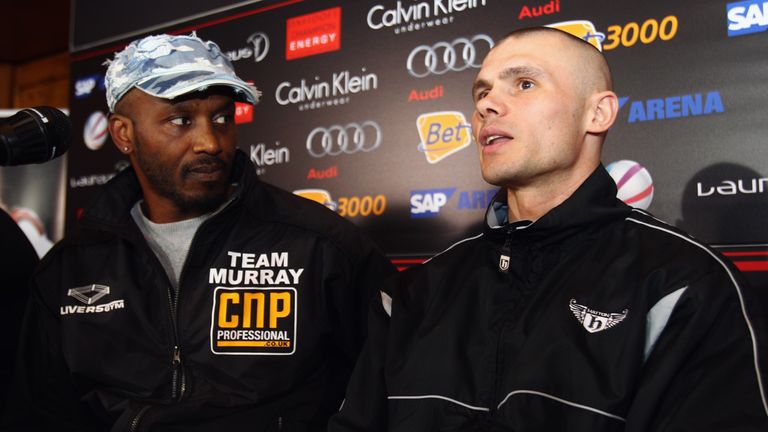 He's always knocking people down. When you talk about that guy, there's nothing good about him.
Harrison on Gallagher
"I just don't like the way he talks," Harrison told Sky Sports when asked if there were any issues with Gallagher.
"He talks so much c**p. It's the worst garbage I've ever heard from a boxing trainer. Why can't he be like Brian Hughes or Brendan Ingle, who laugh and joke?
"He's always knocking people down. When you talk about that guy, there's nothing good about him.
"I knew Joe when he was nothing and he'd come and talk to you. He was humble, but now it's like he's Don King and he can't shut his mouth.
"He's an absolute joker. Scott Quigg was a Brian Hughes fighter, Anthony Crolla wasn't with Joe either - he was with Anthony Farnell. And the Smith brothers came from the Rotunda club, of course."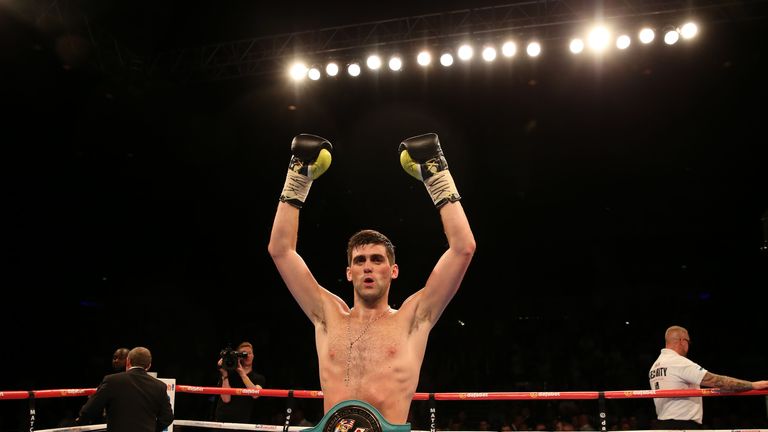 Harrison is also preparing Martin Murray for his fourth world-title attempt when he takes on Arthur Abraham out in Germany, live on Sky Sports on November 21 - the same night Crolla fights Darley Perez for the WBA World lightweight title.
Harrison admits it is a tough few weeks ahead but is confident Fielding will be in top form when he takes on Smith next Saturday.
"Rocky is peaking now and he's ready to go," he added. "This is the best I've seen Rocky look. He's so focused and looking absolutely superb. Between now and the fight, anything could happen though.
"Let me tell you something - Rocky is the only person in the Prizefighters who stopped all three of his opponents. That was at four days' notice. He won every single fight by stoppage and nobody has ever matched that.
"Rocky is the real deal and can win a world title at some point. The way he's been training for this fight, if he doesn't beat Callum then Callum must be very, very good. 
"I think Callum is the best of the brothers and I like the way he boxes.
"But I feel Callum is a light-heavyweight. Up there, I think he'll make it. As a super-middleweight, I don't think he'll make it.  But whoever wins this fight will definitely go on to be a world champion."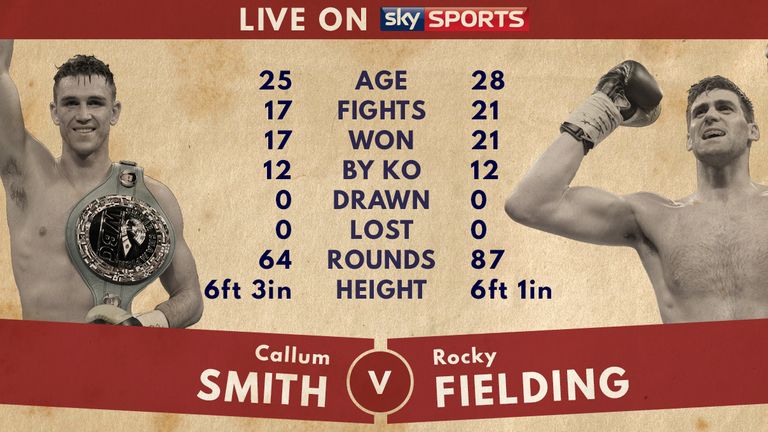 You can watch Callum Smith v Rocky Fielding from 8.00pm, Saturday, November 7, live on Sky Sports 1.