Deontay Wilder has urged Tyson Fury to target his WBC belt instead of waiting for a fight with Wladimir Klitschko.
The American has been embroiled in a war of words with Fury on social media and both men swapped insults after Wilder's world title triumph over Bermane Stiverne in January.
Klitschko, the holder of the WBA, IBF and WBO belts, remains the top target for Fury, who has battled his way to mandatory challenger status.
But the Ukrainian will first face Bryant Jennings next month in New York and it remains to be seen if the Mancunian can land a fight against the 38-year-old this year.
Wilder insists he is willing to grant Fury his elusive shot at a world crown as he is determined to settle their long-running feud.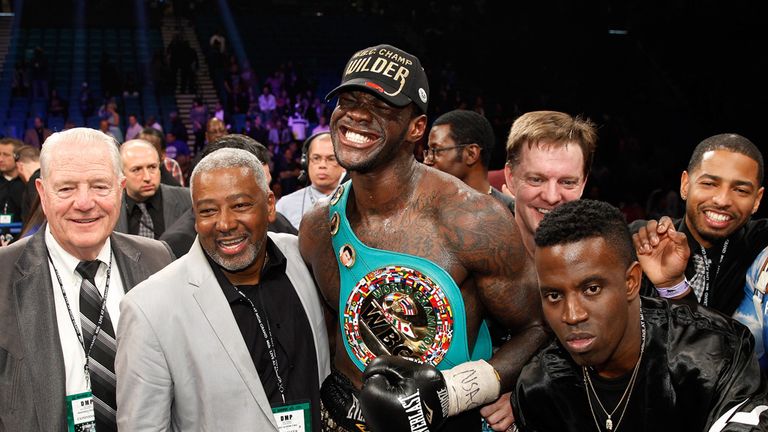 If you want me, come on. You don't have to be the mandatory. I think that would be a huge fight.
He told Behind The Gloves website: "It's getting to the point where I hear the guy's name, I'm having those feelings like I used to have with Stiverne. I really want to hurt him.
"I just want to fight. Three years is too long to be talking and he still wants to come on. I think he just wants to entertain the fans, but the fans are getting tired of it too. I just want to make it happen.
"I'm the heavyweight champion of the world, I've got what he wants. What he wants to be. But they want to take the Klitschko route, which I understand.
"If you want me, come on. You don't have to be the mandatory. I think that would be a huge fight. We've already sold the fight. It just has to happen."
But 'The Bronze Bomber' has warned his rival that he can forget about their fight if he opts to face Klitschko first - and loses.
"That's a risk he's going to have to take. He is going to have to build himself back up and we'll move on," said Wilder.
"All those years and years of talking will go down the drain. He might as well have flushed the toilet. Come and fight me now. Why not?
"After my next fight, let's finally get it over with, because I'm so serious." 
For more from Michelle Joy Phelps, go to www.behindthegloves.com or download our Ringside Toe 2 Toe podcast at skysports.com/podcasts/toe-2-toe