Cricket Expert & Columnist
Australia v New Zealand - who is better? Bob Willis decides...
Man-for-man, Australia are better. But it's hard to think of a cricket team that's more together than New Zealand.
Last Updated: 28/03/15 9:30am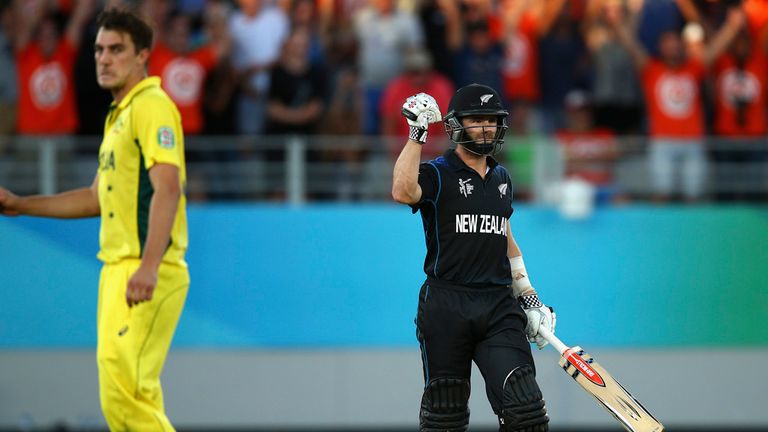 Australia and New Zealand meet in the World Cup Final on Sunday. The Black Caps won a classic encounter between the two by just one wicket in the group stage but Bob Willis believes that will have little bearing in Melbourne...
New Zealand are the only unbeaten side in the tournament, having bettered Australia in Auckland.
They play consistently aggressive cricket, but don't underestimate what the home crowd will do for Australia and this game will be totally different.
There will be lots of runs. They are very flat pitches at Melbourne - there's not much help for the bowlers, very little spin or swing. It will be a high-scoring affair.
With that in mind, here is my take on both teams:
Openers
Brendon McCullum is particularly crucial to New Zealand. I think most pundits would agree, that if he gets runs, New Zealand have got a good chance. If he doesn't, then they're going to struggle. He and Martin Guptill have been in better form than David Warner and Aaron Finch. Although Finch's innings in the semi-final win over India was important, it was a pretty scratchy affair by his standards. It may have got him back into form, but Guptill's double-hundred against a poor West Indies team in the quarter-final was quite amazing and on current form, with him and McCullum at the top of the order, I have to give the edge to New Zealand.
Bob's Verdict: New Zealand
Middle order
I think Steve Smith edges out Kane Williamson at number three currently. Smith has been possibly the biggest revelation at the World Cup and most-improved cricketer over the last five years from when we first saw him in England bowling leg-spin and batting down at eight or nine. We thought at the time, 'who's this club player they've brought along?' Since then, he's been absolutely outstanding. Michael Clarke and Ross Taylor at four are two primarily Test bastmen who have both been out of form in this tournament, yet still contribute. Australia's lower middle-order has plenty of power with Glenn Maxwell, James Faulkner and Brad Haddin. New Zealand with Grant Elliott and Corey Anderson are similarly explosive and Daniel Vettori is a canny campaigner but Australia just shade it.
Bob's Verdict: Australia
Maxwell v Anderson
The main contest between the two could actually be in their role as a fifth bowler. Maxwell is clearly going to have to be the main spinner for Australia. With the bigger boundaries in Melbourne, he may be more of a factor, especially if it doesn't swing and the seam bowlers are getting clattered around. Anderson's bowling meanwhile may haemorrhage runs. McCullum is a very attacking captain and tends to bowl Trent Boult and Tim Southee upfront for a number of overs, which might expose Anderson, whereas Clarke keeps Mitchell Johnson and Mitchell Starc back for overs later on. As a batsman Anderson is a very talented cricketer, he and Elliott played absolutely brilliantly under the most intense pressure in the semi-final, but Maxwell just gets the vote because of the outrageous shots he comes up with. You talk about the 'Dilscoop', and De Villiers' paddle, Maxwell has got some all of his own.
Bob's Verdict: Australia
Starc v Boult
It's staggering that since 1999, the leading wicket-taker at every World Cup has been a left-armer, so it certainly seems to be an advantage for both. But they're very different bowlers - Boult is more of a swing bowler and Starc is much quicker. If you think of how the great Jimmy Anderson was unable to get that white ball to swing, Boult has. Even Tim Southee who got the ball to move beautifully in taking seven wickets against England, has struggled to do it consistently since. It's a very close call between him and Starc but if Starc gets his length right, like he did so superbly against India, I think he's the outstanding bowler of the tournament, and he just gets my vote.
Bob's Verdict: Australia
Rest of the bowlers
Both sides have got problems with their fifth bowling slot. They've both got at least three top class bowlers, but then they've got to get overs out of one or two others. New Zealand are a very experienced bunch, with the exception of Matt Henry who made his World Cup debut in the semi-final, which was fairly extraordinary. It was very brave of New Zealand to replace a quick bowler in Adam Milne with another quick, rather than put in Kyle Mills or Mitchell McClenaghan. Josh Hazlewood has done a great job for Australia - although Clarke tends to take the pressure off him by not bowling him in the powerplays necessarily. The pace is certainly with Australia, though, with Starc and Johnson, and they just have the edge over New Zealand.
Bob's Verdict: Australia
Summary
Man-for-man, Australia are the better side individually. However, as a team unit, it's difficult to think of a cricket team that's more together, less selfish, and with all buying in to this attacking brand of cricket than New Zealand. They live by the sword or die by it and they're going to be a very exciting prospect in the final, but Australia are the favourites, no doubt about it.
Bob's Overall Verdict: Australia 4-1 New Zealand
Watch the World Cup final between Australia and New Zealand, live on Sky Sports World Cup from 3.55am on Sunday.