Windies beat England: Demerit points, dropped catches and heroic Hope
England seam legends were on show at Headingley...
By Oli Burley
Last Updated: 06/09/17 10:43am
Windies produced one of the most famous victories ever seen at Headingley as Shai Hope came of age by scoring his first two Test centuries.
The tourists, who won despite dropping a hatful of chances, limited England to 258 in their first innings despite a century from Ben Stokes, before earning a 169-run lead by scoring 427 off the back of hundreds from Hope (147) and Kraigg Brathwaite (134).
A sporting declaration from Joe Root on 490-8 left Windies chasing 322 to win - surely a target that was far out of reach for a side that lost 19 wickets in a day at Edgbaston? Think again…
HOPE AND GLORY
Hope springs eternal while true ability exists and Shai has it in spades. Had he been English he might have been far from the team after averaging 18.61 in 21 innings, but Windies' kept faith in him and were richly rewarded as he became the first batsman to score two hundreds in a first-class match at Headingley - a quite staggering achievement when you consider the greats who have graced the turf.
The turnaround began straight after Edgbaston, though, when coach Stuart Law led his troops in an extended period of 'soul-searching'. The result was a display of greater discipline with the ball, the extra firepower of Shannon Gabriel giving Windies an additional threat, and it quickly exposed some familiar failings in England's top-order.
Brathwaite showed courage to stick in despite significant movement on offer for England's seamers, while Shai Hope finally found some ballast to go with his array of eye-catching shots. The 246-run stand compiled by the pair in the first innings was the Windies' second best at Headingley, bettered only by the 265 put on by the great Garfield Sobers and Seymour Nurse in 1966.
The pair were at it again on the final day, personifying coolness in helpful seam conditions and with time truly on both batsman's side, this was a staggering performance of skill, determination and character that bodes well for the future.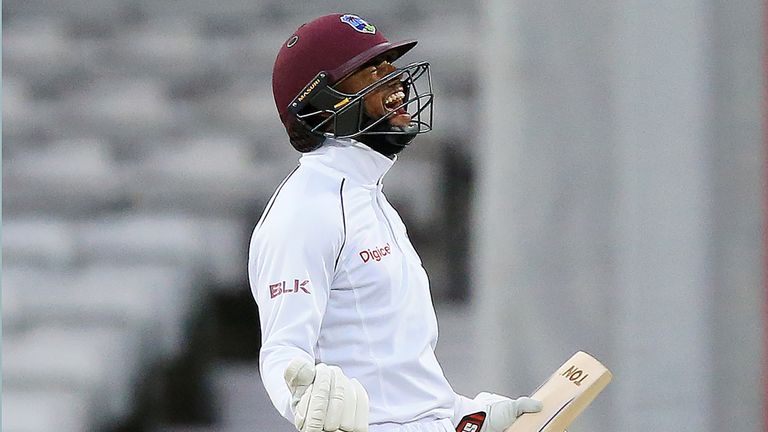 BLUNDER WONDERS
But for some 'Teflon' fielding, this Test might also have lasted just three days! The sides missed a combined, unlucky 13 chances - Windies just edging it with seven shelled to England's six. The tourists set the tone early, dropping both Root and Stokes on single figures in the first innings and, at the time, it appeared they had blown their best chance of getting back in the series, the misses costing a cumulative 142.
Root duly went on to match AB de Villier's feat of scoring a fifty in 12 consecutive Tests, with Stokes posting a hundred (but only after Gabriel had allowed a chance to bounce off his chest on 98). Root received another lifeline in the second dig on 10 and, but for a fluffed chance on 32, Dawid Malan's Ashes hopes might not look quite so strong.
But England were far from faultless themselves and had Alastair Cook - having already reached 150 Test catches earlier in the game - held on at first slip early on day five to send back Brathwaite for four, things might have turned out very differently indeed. By the time the former skipper shelled a travelling chance offered by Shai Hope, the Windies' hero already had a hundred to his name and the finish line was in sight.
The worst miss came, arguably, from Moeen Ali as he made a complete hash of catching a simple chance offered by Jermaine Blackwood off Stuart Broad. The all-rounder admitted he got over it quickly - but I bet the bowler didn't…
POINTS OF ORDER
I would swear I've never seen so many no-balls in a Test but then I might get a demerit point. Over-stepping and player punishments were hot topics during the Test, with officiating sitting uncomfortably at the heart of both.
Mike Atherton was just one of a panel of experts queuing up to brand the decision to hit a frustrated Ben Stokes with a demerit point for swearing as ridiculous, before Jason Holder was also sanctioned for making inappropriate comments that were heard by the on-field umpires.
While no-one advocates foul language, berating oneself or one's fortunes - especially after yet another catch has gone down - seems rather minor league compared to squaring up to a player or even official.
Word that the ICC would look to temper the ruling, enforced by no less than David Boon in this Test, was quickly ruled out by the game's decision-makers meaning everyone must beware their Ps & Qs - especially if you're harshly stripped of a deserved wicket.
Such was Devendra Bishoo's fate when he appeared to dismiss Moeen Ali (84) on 32, only to be denied by a no-ball call. The controversy - not to mention a number of no-balls seemingly missed by the umpires - sparked a debate around what definitively constitutes over-stepping.
Cue former umpire David Lloyd, armed with the rules of the game, to put everyone straight in partnership with bowling guru Michael Holding…
GOUGHY AND THE GREATS
Happily, our latest masterclass featured one bowler who rarely overstepped the mark despite being awash with bravado - Darren Gough. 'The Barnsley bullet' was in ebullient form as he talked Ian Ward and Michael Atherton through some of the tricks of his trade, including how Richie Richardson helped him become quicker and the inspiration he took from Waqar Younis.
The 46-year-old also rolled back the years by sending a couple of deliveries down at Athers, who talked us through the specific challenges of facing the reversing ball as a batsman, and demonstrated how to achieve the perfect wrist position for seam and swing bowling.
Gough's Test haul - as considerable as it was - is dwarfed by that of James Anderson and Stuart Broad, England's leading wicket-takers of all time, who joined numbers three and four in that particular list - our very own Ian Botham and Bob Willis - to discuss what makes a great bowling partnership. Wardy also tried to ascertain from 'The Fab Four' why bowlers have a tendency to be a bit grumpy… and will receive his bravery medal in the post in due course.
Inventive batsmen can get the better of even great bowlers now and again, though, as Nasser Hussain and Rob Key were keen to demonstrate in our batting coaching clinic. If further proof was needed that fluidity of movement at the crease is crucial, then Shai Hope provided it.
AND FINALLY...
We couldn't let this opportunity pass without breaking open the croissants, pouring a mug of tea and ironing this morning's newspapers to send a heart-felt farewell (but not goodbye) to Paul Allott, who after 12 years is moving on as chairman of 'Cricket Writers on TV' to make a few more headlines of his own…