Joe Root says England captaincy not affecting his Test batting
Shane Warne has urged England to make Jos Buttler Test skipper and allow Root to prioritise his batting
By Sky Sports Cricket
Last Updated: 12/10/18 9:28pm
Joe Root says the England Test captaincy is not affecting his form with the bat.
Shane Warne said earlier this week that England should make Jos Buttler their red-ball skipper and allow Root to focus on becoming "the best batsman in the world".
Root, 27, scored a century in his first innings as Test captain, against South Africa at Lord's in July 2017, but his ton against India at The Oval last month was only his second since then.
However, Root says batting in an unfavoured position at No 3, plus the difficult batting conditions encountered this summer, are the reasons for his relatively lean run.
"No, not at all," said the Yorkshireman when asked by Sky Sports' Ian Ward whether leading the Test side was impeding on his batting. "I think this summer batting at three was playing on my mind a little bit more than anything else.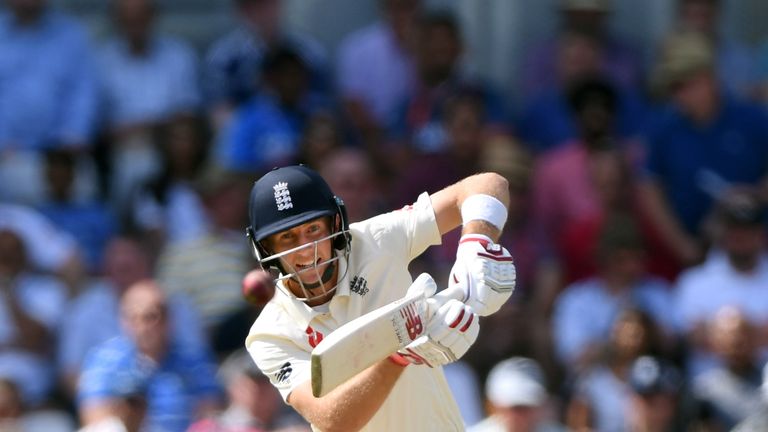 "The surfaces we were playing on made it very difficult at the top of the order - it was seaming and swinging for high-quality bowlers.
"There are always going to be question marks if you are not scoring the runs you have in the past or that you would like to, there is always going to be a reason behind it.
"I know what I need to do score runs. I felt like I overcame that at the back-end of the series against India and now I am ready to try and kick on."
Root, who moved to No 4 in the order towards the end of the 4-1 win over India, will captain England in three Tests in Sri Lanka this winter once the limited-overs fixtures between the sides are complete.
"It's a new challenge on these surfaces - there will be a lot more spin, reverse swing might come into it," added Root.
"It will be a different style of Test cricket and, more than anything, it's about making sure we are prepared going into it and switching on quickly to the different scenarios we find ourselves in."
England's opening ODI in Sri Lanka was abandoned, with heavy rain and a wet outfield in Dambulla limiting the tourists to 15 overs out in the middle - Eoin Morgan's men reaching 92-2 before the deluge.
Root, who struck an unbeaten 25 in Wednesday's match, expects more rain breaks throughout the series - but says that won't necessarily be a bad thing for the team ahead of next year's World Cup, where they will be looking to scoop their maiden global 50-over title.
"It was a little bit frustrating as we felt like we got off to a pretty good start," said Root ahead of Saturday's second ODI, also in Dambulla, which is live on Sky Sports Cricket from 4.45am.
"[Eoin and I] had just started to build a partnership nicely and it felt like the next 10 or 15 overs we could build a score and hopefully get up to a decent total on that surface.
"Ultimately you know when you come here at this time of year that you are going to have stop-start games and will have to react quickly to situations - reacting quickly could determine who wins the series. It's something we haven't really come across before so it's a good test for us.
"In a tournament you might be under pressure and have a reduced game, so to have that in the bank could be crucial for us at the back end of a World Cup."
Watch the second ODI between Sri Lanka and England live on Sky Sports Cricket (channel 404) from 4.45am on Saturday.