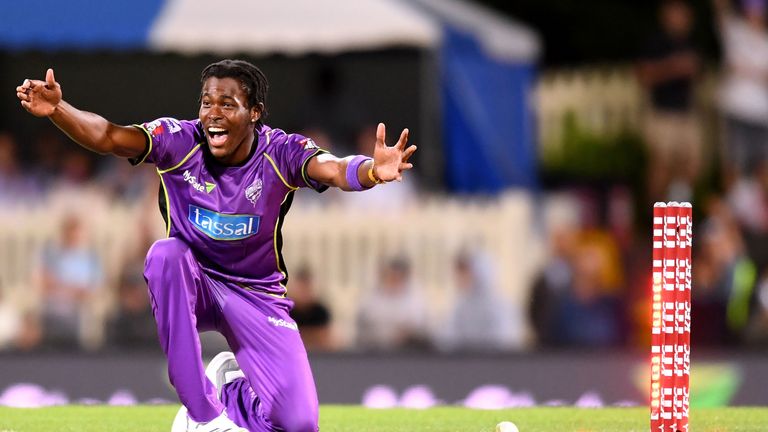 Sussex bowler Jofra Archer will be available for England selection next year under new ECB eligibility rules and could feature for the hosts at the World Cup.
The 23-year-old was born in Barbados but has an English father and holds a British passport. Previous England and Wales Cricket Board (ECB) regulations meant he would not have come into contention until the winter of 2022.
Those regulations required a seven-year residency period for anyone who had entered the UK after their 18th birthday, which applied to Archer, who arrived in the UK in 2015.
It may or may not happen but I would love to debut in front of my family 🤞🏾

— Jofra Archer (@craig_arch) November 29, 2018
However, in an effort to "bring the ECB regulations closer to those of the ICC (International Cricket Council)", the residency period has been brought down to three years from January 1.
The new criteria adds that a player must not have played as a local in an overseas competition during their residency period.
Archer represented West Indies at U19s level but has on multiple occasions expressed a desire to play for England.
The fast bowler tweeted on Thursday that he is hoping to make his debut for England on their tour of the West Indies at the start of next year.
However, he may have to wait until March to become fully eligible for selection as he is contractually tied to overseas T20 competitions this winter.
Sussex clarified his situation in a statement on Thursday, which read: "While the new regulations will come into force from January 1st 2019, the requirement for a player to have accumulated 210 days of residency over three years (April to March) will mean that Jofra is likely to qualify for England at some point in March 2019.
"The exact date of Jofra's qualification will depend on the time he spends out of the country during the rest of 2018/19.
"Qualifying for England has long been an aim of Jofra's and Sussex Cricket is delighted for him that this ambition will now be realised sooner than previously envisaged."
Archer has become hot property over the past year after impressing in last year's Big Bash League as his team-leading 16 strikes across 12 games for Hobart Hurricanes placed him in the tournament's top-five wicket-takers and earned him a $1.1 million deal in the 2018 IPL, with the Rajasthan Royals.
England's white-ball captain Eoin Morgan previously said that, providing all current squad players were fit for next summer's showpiece home tournament, it was unlikely any uncapped players could force their way into the team. However, Archer could now enter contention for a place in England's powerful limited-overs squads.