Lewis Hamilton's 'backing up' tactics leave Toto Wolff undecided
Mercedes boss can see both sides of Hamilton's spoiling tactics; Wolff says Lewis could have gone around 1.5 seconds quicker
By James Galloway in Abu Dhabi
Last Updated: 27/11/16 6:58pm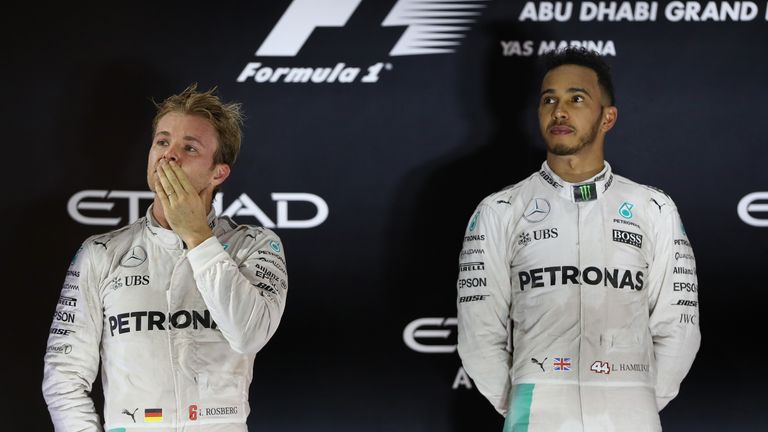 Mercedes boss Toto Wolff is undecided on Lewis Hamilton's "backing up" tactics in the Abu Dhabi GP after the Briton attempted to reverse Nico Rosberg out of a title-winning position.
Wolff also insisted Mercedes only interfered in their drivers' title battle by issuing Hamilton with instructions to speed up as they feared they would lose race victory to a charging Sebastian Vettel.
Needing team-mate Rosberg to finish off the podium to win the title if he won the race, leader Hamilton drove slower than his car's capabilities during an increasingly dramatic finale to the season as the top four cars went into the closing laps less than three seconds apart.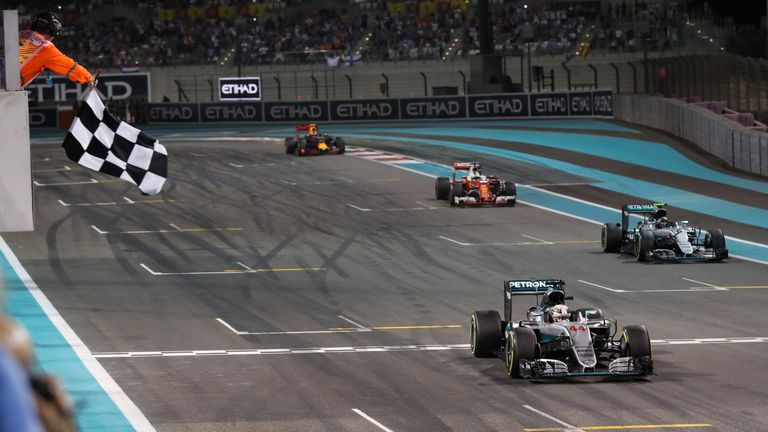 Hamilton disobeyed several radio messages to speed up - including one final one from Mercedes technical chief Paddy Lowe, which Wolff revealed represented the team's highest level of pitwall escalation. 
Lewis defends tactics: I had to try
But rather than rebuking Hamilton immediately, Wolff admitted he could see both sides of the argument and needed more time to crystallise his views.
"I'm in two minds at that stage," he said when recounting the tense closing laps. "The guy who is responsible for that company and the structure we have put in place, and the team that we have put in place and its values, it's pretty clear - it can't make a difference whether it's the first or the last race.
"We have invented those principles, those values and those objectives and it has won us races and it has won us championships. So this is one side.
Rosberg crowned 2016 world champion
"The other side, me the racer, says maybe I would have done the same. He had two choices - disappear in the distance and show that he's the quickest guy on the planet today and win the race, irrespective of what's happening in the back. Or decide the other way and bunch them up behind him.
"So this is why it's not clear cut, we have to calm down. There is so much going on in the background which plays a role in how we are thinking and this is why I don't want to express an opinion before I've actually made up my mind for myself."
On Saturday night, Wolff had called for "sportsmanlike" conduct from Hamilton and Rosberg in the championship decider.
He says the team's management had anticipated the "highly probable" scenario of Hamilton employing such spoiling tactics but still "weren't quite sure" which way the triple champion would play it.
He estimated that the Briton had around 1.5 seconds per lap worth of extra pace in his W07.
"There were two moments in the race when there was a risk in terms of the strategy we were losing the race," Wolff argued. "There was Verstappen, it was not clear whether he was going on a one-stop. He was in a good position at least to try.
"The other was Vettel lapping two seconds quicker and our number one principle since three years ago - and it doesn't matter whether it's the first or the last race - is to ensure the win.
"Now, you can question whether it's the right principle going forward, but this is exactly what he did on the pitwall. There were these two moments and this is exactly why we asked him to increase the pace."
Indicating he would need more time to come to a decision on the rights and wrongs of Hamilton's actions, which ultimately still won the team the race but did not deny Rosberg the title, Wolff said any repercussions for the Briton would be kept in-house.
"This is something I will keep internal," he added. "I just need to form an opinion, which I haven't yet."
Hamilton defended his driving and told Sky F1 he was "looking forward" to the inevitable interrogation from Mercedes' management. 
Don't miss the F1 Report's review of the Abu Dhabi GP and analysis of how the world title was won. David Croft and Marc Priestley join Natalie Pinkham at 8.30pm on Wednesday on Sky Sports F1.