Italian GP: Daniel Ricciardo hopes for 'crazy' race as penalties loom
Engine penalties set to drop Ricciardo to back row at Monza
By Matt Morlidge at Monza
Last Updated: 06/12/18 11:02am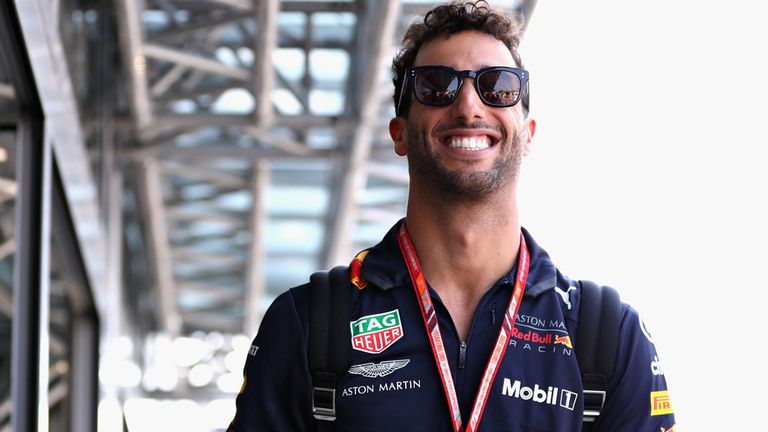 Daniel Ricciardo is hoping for a "crazy" Italian GP as he braces for engine penalties that will demote him to the back row of the grid.
The Red Bull driver is taking Renualt's new 'Spec C' power unit this weekend and, as he has already reached his maximum penalty-free allocation of engine elements, he is already preparing for a comeback drive.
"The podium looks so good here," Ricciardo told reporters at Monza. "I'm hoping for some crazy race that gets me on the podium."
Barring any other penalties, Ricciardo will likely start Sunday's race, live on Sky Sports F1, in 19th as Renault's Nico Hulkenberg is also expecting a new engine and already has a 10-place grid drop for sparking the Belgian GP opening-lap crash.
"I hope it's good," said Ricciardo of his new Renault engine. "I always try not to expect too much, I think that's natural from the last few years.
"I do expect an improvement, a few tenths would be nice."
Asked if he was worried about the upgraded PU's reliability, the Australian added: "In my head it's just getting better."
Red Bull are taking the penalty at a power-heavy Monza circuit as they look to give Ricciardo, who is leaving the team for Renault at the end of the season, the best chance of victory at the next race in Singapore.
"It was a team choice but I didn't disagree with it," Ricciardo explained.
He then told Sky F1: "It's on the cusp of 'let's take the penalty here' because a) we can still overtake on this circuit and b) we want to be well-prepared for Singapore because it's a track we should have a good chance on."
Ricciardo also took a new engine at the Italian GP last year, finishing fourth after starting the race in 16th.
Ricciardo eager to finish ahead of Verstappen
After winning the Monaco GP, Ricciardo looked to be an outside shot for the title and was an impressive 37 points ahead of team-mate Max Verstappen.
Now, however, the 29-year-old finds himself 113 points behind championship leader Lewis Hamilton, while he also trails Max Verstappen by two points.
"I look back at the first six-odd races and I'm like 'how have we fallen behind?'" Ricciardo told Sky F1.
"It hasn't been the best since Monaco and, even Monaco, any other track I'm not winning with the problems we had.
"But we'll do what we can. I'm hungry, determined and certainly not giving up."