Lewis Hamilton conquers Mexican GP 'rollercoaster' to close in on six
Mercedes driver moved to the brink of his sixth world championship with a superb victory in Mexico; Hamilton can now clinch title at US GP on Sunday
By James Galloway in Mexico City
Last Updated: 28/10/19 11:48am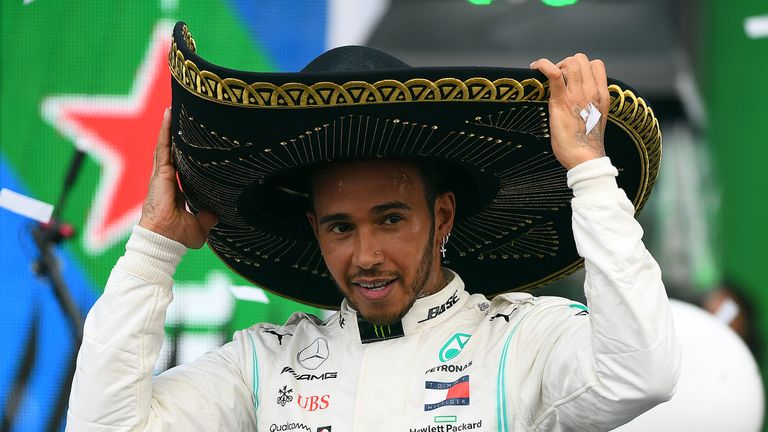 Lewis Hamilton described winning on Mercedes' bogey track as a "rollercoaster ride" after he moved to the brink of clinching his sixth F1 title, despite a "hair-raising" start to the race involving Sebastian Vettel and Max Verstappen.
One year after Mercedes finished over a minute adrift of winners Red Bull in Mexico, Hamilton unexpectedly won from third on the grid after expertly managing a one-stop strategy in a race in which both driver and team shone.
Mercedes' gamble on an early stop for Hamilton paid handsome dividends, with the driver then playing his role to perfection by managing his second set of tyres for 48 laps to the finish to beat Vettel and Valtteri Bottas.
"Today was a surprise," said Hamilton, who is four points away from becoming world champion again in Austin this Sunday.
"We've really struggled here for quite some time and we came into this weekend... it's quite a humbling experience because I'm not sure if people realise back home - I'm sure they do - but it's a real journey through the week.
"You arrive here and you go through your press and then on Friday we kind of knew we were on the back foot, which we genuinely were.
"But we kept working, kept our heads down, and obviously I didn't have Bono [Peter Bonnington, Hamilton's race engineer] who I've had for seven years. He was here in spirit and I just really wanted to make him proud this weekend. And Marcus [Dudley] stepped up to the plate and did a great job.
"So it's quite emotional, the rollercoaster ride."
Hamilton reflects on 'crazy' first lap
Having gained a place on the grid following Verstappen's late-Saturday penalty, Hamilton still ended the opening lap in fifth place after what he described as a "hair-raising" sequence of events into the first complex of corners - culminating in a small tangle with Verstappen.
"I actually got a really good start, so I was pulling up to Charles [Leclerc] and Seb is coming across, coming across, coming across and I'm thinking 'I'm on the white line, I don't have anywhere further to go'," recounted Hamilton.
"And he just keeps coming. So I had to avoid crashing with him, going on the grass. Avoid his wheels as well, otherwise I could have caused a big collision for him.
"Then I was surrounded by a bunch of cars, I braked into Turn One, and all of a sudden Max is alongside me. If you've seen races before, I always leave Max a lot of space - it's the smartest thing you can do. But there wasn't a lot of space to give him space. I think he had an oversteer moment or something and then I got a massive hit from behind."
Both Hamilton and Verstappen were sent across the grass and the Mercedes driver added: "We were going through the corner, you were about to go into Turn Two, my back end came out and I nearly took you [Vettel] out and then we went straight over the grass. It was hair-raising."
Hamilton joked "I thought at some stage I'd get torpedoed by Max" but added: "I didn't have a lot of space to give him extra space. But I don't think it was intentional or anything like that. It was just…he's a magnet for those kind of things."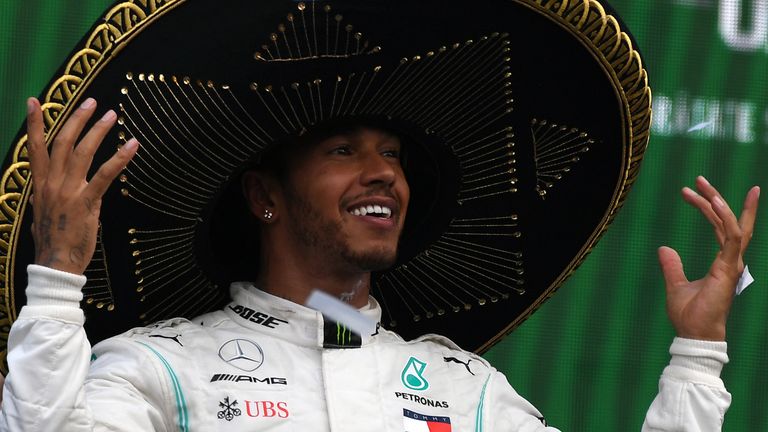 Verstappen clash damage cost Hamilton pace
Hamilton raced on to his 10th victory of he season with damage to the rear of his Mercedes' floor, which he reckons cost him "a good couple of tenths probably".
"A big part of the side of my rear floor was missing," said Hamilton. "I didn't actually know how much was missing or what was damaged but the balance was quite a lot different.
"The rear end was quite weak so I was particularly sliding around a lot in the high-speed, so I had to change my settings quite a lot and had to drive it a little bit differently because I couldn't attack the same way on the entry of corners because the rear stability wasn't the same."
Don't miss the rest of the Formula 1 season on Sky Sports F1. Find out more here to subscribe