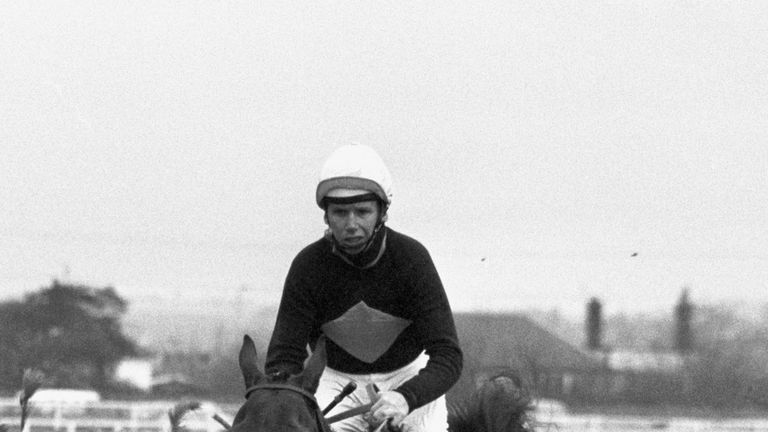 Richard Pitman praised Brian Fletcher's "amazing" Aintree record following the death of Red Rum's rider, aged 69.
Pitman was the losing jockey in one of the most famous races of all time, when Red Rum came from the clouds to win the first of three Grand Nationals in 1973, denying the bold-jumping Crisp in the shadow of the post.
That year's running will always be remembered as much for the performance of Crisp than it will be for the horse who became a National institution.
Crisp gave one of the most spectacular exhibitions ever seen at Aintree, with Pitman and the Australian chaser setting up an enormous lead by the second circuit.
He looked to have the race in the bag but one rival continued to make steady, relentless inroads on the leader. That was Red Rum, who, in receipt of 23lb, finally caught the floundering Crisp five strides from the line to win by three-quarters of a length. It came as no surprise to discover that the course record had been smashed by 18 seconds.
Crisp never ran in the National again, but Fletcher also won on Ginger McCain's great chaser 12 months later, having already landed the race on Red Alligator as a 20-year-old in 1968.
"He was quieter than the rest of cavaliers at that time, it was the (Terry) Biddlecome and (Josh) Gifford era and they were cavaliers, that was the best way to describe them," Pitman told At The Races.
"As a record round Aintree, what an amazing record it was - and he could have ridden five winners as the year before Red Alligator won he was in the Foinavon melee and finished third, but he maintained he'd have won that year. Also, if he hadn't fallen out with Ginger McCain he'd have won another on Red Rum (in 1977)."
Fletcher suffered a serious head injury that saw him take a 10-month sabbatical, and Pitman added: "Things are much tighter now and after his head injury I doubt he'd have been allowed to have continued at all.
"After 10 months off, it was a long time to come back and prove himself."
He went on: "I knew Brian well, he was a good man in the weighing room and when you retire it's the one thing you miss, you see more of your fellow jockeys than you do your wife.
"Once I'd got over the desolation of being beaten in 1973 I was delighted for him and Ginger, but I can't remember him buying any champagne!"
John Baker, regional director north-west for Aintree's owners Jockey Club Racecourses, said officials were "greatly saddened" by the death of one of just three men to have ridden three National winners.
He said: "We are greatly saddened by this news. Following the passing of John Buckingham (rider of Foinavon), we have lost two Aintree legends in a matter of days.
"Brian was part of Aintree folklore and his three Grand National wins puts him in a very special and extremely exclusive club.
"He has remained in touch with Aintree and in February, 2011, joined us in London to unveil the National weights.
"We thank him for what he did for the National and send our condolences to Irene and his close friends."