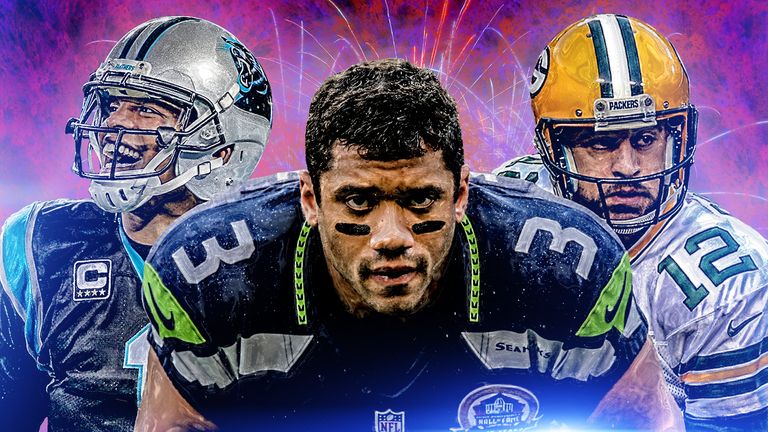 In Week Six, TV presenter and NFL fan Gethin Jones takes on Sky Sports News' NFL reporter Richard Graves for our weekly predictions.
Graves moved to 3-2 on the season as his 7-7 record from Week Five was still good enough to beat England Women's Cricket World Cup winner Anya Shrubsole, whose faith in an underdog proved to be her undoing as she returned a 4-10 mark.
2017 Prediction Results
| | | | |
| --- | --- | --- | --- |
| | Richard Graves | Opponent's score | Graves' season record |
| v Paul Merson | 9-6 | 10-5 | 0-1 |
| v Sam Quek | 13-3 | 12-4 | 1-1 |
| v Vernon Kay | 10-6 | 6-10 | 2-1 |
| v Laura Wright | 9-7 | 10-6 | 2-2 |
| v Anya Shrubsole | 7-7 | 4-10 | 3-2 |
His opponent this week, Jones, reveals the live on Sky Sports slate of games every week, at 7pm on Tuesday, live on Facebook - check it out via @NFLUK.
Will his added knowledge of this week's games give him the edge over Graves? Here's a look at the pair's Week Six predictions...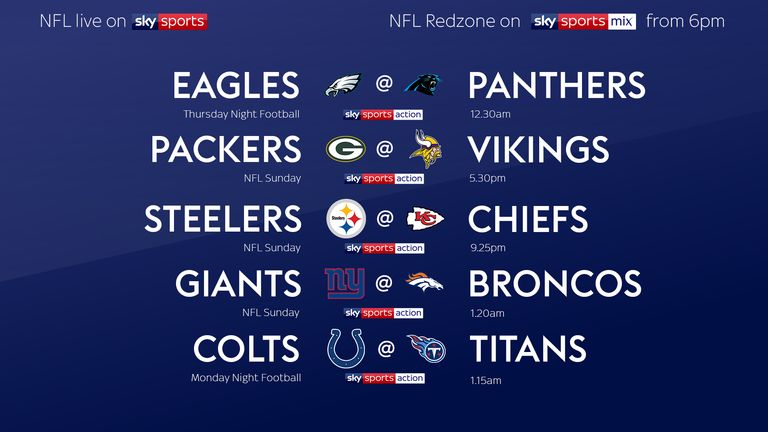 Green Bay Packers @ Minnesota Vikings, NFL Sunday LIVE
Sky Sports Action (407), 5.30pm, Sunday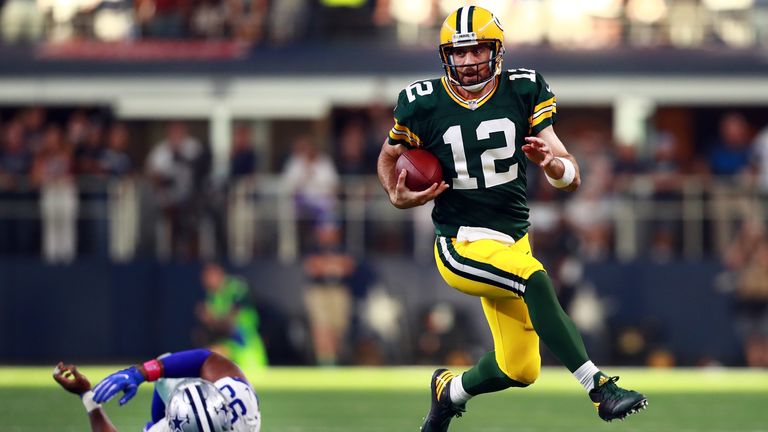 Graves: Few teams have had poorer luck with injuries than the Vikings. Already contending with the loss of rookie RB Dalvin Cook for the season, it now appears starting QB Sam Bradford has again aggravated his knee injury in the Week Five win over the Chicago Bears.
Somehow Minnesota must find a way to overcome these setbacks and go toe to toe with an Aaron Rodgers in sensational form. Rodgers once again defied the odds to lead the Packers on a 75-yard, game-winning touchdown drive inside 62 seconds last week in Dallas - a win which lifts Green Bay to 4-1 and the outright lead in the division, though this week he faces a stout Vikings defence which ranks seventh overall, seventh in run defence and eighth in points allowed.
PICK: PACKERS
Jones: There's added spice to this one! Even Tom Brady says he stays up late to watch Rodgers play - and as he proved once again last week, you can just never write him and the Packers off. As for Minnesota, wide receiver Stefon Diggs has been electric, but his groin is playing up at the wrong time. I've got Green Bay winning this one by two TDs.
PICK: PACKERS
Pittsburgh Steelers @ Kansas City Chiefs, NFL Sunday LIVE
Sky Sports Action (407), 9.25pm, Sunday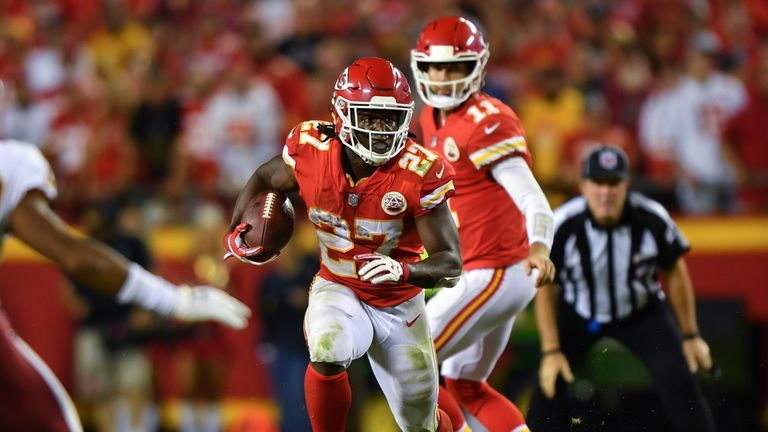 Graves: Another hugely impressive performance by the Chiefs saw them beat the Texans and climb to 5-0 in Houston. Although it was just a one-score game at the end, the win was much more comfortable than that suggests.
A trip to Kansas City, with all the weapons they have, is daunting enough, but even more so when you've just thrown five interceptions and had two of them returned for touchdowns in a humiliating home defeat to the Jacksonville Jaguars....Big Ben and the Pittsburgh Steelers need to show a dramatic turn around in form to pull off this upset.
PICK: CHIEFS
Jones: They're the only unbeaten team left in the league. Alex Smith is class, Kareem Hunt is on a different level, and I can't get enough of watching receiver Tyreek Hill running the ball back at 23mph!
They are just too strong for the Steelers, with only one of the Big B's - Antonio Brown, who leads the league in receiving - delivering consistently. I'll even stick my neck out and give a score for this one - KC wins 34-13.
PICK: CHIEFS
New York Giants @ Denver Broncos, NFL Sunday LIVE
Sky Sports Action (407), 1.20am, Monday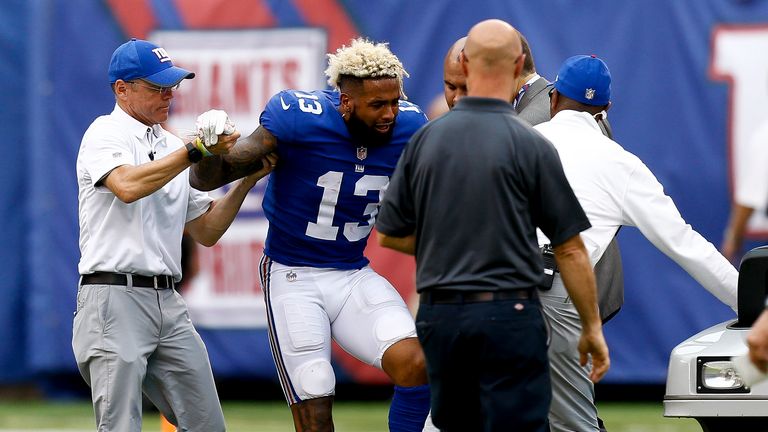 Graves: Last Sunday, the Giants' woeful season got worse as they lost a quartet of wide receivers, with Odell Beckham Jr, Brandon Marshall and Dwayne Harris lost for the year, while Sterling Shepard didn't finish the game either.
A trip to Denver probably isn't high on what New York wanted right now but it's what they've got. The Broncos defence has looked ominously good at home this season - already completely shutting down both the Dallas Cowboys and Oakland Raiders offences and, in a division where the unbeaten Chiefs are setting the pace, there's no room for letting up.
PICK: BRONCOS
Jones: I dread I think! Missing four wide receivers, with their running game gone to pot - relying on Eli Manning to rush?! - I just don't know how the Giants are anything other than 0-6 after this one. Broncos linebacker Von Miller is not human! And also, the Denver running game, with C.J. Anderson, is starting to spark.
I see Giants being 0-6 after this.
PICK: BRONCOS
Indianapolis Colts @ Tennessee Titans, Monday Night Football, Sky Sports Action (407), 1.15am, Tuesday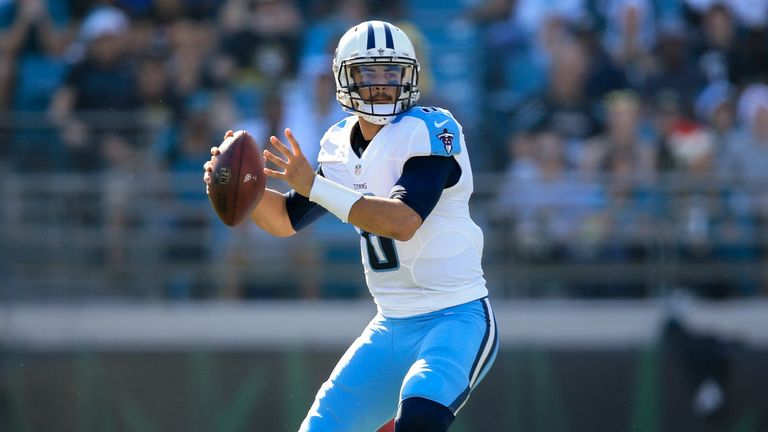 Graves: When the TV schedulers picked this game for prime time, they probably had Andrew Luck versus Marcus Mariota in mind, not Jacoby Brissett and Matt Cassel.
Brissett has at least made the Colts competitive in the last few weeks and has helped them to wins over the Cleveland Browns and San Francisco 49ers. However, without Mariota, the Titans were toothless in Week Five - unable to move the ball at all in defeat at Miami. Both teams go into this contest with a 2-3 record but the Colts are riding an 11-game winning streak against Tennessee.
PICK: COLTS
Jones: This game features two of the worst defences in the league, so it could mean a high-scoring, entertaining game! The winner? It all depends on Mariota's hamstring! If he plays, Titans win. I have faith...
PICK: TITANS
Week Six Predictions
| | | |
| --- | --- | --- |
| | Richard Graves | Gethin Jones |
| Eagles @ Panthers | Panthers | Panthers |
| Packers @ Vikings | Packers | Packers |
| Bears @ Ravens | Ravens | Ravens |
| Browns @ Texans | Texans | Texans |
| Lions @ Saints | Lions | Saints |
| Dolphins @ Falcons | Falcons | Falcons |
| Patriots @ Jets | Patriots | Patriots |
| 49ers @ Redskins | Redskins | Redskins |
| Steelers @ Chiefs | Chiefs | Chiefs |
| Buccaneers @ Cardinals | Cardinals | Cardinals |
| Rams @ Jaguars | Jaguars | Jaguars |
| Chargers @ Raiders | Raiders | Chargers |
| Giants @ Broncos | Broncos | Broncos |
| Colts @ Titans | Colts | Titans |
Graves: The Eagles are the surprise team in the NFC East, while the Panthers are resurgent in the NFC South.
The Eagles without starting right tackle Lane Johnson (concussion) is a problem - since the start of 2016, Philadelphia are 9-2 when he plays but just 2-11 without him. Music to the ears of veteran Panthers pass rusher, Julius Peppers. Carolina have the sixth-ranked defence and have given up just under 19 points a game through the first five weeks - a schedule which has included Tom Brady, Drew Brees and Matthew Stafford as opposing quarterbacks.
PICK: PANTHERS
Jones: The two best teams in NFC at the moment, though Aaron Rodgers and the Green Bay Packers might have something to say about that. Both QB's have found some form, with Carson Wentz delivering on 3rd downs, and Nelson Agholor and Zach Ertz particularly benefiting. Having said all that, my gut says Panthers, just!
PICK: PANTHERS
Week Six continues on Sunday with three live games on Sky Sports Action, starting with Green Bay Packers @ Minnesota Vikings, from 5.30pm.
Follow the 2017-18 NFL season with us on Sky Sports and through our website skysports.com/NFL also our app for mobile devices and iPad, or follow our Twitter account @SkySportsNFL