NFL's highest-paid players: Michael Thomas, Aaron Donald, Travis Kelce, Landon Collins
By James Simpson
Last Updated: 07/08/19 3:42pm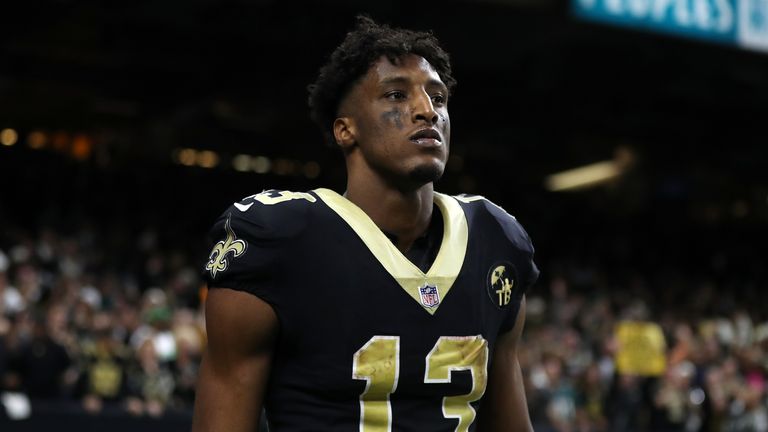 After Michael Thomas signed a new bumper contract and Tom Brady agreed to his latest extension, we examine the NFL's highest-paid players.
Thomas' contract put him at the top of the receiver list, topping Odell Beckham's $90m deal signed last offseason, while Brady's two-year extension again ensures New England will be equipped for more Super Bowl runs.
With money on our minds and plenty of potential deals to be signed in the coming weeks, we've decided to run down the best-paid players at each position. All numbers are from Spotrac and cover the total value of active NFL contracts.
We will begin with the biggest contract in the history of the league...
Offense
Quarterback - Matt Ryan, Atlanta Falcons ($150m)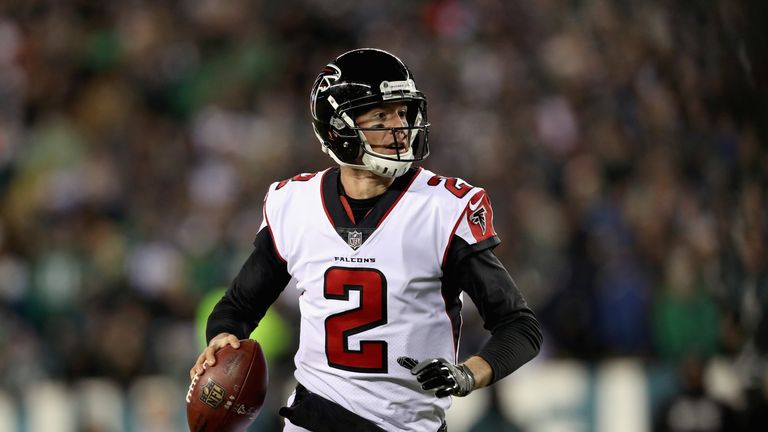 While deals for Russell Wilson ($35m a year), Brady ($35m), Ben Roethlisberger ($34m), Aaron Rodgers ($33.5m) and Carson Wentz ($32m) all average more than Ryan per season, his five-year extension signed last offseason offers up to a whopping $150m.
Entering his age-34 season, Ryan impressively hasn't missed a game in his last nine seasons, has made four Pro Bowls, and is closing in on the top 10 all-time list for passing yards with 46,720 (currently 12th).
Running Back - Todd Gurley, Los Angeles Rams ($57.5m)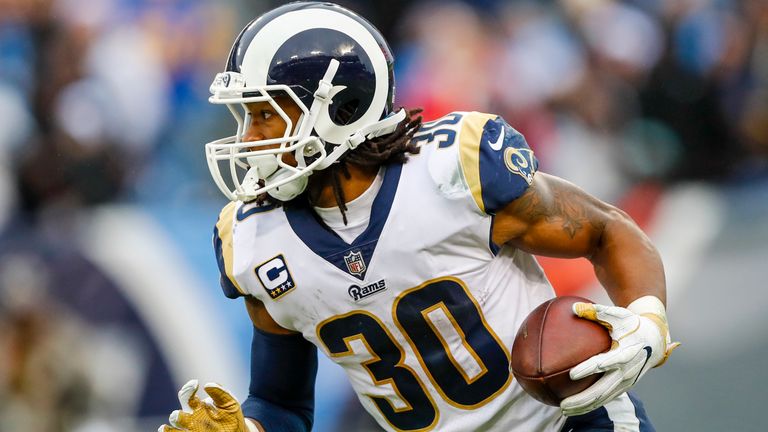 After bursting onto the scene when winning the NFL's Offensive Rookie of the Year in 2015, Gurley had somewhat of a sophomore slump as the Rams faltered under Jeff Fisher. Then Sean McVay came along.
2017's 2,093 scrimmage-yard, 19-touchdown season earned Gurley the Associated Press NFL Offensive Player of the Year Award and in turn, a bumper contract in Los Angeles. He followed that up with another dominant campaign (1,831-21) last season and, despite his well-documented knee problems, is set to star for the Rams again in 2019.
Wide Receiver - Michael Thomas, New Orleans Saints ($96.3m)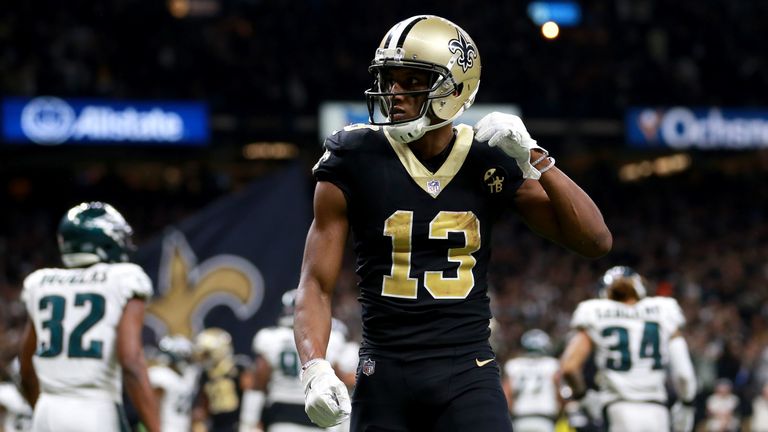 Beckham was the big-name signing last summer, but if there was anyone worthy of making more than OBJ, it was Thomas. What the 26-year-old has achieved during his three years of action is other-worldly.
Since New Orleans selected Thomas in the second round of the 2016 NFL Draft, he has amassed 321 catches, 3,787 yards and 23 touchdowns. Those 321 receptions are the most by any player through their first three seasons in NFL history, and he led the league in catches last year with 125.
Tight End - Travis Kelce, Kansas City Chiefs ($46.8m)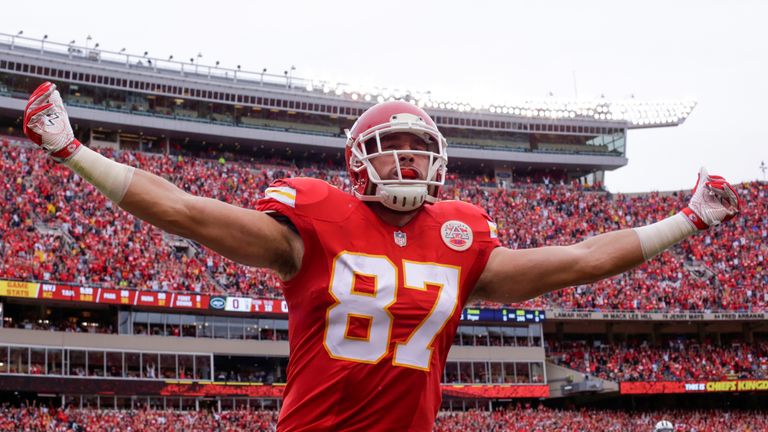 With arguably the greatest tight end of all time - Rob Gronkowski - hanging up his cleats this offseason, Kelce takes over the mantle as the highest-paid player at the position. He signed the five-year deal back in 2016 after an impressive start to his career, and he hasn't looked back.
Over the last three seasons, Kelce has 271 receptions, 3,499 yards and 22 TDs - numbers comparable to the league's highest-paid receiver, Michael Thomas. Kelce has been named to the Pro Bowl for four straight years and will no doubt continue to benefit from the breakout of cannon-armed quarterback Patrick Mahomes.
Offensive Tackle - Tyron Smith, Dallas Cowboys ($97.6m)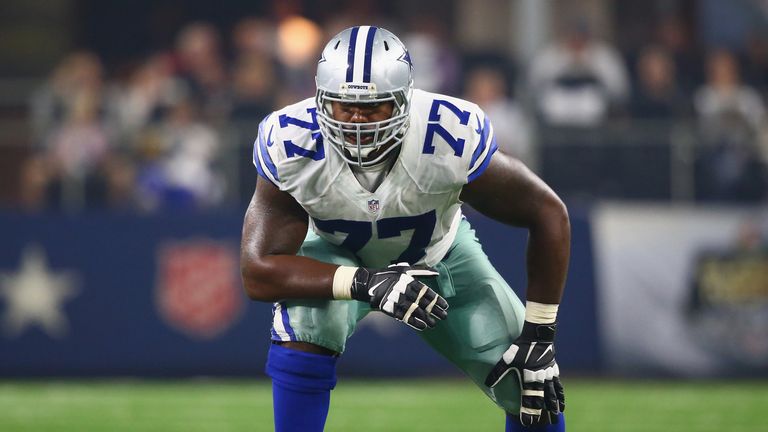 When the Cowboys drafted Smith with the ninth overall pick in 2011, he was the first offensive lineman taken in the first round by Jerry Jones since he bought the team in 1989.
Since then, he's been a Pro Bowler in the last six straight seasons and dominated defensive ends weekly. He missed three games through injury in 2018 for the second year in a row, but it hasn't stopped him performing to the highest level when he is on the field.
Offensive Guard - Zack Martin, Dallas Cowboys ($84m)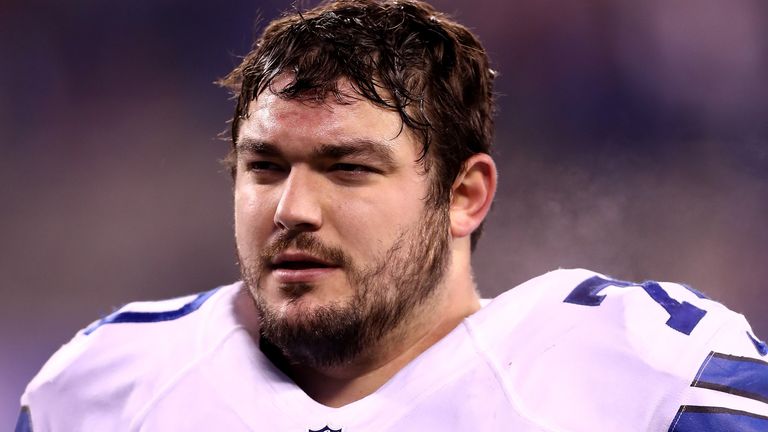 Three years after Smith, Dallas again dipped back into the first round to take a lineman - this time choosing a player who has dominated on the interior of the line from the moment he stepped on the field.
He was the final piece of the puzzle in 2014 as the Cowboys built a formidable front with a trio of high picks, including Martin, Smith, and another key player in the middle...
Center - Travis Frederick, Dallas Cowboys ($56.4m)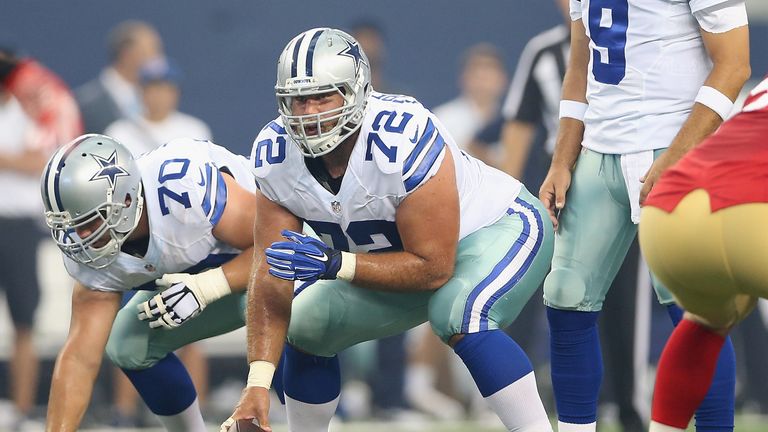 Frederick was taken with the 31st pick of the 2013 Draft and, like both Martin and Smith, made the Pro Bowl every year from 2014 to 2017. However, he was diagnosed with Guillain-Barre syndrome in August last year and spent the entire season on the sidelines.
The former Wisconsin Badger, who signed his contract in 2016, is thankfully back on the field in training camp. It is yet to be determined whether he will perform to the level he sustained before last year's diagnosis, but if he does, he remains worth every cent of his deal.
Defense
Defensive Tackle - Aaron Donald, Los Angeles Rams ($135m)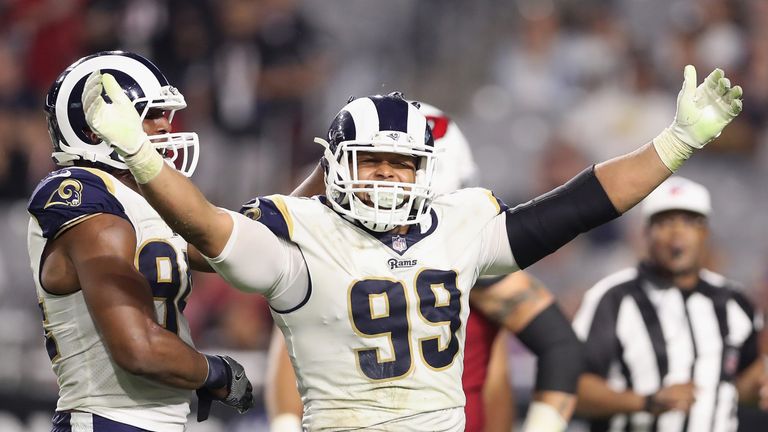 Donald followed in the footsteps of Beckham and Rodgers in signing a big-money new deal last summer, with his being the richest in NFL history as he put pen to paper on a record six-year $135m contract with $87m guaranteed.
The Rams defensive tackle has been a Pro Bowler in each of his five seasons in the league, a first-team All-Pro in the last four of those, and was named the NFL's Defensive Player of the Year in 2017 and 2018. So, he's not bad then!
Defensive End - DeMarcus Lawrence ($105m)
Lawrence replaces JJ Watt in this year's list, after 25 sacks over two outstanding seasons earned him a payday in April. The Cowboys initially placed the franchise tag on their pass-rusher but were happy to tie him down to a long-term deal.
Although he has been placed on the PUP (Physically Unable to Perform) list after having surgery to repair a torn labrum over the summer, Lawrence is expected to be good to go by Week One.
Outside Linebacker - Khalil Mack, Chicago Bears ($141m)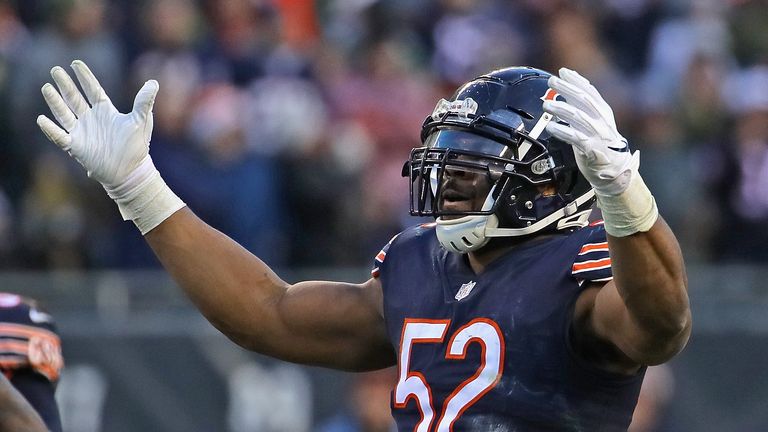 Not long after completing his blockbuster switch from the Oakland Raiders to the Bears last preseason, Mack agreed a deal surpassing Donald's contract in Los Angeles. His six-year extension included $90m guaranteed and the deal also took him ahead of Von Miller at the outside linebacker position, and made him the highest-paid defender in NFL history.
Like Donald, Mack has earned a Defensive Player of the Year award - his coming in 2016. The 27-year-old had racked up 40.5 sacks in just four seasons as a pro before making the move to Chicago, where he added 12.5 more and a fourth straight Pro Bowl selection.
Inside Linebacker - C.J. Mosley ($85m)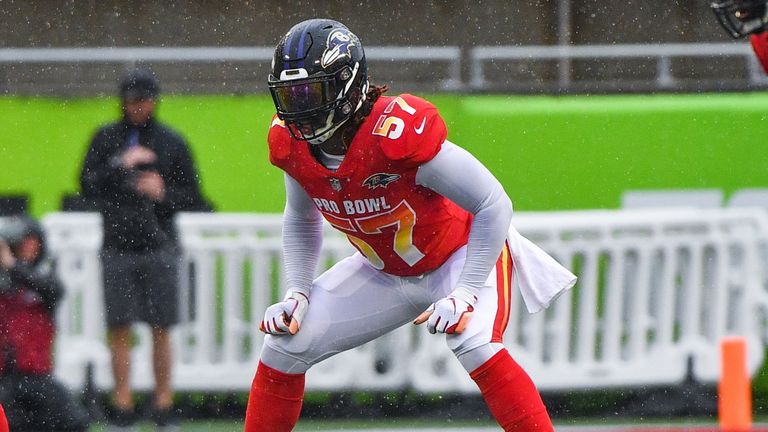 Mosley is the first of two players on this list who signed position-leading deals when they moved teams in free agency this summer. Having spent his last five seasons with the Baltimore Ravens, Mosley - who has 579 tackles and has made the Pro Bowl four times - signed with the Jets.
In his prime at 27 years old, Mosley will immediately come in and man the middle of the Jets' defense and was described as a "culture-changer" by head coach Adam Gase. With a second-year quarterback Sam Darnold, and a new 'quarterback of the defense' in Mosley, the Jets are on the way up.
Safety - Landon Collins ($84m)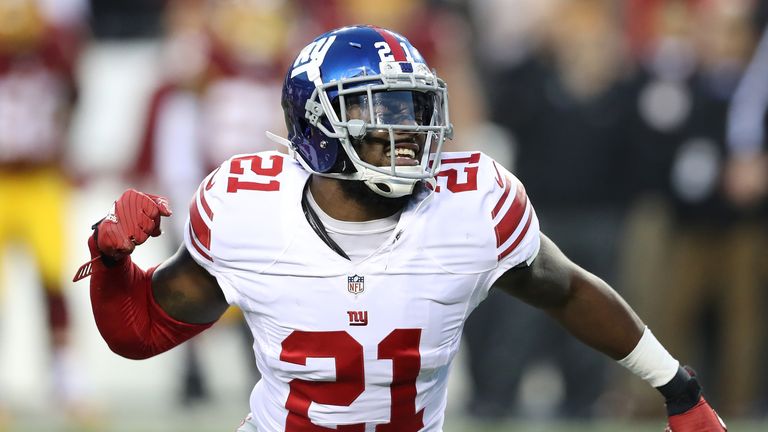 Hard-hitting safety Collins has been described as a 'heat-seeking missile' and after moving from New York to NFC East rivals Washington, seems sure to take out some anger on his division opponents this season. He has said there is "going to be a lot of aggression" when he faces his former team.
Outside of his personal vendetta, Collins will add a tremendous play-making ability to the Redskins' D. In 2016, he became the first player in NFL history to have over 100 solo tackles, more than two sacks, at least five interceptions, and at least 12 pass deflections.
Cornerback - Xavien Howard, Miami Dolphins ($75.3m)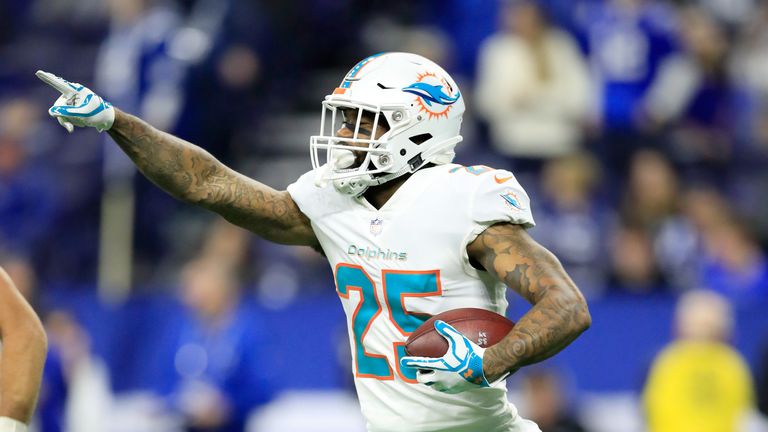 Three years into his career after a second-round selection in 2016, Howard posted a Pro Bowl and second-team All-Pro season in 2018. With seven interceptions, he was tied for the league lead, and the 24-year-old signed a five-year deal making him the highest-paid corner in the league.
NFL.com analyst Brian Baldinger says Howard "deserves mad respect" but there's no doubt he's earned it with his outstanding 2018 campaign.