What is wrong with the Oakland Raiders? Rob Ryan and Takeo Spikes look at their early-season struggles
By David Currie
Last Updated: 15/10/18 2:16am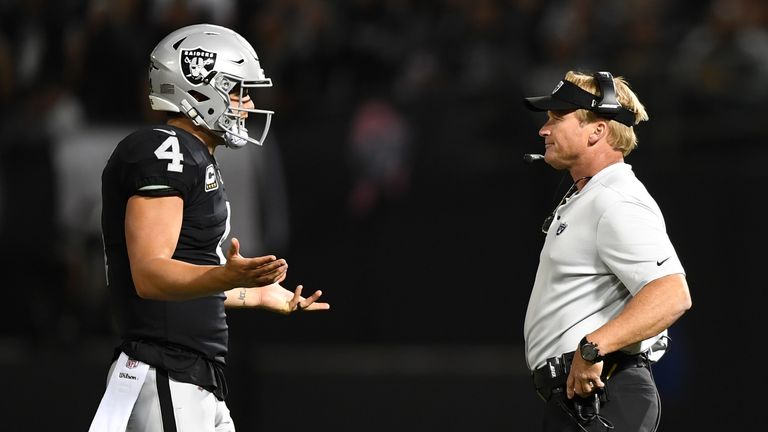 What is wrong with the Oakland Raiders?
At 1-5 on the season off the back of their Wembley beating by the Seattle Seahawks, a fair bit it seems. But mostly fingers are pointed to a misguided pre-season trade away of their best pass rusher, nay best player, Khalil Mack, and Jon Gruden's patchy start to his coaching comeback after 10 years out of the game.
Despite his lengthy absence from coaching, Gruden - a Super Bowl winner when in charge of the 2002 Tampa Bay Buccaneers - was still held in high enough regard to be signed up to an NFL record 10-year, $100m contract. That tie-up is looking a tad hasty now, only six games into his second tenure in Oakland.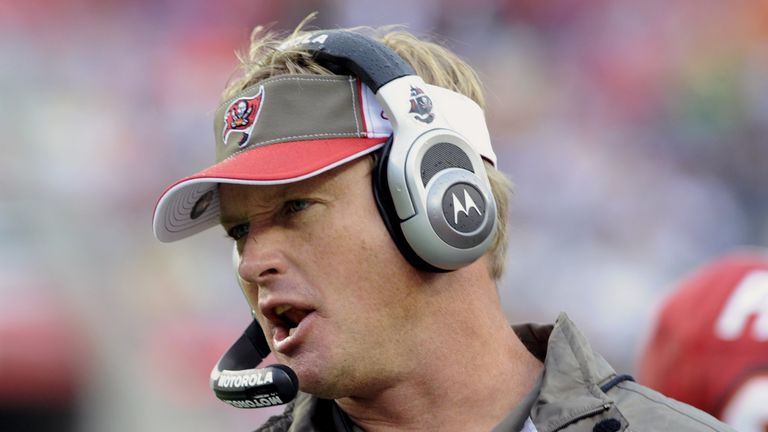 But, it should not be forgotten, even with Mack and sans Gruden last season the Raiders weren't much better, going 6-10 on the year.
This was, however, a playoff team as recently as 2016. With the help of former Oakland defensive coordinator Rob Ryan and NFL linebacker Takeo Spikes, we take a closer look at the reasons for the drop off since…
Mack trade madness
"A Khalil Mack comes around only once every 15-20 years," says Takeo. "And, on top of that, you need to be lucky to get him in the draft. Just like all of the Oakland fans, I don't understand the move.
"It's a very strange one, especially when you look at the teams that are last in the league in sacks. The Raiders are last with only six. Meanwhile, look at what Mack has done in Chicago, he has made the Bears relevant again."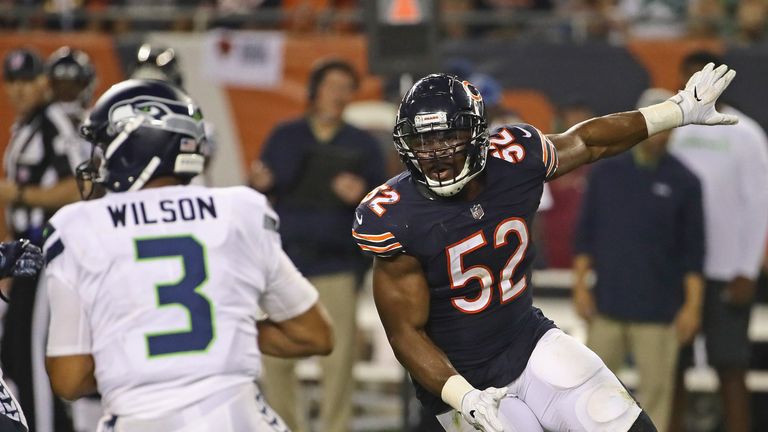 Mack nearly matches the entire Raiders defense, having registered five quarterback takedowns through Chicago's first five games of the season. He has also forced more fumbles (four to Oakland's three) and both have a defensive touchdown to their name - and, the Bears have played a game less!
It makes it all the more remarkable that the Raiders were willing to part with him, especially given Gruden's subsequent comments that "it's hard to find a great one [pass rusher]".
Well, Oakland had found one. Mack had 40.5 sacks through his first four years in the league, making a name for himself as one of the NFL's most dominant edge rushers. That reputation has only enhanced since his exit.
Gruden's struggling start
The fear surrounding Gruden's return was that he was 10 years too long out of a game renowned for constantly evolving, that he was out of touch and an old-school coach not in keeping with the current trend of young innovators in the position like Sean McVay of the Los Angeles Rams.
His Mack stance hasn't helped ease those fears, nor has his penchant for signing veteran players who, as good as their resumes may be, have made Oakland the NFL's oldest roster.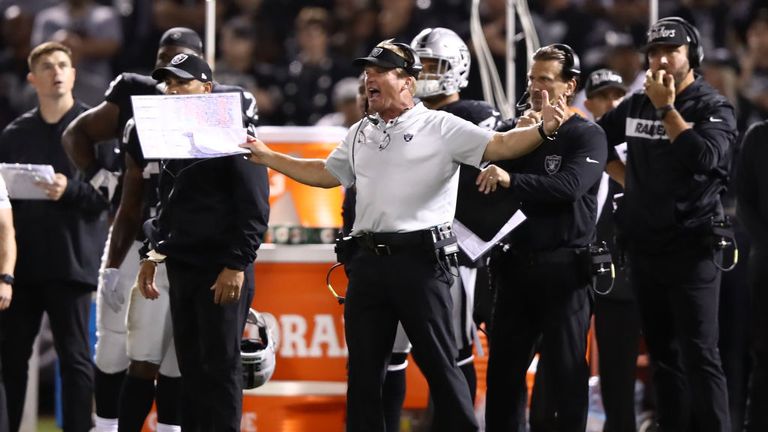 But Ryan, as coach in Oakland from 2004-2008 says it's still too early to judge. "I think Gruden will make them better," he says. "He's an excellent coach and he will get things going eventually.
"I know people are saying it's an old team, but all Gruden did was hire some really good football coaches and each one got a player in the building that they wanted.
"I understand that right now, the team looks old, but it can quickly look young again with some good drafting over the next couple of years, and they've got two more first-rounders in the next two years with the Mack deal."
Even so, this Raiders roster is a far cry from the youthful team that were genuine AFC contenders two years ago.
Failing to follow 2016 high
The Raiders returned a winning record for the first time in, staggeringly, 14 years with their 12-4 finish in 2016, also clinching a first playoff berth since 2002.
Third-year starting quarterback Carr was a large part of that. Comfortably a top-10 performer in the most important categories, the QB was set for his first 4,000-yard year passing until injury struck with him 63 yards shy on the penultimate weekend of the season - a broken fibula ruling him out for the postseason.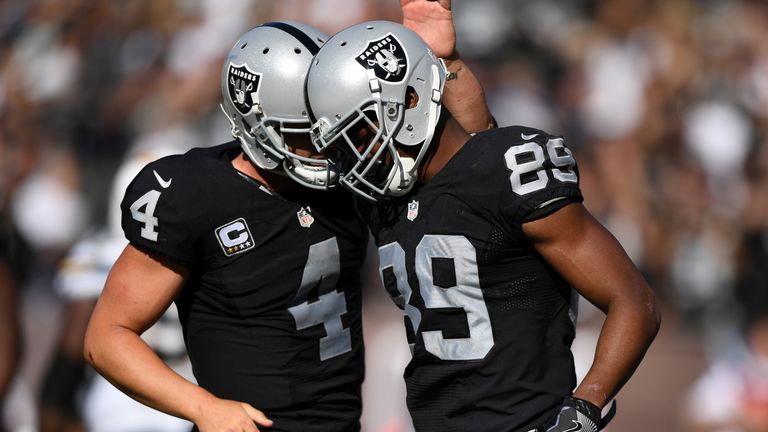 It was a devastating blow for not only the player, but the team as a whole, as their subsequent Week 17 defeat to the Denver Broncos saw the Raiders relinquish the No 2 seed in the AFC and, as such, a first-round bye and home-field advantage. Instead, an injury-depleted Oakland outfit travelled to Houston on Wild Card weekend and were handily beaten 27-14 by the Texans.
Even in spite of the injury, Raiders management were convinced enough by Carr's progression to offer him a then league-leading $125m, five-year contract extension in the offseason. But have we seen the best of Carr since?
Offense stepping up?
The 2017 season was definitely a step back for the Oakland signal-caller, throwing a career-high 13 interceptions to go with only 22 TDs, while his passer rating (86.4) slipped below 90 for the first time since his rookie year.
Before their 27-3 beating by the Seahawks though, the Raiders offense was keeping them in game, while it was the defense that was struggling - their 1,641 yards passing through five weeks was good for sixth in the league, and Carr's Carr's completion percentage of 71.3 was behind only Drew Brees (77.9) and Jared Goff (72.3).
Similarly, Oakland were sixth in yards per game (411.2), just they're not necessarily translating that success into points, falling back to 23rd in that category as 21.4 per game.
Then followed the horror show against the Seahawks, with Carr passing for only 133 yards and the team returning just the 185 yards total yards on offense!
Uncertainty over their 'home'
Not helping the Raiders is the franchise's uncertain future. A move to Las Vegas has been agreed for 2020, but there has yet to be a concrete decision made on the team's home for 2019.
There are rumours of a return trip to London (perhaps more than one?) as a potential option. But that scenario was not necessarily helped by how noticeably Raider nation was outnumbered by Seahawks fan at their adopted home on Sunday.
Even so, Oakland could well be back on these shores next year. They can only hope for a much-improved display then, and for the rest of the 2018 season.
Follow the 2018-19 NFL season with us on Sky Sports and through our website skysports.com/NFL also our app for mobile devices and iPad, or follow our Twitter account @SkySportsNFL.