England captain Geva Mentor wants her team to show the same "no fear" attitude that delivered New Zealand a shock win over Australia when netball's own Ashes battle takes centre stage at the World Cup on Tuesday.
Mentor said Australia's surprise loss to New Zealand in their last preliminary round match on Sunday showed the Diamonds were not bullet-proof as the Roses take confidence from their own unbeaten start to the tournament.
England have won their opening three games of the World Cup, including a thrilling 54-50 win over world No 4 Jamaica on Saturday, to top their pool, despite a challenging start to the event after the death of coach Tracey Neville's father last Friday.
Mentor said England was not expecting to meet Australia in this next phase of the World Cup, admitting they had been anticipating a qualification-round clash against New Zealand.
The star goal keeper expected the Diamonds to come out with a "lot to prove", but was confident England had the team and the form to stand up to the world No 1 team.
"We definitely know that we've got the playing group and the team (to beat them), it's just about making sure we do what we need to do on court," Mentor said.
"I think New Zealand just went out with no fear and nothing to lose and I guess that really showed."
England suffered a one-goal loss to Australia in the preliminary rounds at last year's Commonwealth Games and Mentor said the Roses had not forgotten about that result.
"The teams are obviously different but the memory is still there," Mentor said.
Mentor said the Roses also continued to draw strength from coach Neville, who they were determined to perform for in Sydney.
"What Tracey has been through, she has given us so much courage and strength, it has been absolutely unbelievable," Mentor said.
"We are inspired by that. It's not just about doing it for her and her family, it is about doing it for us and she has given up a lot to be here and to commit to us as well, so we just want to do her proud, but not just her but our nation as well.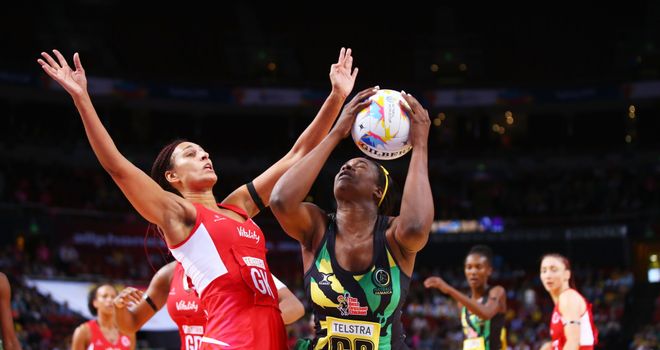 "We haven't seen any signs of distraction from her, she has been behind us 100 per cent. And we owe her the justice to commit to it 100 per cent and not get distracted and just know that we are there for her and she is equally there for us."
While they're yet to lose a match, Mentor warned England's form was still building.
"There has not been polished performances as yet but we have been building as each game has gone," Mentor said.
"We can take great strength from that tough game in the middle against Jamaica, we were able to put a lot of gremlins to bed."
Watch England play Australia in the qualification round of the Netball World Cup from 11.15am on Sky Sports 4 HD on Tuesday.