Wembley Stadium to host Carl Froch-George Groves II on May 31
Wembley Stadium has been confirmed as the venue for Carl Froch's rematch with George Groves.
Last Updated: 08/05/14 3:34pm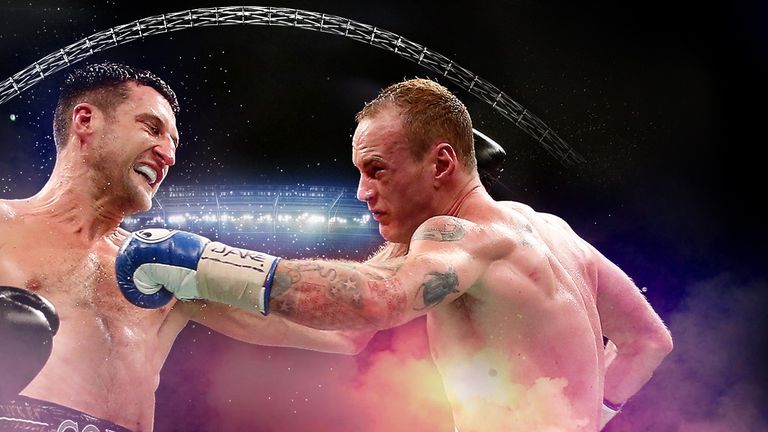 The historic football ground was chosen to stage the second fight between the two bitter rivals on May 31, live on Sky Sports Box Office.
A number of other venues were thought to be in the running, but Froch will face Groves in the capital for what many are calling Britain's biggest boxing fight ever.
Froch puts his WBA and IBF super-middleweight titles on the line again, six months after his controversial stoppage win in November, which sparked immediate calls for a return bout.
Groves floored Froch in the first round, but the Nottingham man survived some torrid spells in the fight and staggered the challenger with a ninth round assault, prompting the hasty intervention of referee Howard Foster.
The post-fight truce between the pair was swiftly forgotten amidst heated protests from Groves about the stoppage and Froch has vowed to silence his outspoken foe once and for all in the rematch.
The fight is expected to break the best British attendance for a post-war boxing match which was 57,000 for Ricky Hatton's homecoming fight against Juan Lazcano at the City of Manchester Stadium.
Brilliant news
"It's brilliant news for many, many reasons," Groves told Sky Sports News. "This is a huge fight. It needed to go to an impressive stadium and Wembley is top of the list. For me personally, it's going to be a great night.
"I was at that record breaking Hatton fight, wow what an atmosphere.
"It wasn't one of Ricky's best performances, it wasn't even one of Ricky's best fights, but everyone had a fantastic night just because there were so many people in there.
"It was a great night of boxing and I think we're going to have the same this time round, except I'm going to put Carl Froch to sleep as well. They've got that to look forward to as well."
Hammersmith-born Groves is glad the fight will be held on his own patch and took a swipe at Froch, suggesting the prospect of a hostile reception will be the 'least of his worries'.
"I can't wait to be crowned world champion in my home city," he said.
"I think I have got a lot of advantages going into this fight and I think the venue, the city is the least of his worries. The advantages he wants to worry about are the ones I displayed last time we boxed and that was in a neutral venue.
"He's got plenty more things to worry about poor Froch, so he doesn't have to worry about where the fight is taking place."