New Zealand vs England: Day one of second Test in a nutshell
Selection, spilled catches and Latham's fifth hundred in 10 innings...
Last Updated: 29/11/19 6:13am
"Nonsense" selections, a costly drop, another Latham century, and a contentious lbw call - here are the notables from day one at Seddon Park...
Tom Latham punished Ben Stokes for dropping him on 66 by completing his 11th Test ton and ensuring New Zealand bossed a rain-shortened day one of the second and final Test against England in Hamilton.
Latham was spilled by a diving Stokes at slip having successfully overturned an lbw dismissal against the recalled Chris Woakes on 49 as he steered the Black Caps - 1-0 up in the series after their innings win in the first Test - to 173-3 from 54.3 overs before rain ended play prematurely.
England, who inserted New Zealand after winning the toss, packed their side with five seam bowlers - much to Sky Cricket expert Mark Butcher's consternation - as Woakes played in place of spinner Jack Leach, while Ollie Pope deputised as wicketkeeper for the injured Jos Buttler.
Moment of the Day
This will really go down as missed opportunity of the day as far as England are concerned.
Latham was surprised by some extra lift off the pitch from a Jofra Archer delivery and edged towards Stokes at slip. However, the England all-rounder, usually so reliable in the field, spilled the chance leaping to his left. Latham has now added another 35 runs to his tally, so Stokes will be hoping it ends up being nowhere near the 174 runs BJ Watling added in the first Test as he made 205 after being grassed by Stokes on 31.
The other frustration for England was Ross Taylor successfully overturning an lbw dismissal on 25 when Snicko suggested he clipped Stuart Broad's ball with his bat before it thumped into his pad. Broad was adamant he had his man - even celebrating before turning round to the umpire - only for DRS to save the New Zealand batsman.
The controversy came via the fact the spike on Snicko came a fair while after the ball had passed the bat, with many in the commentary box feeling the noise was Taylor's foot on the ground and that England had been hard done by. Taylor went on to score 53.
Stats of the Day
- Tom Latham has now scored five hundreds in his last 10 Test innings.
- Three of those have come in 2019, meaning only Kane Williamson (five in 2015 and four in 2014) and Brendon McCullum (four in 2014) have scored more tons for New Zealand than him in a calendar year.
- Ollie Pope is keeping wicket for England, despite only having done the job in five first-class games prior to this match.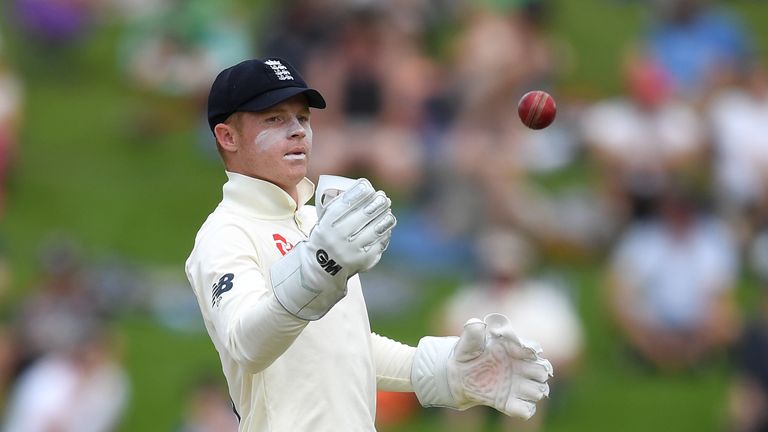 Talking point
Selection - in fact Mark Butcher was seething about it! Buttler's knee injury, picked up in the gym on Thursday, seemed to put England into a stupor as they looked to rebound from their mauling at Mount Maunganui.
With no recognised back-up wicketkeeper on tour - Jonny Bairstow having been dropped and Ben Foakes overlooked - Pope had to don the gauntlets.
That meant Zak Crawley, an opener with Kent, made his Test debut at No 6 - a spot above Pope - but England went even more maverick by then announcing they had dropped left-arm spinner Leach and instead recalled Woakes into an all-pace attack, possibly because they knew Stokes had a knee issue. Cue a rant from Butch...
"Blasé, fast and loose, call it what you like - it's just nonsense," Butcher said when hearing the England team. "Five seamers? If four quicks aren't getting 20 wickets on a green one, then the fifth one is doing nothing anyway.
"Leach not playing is a nonsense, to me. You have a world-class all-rounder [in Stokes] so you can always have a five-man attack and yet you are telling me you cannot get a spinner in that team?"
On Pope, meanwhile, Butcher added: "I am annoyed, actually. I am annoyed for Pope. Here is a kid who averages 60-odd in first-class cricket at a time when batters are struggling for runs.
"He makes his debut [against India in 2018] out of position at No 4 - a place he'd never batted before - and now he is being asked to keep wicket when he hasn't kept wicket for Surrey for years."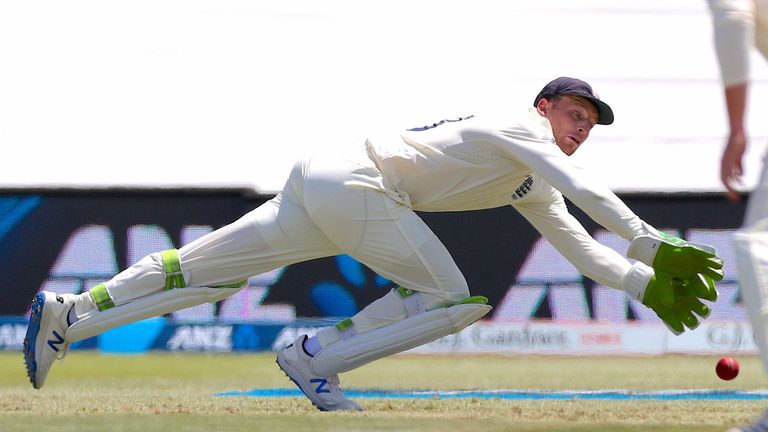 Tweets of the Day
Is Tom Latham now already our best ever test opener? Stats wise he seems to already have that spot cemented and he's not even 28 yet? 🤔 #yoursplease #NZvsENG

— Scott (@IamNotJonahHill) November 29, 2019
Pope been quietly absolutely fine thus far. England have created a situation where their keeper being quietly absolutely fine is itself banter. Art.

— Dave Tickner (@tickerscricket) November 28, 2019
England are going into a Test without a frontline spinner for the first time since Headingley 2012, 94 matches ago

— Simon Wilde (@swildecricket) November 28, 2019
What they said
Mark Butcher on Tom Latham: "Superb. It's simplicity in itself with Latham and one of the things I really like, and it's kind of old fashioned, is that he points his hips and shoulders in the direction of the ball. He very rarely finds himself getting squared up, he very rarely plays around the front pad and the bat looks like a barn door whether the bowlers are over or around the wicket. He is very tidy and there is a good reason he averages 45 in an era where opening batsman are struggling, apart from perhaps in India and Australia."
Mark Richardson on New Zealand: "New Zealand have played very well, helped by England making the wrong decision at the toss. It's a feather-bed out there. It is a good track to bat on now. New Zealand have batted well and England haven't found the right line and lengths, certainly in the first session when they needed to put the pressure on. I just don't think they've been on the ball."
Mike Atherton on England's team selection: "I try and understand the logic from which they're coming from because these guys are no fools in the England dressing room. What they would say is that if you look at the record of England spinners in New Zealand, Australia, South Africa over the last three or four years and the record is poor, they don't take wickets. I don't agree with their theory but I think we have to give them respect for how they thought it through."
Watch day two of the second Test between New Zealand and England from 9pm on Friday on Sky Sports Cricket (channel 404).