James Anderson and Stuart Broad return in Brendon McCullum's first England squad for New Zealand Tests
England take on New Zealand in three Tests, starting at Lord's on June 2 live on Sky Sports; Brendon McCullum recalls James Anderson and Stuart Broad after the pair missed March's Test series defeat in the West Indies; Harry Brook and Matthew Potts receive first call-ups
Last Updated: 18/05/22 10:06pm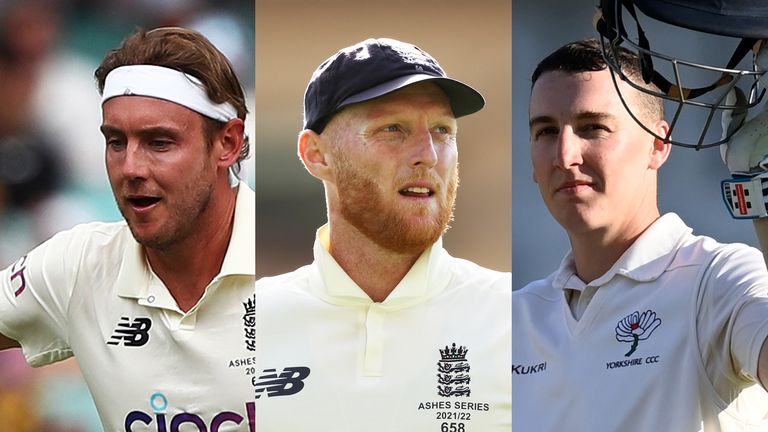 James Anderson and Stuart Broad have been recalled in Brendon McCullum's first England squad to take on New Zealand in a three-Test series next month, with Harry Brook and Matthew Potts receiving their first call-ups.
Anderson and Broad - England's leading wicket-takers with a combined 1,177 Test wickets - return in the 13-man squad, captained by Ben Stokes, after they were left out of the 1-0 Test series defeat in the West Indies in March.
Yorkshire batter Brook and Durham seamer Potts are called up to the Test side for the first time.
Brook has been the standout batsman in Division One of the County Championship so far this season, scoring 758 runs at an average of 151.60. He made his Twenty20 International debut for England in January.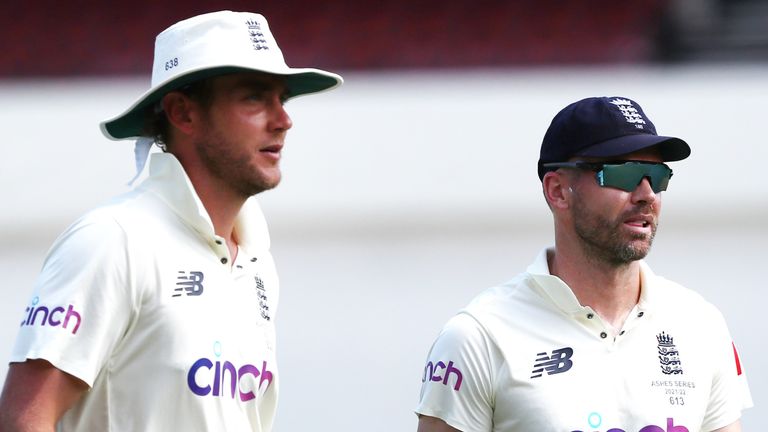 Potts has been the season's leading bowler, with 35 wickets and four five-wicket hauls in Division Two, including taking 7-40 last time out in Durham's win over Glamorgan.
"This is the start of a new era for our Test team under the stewardship of Ben (Stokes) and Brendon (McCullum)," said Managing Director for England Men's Cricket, Rob Key.
"With a blend of youth and experience, we have selected an exciting squad that can compete with New Zealand in next month's Test series.
"We have rewarded players in Harry Brook and Matty Potts who have had outstanding starts to the County season, and they deserve the opportunity to stake a claim at this level.
"It promises to be a mouthwatering series, and I can't wait for the team to start against a very good New Zealand side. It is a fascinating prospect for everyone connected with the sport in this country."
The 13-man squad was selected by Key, McCullum, Stokes, Mo Bobat (Performance Director), James Taylor (Head Scout) and David Court (Player ID Lead).
Matthew Fisher, Dan Lawrence, Matthew Parkinson and Ollie Robinson have all been left out after being included in the squad for West Indies.
According to Key, Robinson has not played enough cricket at the moment and therefore 'wasn't in a position' to be selected. He also gave his thoughts on Anderson and Broad.
"I'd rather have them playing as much as possible," Key noted. "I'd rather have them in the side, trying to win games from England, than prolonging their careers for a long, long time where they can't impact as much as possible. We'll try and make the most of them while we've still got them."
Saqib Mahmood, Chris Woakes and Mark Wood are all currently injured.
The three-match Test series forms part of the ICC World Test Championship, with England currently bottom of the standings. New Zealand won the first edition of the championship in 2021.
The squad will come together for the first time next week in a camp before reporting to London on 29 May ahead of the first Test on June 2.
England Men's Test squad v New Zealand:
Ben Stokes (Durham) captain
James Anderson (Lancashire)
Jonathan Bairstow (Yorkshire)
Stuart Broad (Nottinghamshire)
Harry Brook (Yorkshire)
Zak Crawley (Kent)
Ben Foakes (Surrey)
Jack Leach (Somerset)
Alex Lees (Durham)
Craig Overton (Somerset)
Matthew Potts (Durham)
Ollie Pope (Surrey)
Joe Root (Yorkshire)
Compton: New era will take time
Former England opener Nick Compton told Sky Sports News he wasn't surprised by the squad selected but highlighted that, in his view, it still has challenges to overcome.
"It was a squad that was probably going to be expected.
"My initial thoughts are that it's pretty similar to the team that's played the last 17 Tests, but they've only won one match, so I don't see a huge change there.
"The problems for me are at 1, 2 and 3 and have been for some time. The other concern is the list of bowling options, of course. Stuart Broad and James Anderson return which is great, but there's no Jofra Archer, Mark Wood and surprisingly no Ollie Robinson, who has injury doubts."
Compton does believe that McCullum will instil change, but also thinks that a greater level development and movement will take time.
"I think what you're going to see straight away is what he [McCullum] did with New Zealand cricket; he changed the culture and brought a much more combative, aggressive style to his cricket. He never took a backwards step and that's important.
"It's one thing saying those things, bringing in new coaches and bringing in new ideas, but I still go back to the situation that there are some issues that England need to deal with - the top order and finding replacements for Anderson and Broad.
"They don't have that at the moment, so you can have all the ideas and innovations, the positive talk that Ben Stokes and Brendon McCullum will no doubt bring, but that's not going to happen overnight.
"England are playing against a very experienced New Zealand attack and they're good English-conditions bowlers; they swing it and they pitch it up.
"The era that we're going to see unfold will take some time. McCullum is a smart cricketing head; he'll want to get to know the players and see things for himself. A wise leader doesn't just dive in and start making big statements, so let's see what happens. It's a big first series, New Zealand are a very, very competitive team."
Watch Brendon McCullum's first series in charge of England live on Sky Sports, as his side take on New Zealand in three Tests, starting at Lord's on June 2.