Dominic Sibley: Highlight of record-breaking innings was partnering Hashim Amla
Surrey's record-breaking batsman Dominic Sibley says he will never forget his partnership with world No 1 Hashim Amla.
Last Updated: 28/09/13 1:23pm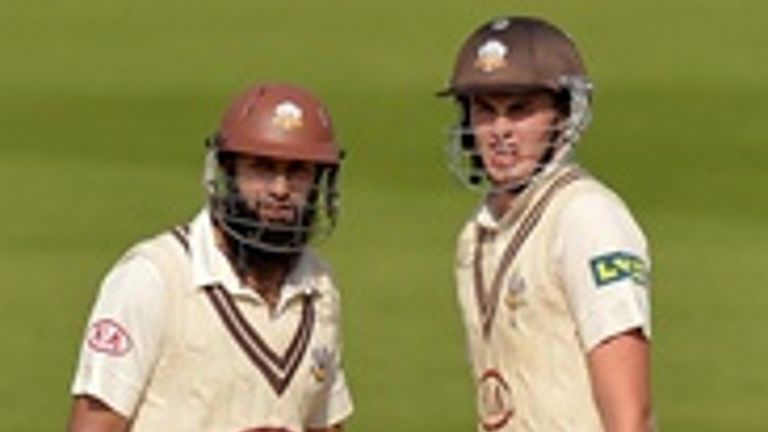 Sibley became the second youngest Englishman to score a first-class century - after WG Grace - when he scored a magnificent 242 against Yorkshire at the age of 18 and 21 days.
He was also the youngest player to score a double century in the County Championship, all in just his third first-class game.
For the majority of his marathon 10-hour Oval innings he was batting with South Africa superstar Amla. The pair put on 236, and whilst Epsom-born Sibley scored his 242 off 536 balls, Amla scored 151 off just 154 and the youngster admits watching his partner - ranked No 1 in the world in both Test and ODI cricket - at the crease was an education.
He told the ECB website: "It's something I'll never forget, not just for the innings I played but to spend that much time with him (Amla) at the wicket was incredible.
"Just watching him from the other end, I had the best seat in the house. His knock of 151, to watch that live, it was one of the best knocks I've ever seen. I said I wanted to bat with him and to put 200 on with him was a dream come true really.
"In about a month's time I'll probably be watching him on my TV, scoring hundreds against Pakistan in Dubai!"
Another great South African, Graeme Smith, will return to lead Surrey next season, and Sibley is expecting to move back to the second XI, with Rory Burns already an established opening partner for the skipper.
"Obviously, Graeme Smith comes back and he'll probably open the batting with Rory (Burns) so I'll have to go into the second team, score some runs and prove myself again, which is brilliant," he said.
"It challenges you and makes you score runs, which is what the game is all about."
Sibley is hoping his heroics do not bring too much attention when he goes back to Whitgift School on Monday.
"To be honest, I would rather it be normal, but whether that happens or not I don't know. I'm still getting messages through and I wouldn't say it's sunk in just yet. It's all a bit of a shock really.
"Kids of my age don't really get that sort of media coverage very often and when it happened on Thursday I suppose it was all a bit of a surprise. It's very touching people sending me their congratulations. It means a lot to me and I appreciate it."