Joe Root glad to be back among runs for England against Windies
"Maybe I don't hit four or five sixes every time I go out, but I like to feel I can strike at a similar sort of rate if I needed to."
By Matthew Treadwell
Last Updated: 26/02/19 7:06pm
Joe Root feels both he and England are in a strong position as they continue their preparations ahead of the World Cup on home soil.
Root scored a century in the opening ODI victory of the current series against Windies and chipped in with 36 in the defeat in Barbados that levelled the series.
Heavy rain in Grenada meant England's Test skipper was unable to add to that tally on Monday but he feels he is in a good place to continue his strong form throughout the rest of series, live on Sky Sports.
"Coming off the back of a couple of low scores at the start of the Test series, it's been nice to get a few decent scores under my belt," Root told Sky Sports. "I feel like my game is in pretty good order at the minute.
"I will continue to work hard, there are still areas I want to keep working on and developing and hopefully I can keep making some big contributions for the rest of the series."
Root later told reporters: "I'm quite settled in the way that I play. Just because I don't hit as many sixes as others might do, I still feel I can score as quickly. Everyone has their own style and way of going about things.
"I can't hit it over the stands like Chris [Gayle] can consistently, not unless there is a gale-force wind and I've got a top edge off a 95mph bowler! Having that understanding of your own game is important.
"Maybe I don't hit four or five sixes every time I go out, but I like to feel I can strike at a similar sort of rate if I needed to.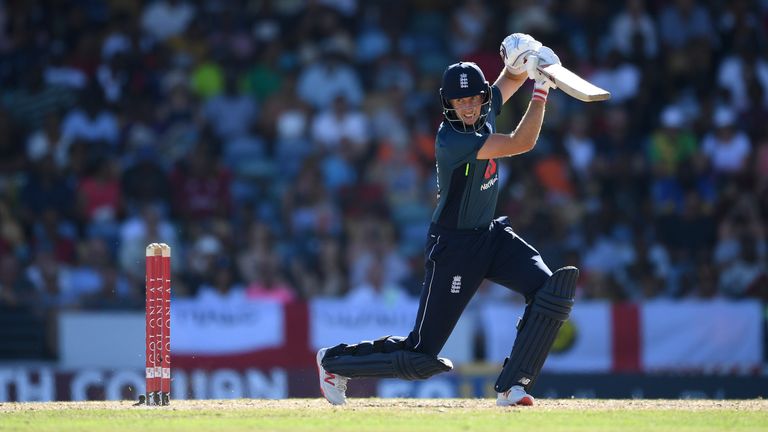 "You have to play to your strengths and advantages. You've always got to look for ways to get better but ultimately getting the best out of yourself is the main thing."
Root holds the record for the English player to each 5,000 ODI runs in the quickest time but he was keen to recognise the achievements of his team-mates in helping reach that milestone.
"More than anything, it just shows where we've come as a side in this format since the last World Cup," he added. "Having guys around me that allow me to play in the manner that I do, I feel we complement each other.
"I feel like I can give them as much strike as possible so they can take the game on and be really aggressive. It allows me to go about my business nice and quietly.
"When they are always putting pressure on bowlers, it can make things a little bit easier for you at the other end."
Watch the fourth ODI between Windies and England, in Grenada, live on Sky Sports Cricket (channel 404) and Main Event (401) from 1pm on Wednesday. You can also follow over-by-over commentary and in-play clips on our rolling blog on skysports.com and the Sky Sports app.