Sebastian Vettel hits back at critics of 'boring' Canadian Grand Prix
Ferrari driver unimpressed with F1 critics after Montreal race disappoints
By Pete Gill
Last Updated: 10/12/18 2:13pm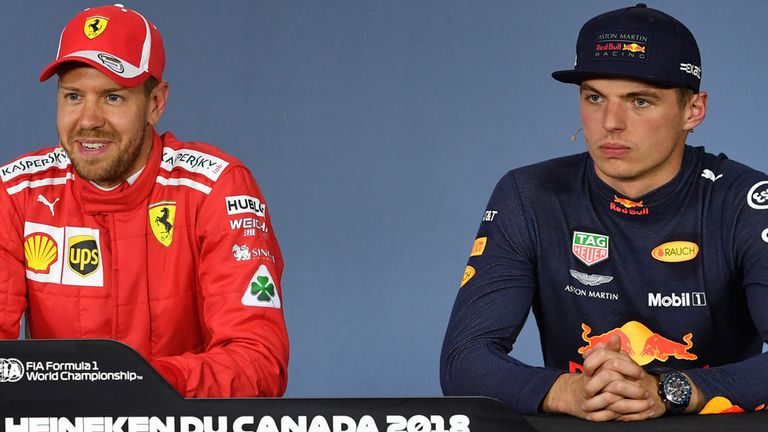 Sebastian Vettel has hit back at the description of the Canadian GP being boring and warned F1's "short-sighted" critics that some of the matches in football's upcoming World Cup won't be classics either.
Despite Montreal's reputation for serving up enthralling contests, Sunday's race - in which the Ferrari driver cruised to victory and back to the top of the Drivers' World Championship standings - is unlikely to live long in the memory with the race's most talked-about incident being its early end.
But in an impassioned response to complaints about the lack of overtaking during the grand prix, Vettel said the occasional uneventful race in F1 was as inevitable as an uneventful contest in every other sporting sphere.
"I don't know why people today are so short-sighted. We had seven races this year, I think some were phenomenal, some were boring," said Vettel.
"Next week the World Cup is starting and I promise you that a lot of the games will not be exciting - but still people will watch it - but some games will be incredible."
And in a direct message to F1's media pack, Vettel added: "There's no reason, don't even look for an answer, don't write anything. Write about something else. I think we do our job inside the car and if we can race, we race but obviously, we also do our job inside the car and try to avoid racing. Disappear, stay in front, or not get overtaken. And then some races are just exciting and others are not."
Vettel's response to the Montreal criticism was endorsed by Mercedes rival Valtteri Bottas.
"It's not like we are getting time enough to get bored in the car," said Bottas. "There is always something to do, and we needed to keep concentrated 100 per cent. There will be good races, there's no doubt we've just had a couple of races in a row where not many things happened - but this year already there have been races that have been amazing to watch. I'm sure it's going to be on the way soon."
Vettel's victory in Canada was Ferrari's first in over a decade at the Circuit Gilles Villeneuve which is named after the team's former driver.
And Vettel said the emotion of his win meant more to him than taking the lead of the world championship ahead of Lewis Hamilton.
"40 years after Gilles, it's great to show Ferrari is still alive and winning races," said Vettel. "The victory was more important [than taking the title lead]. I'm more happy about winning here and what it means.
The German, who started on pole, led every lap and was barely threatened throughout.
"It was a great performance from the team and the perfect day really. There wasn't a moment in the race where we were scared."