Benfica have the best all-time win percentage in a Sky Sports study of six of Europe's leading leagues.
The 34-time Primeira Liga champions have won 67.77 per cent of their 2,271 top-tier league games since Portugal's first division was formed in 1934/35.
Manchester United have recorded the best win percentage since England's top flight was founded in 1888/89 (47.71 per cent), with 1,737 wins from 3,641 fixtures, followed by Liverpool (46.36 per cent) and Arsenal (45.36 per cent).
However, United are only 13th on the combined all-time list of teams in our selected leagues of England, Spain (top-flight formed in 1929), Italy (1929/30), Netherlands (1956/57), Germany (1963/64) and Portugal.
The six leagues selected have each had more than one club win a European Cup. 
Benfica's Primeira Liga rivals Porto have the second-best win percentage record across those European leagues (66.01 per cent), with Netherlands' Ajax (65.88 per cent) third, followed by Portugal's Sporting (61.40 per cent) and Ajax's Eredivisie rivals PSV Eindhoven (60.24 per cent).
England's best and worst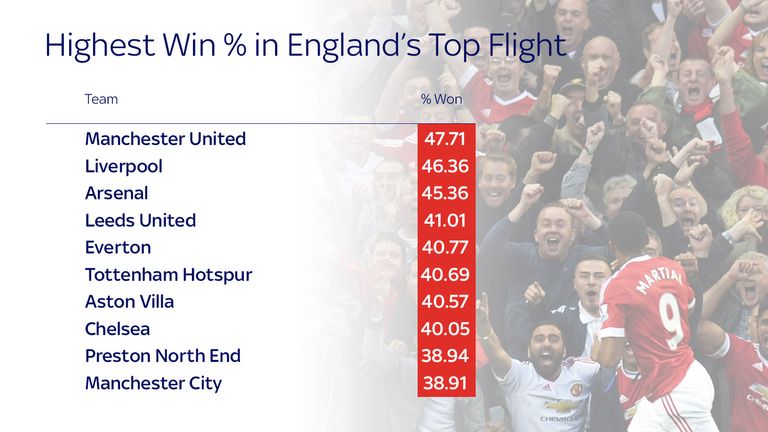 Leeds United have the fourth-best top-flight win percentage in England. The three-time champions, now playing in the Championship, have won 41.01 per cent of their 2,063 games in their country's leading league, which puts them ahead of current Premier League teams Everton (40.77 per cent), Tottenham (40.69 per cent), Aston Villa (40.57 per cent) and defending champions Chelsea (40.05 per cent).
At the other end of the table, Glossop - a team which spent one season in England's top flight in 1899/00 - have the worst-ever win percentage in that division. The Derbyshire team - founded in 1886 and now playing in Northern Premier League Division One North as Glossop North End - won just four matches in the top division, which equates to a win percentage of just 11.76 per cent.
More recently, Swindon Town's sole season in the Premier League in 1993/94 saw the Robins record a win percentage of 11.90 per cent, after winning just five of their 42 matches (conceding 100 goals in the process). Leyton Orient have the third-lowest win percentage (14.29 per cent) of English teams to have competed in the top flight.
Bournemouth have a win percentage this season of 16.67 per cent after winning two of their 12 Premier League fixtures - 2015/16 is their first campaign in England's top flight.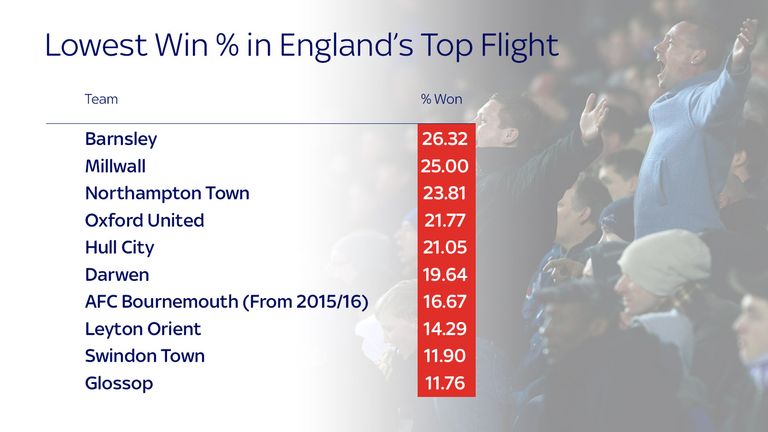 Spain's best and worst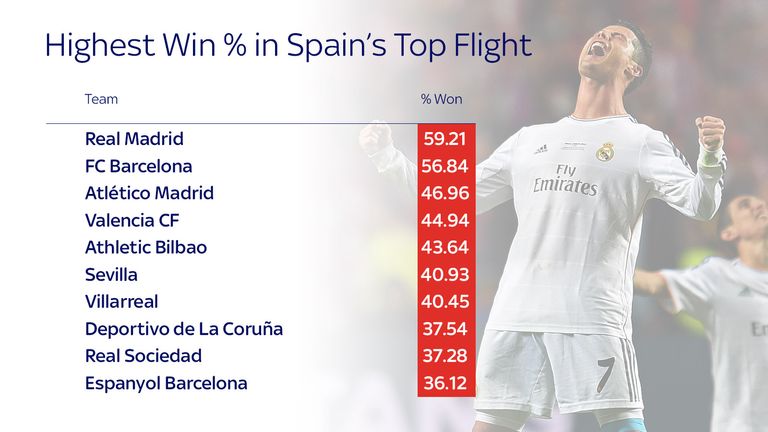 Real Madrid and Barcelona have won 1,597 and 1,533 of their 2,697 games in Spain's top flight, respectively. The next three teams on the list are some way back, but there is little to choose between Atletico Madrid (with a win percentage of 46.96 per cent), Valencia (44.94 per cent) and Athletic Bilbao (43.64 per cent).
The lowest win percentage held by a team which has competed in Spain's top tier is held by current third division side Cultural Leonesa (16.67 per cent), who won just five of their 30 games in the 1955/56 season - their only campaign in their country's leading division.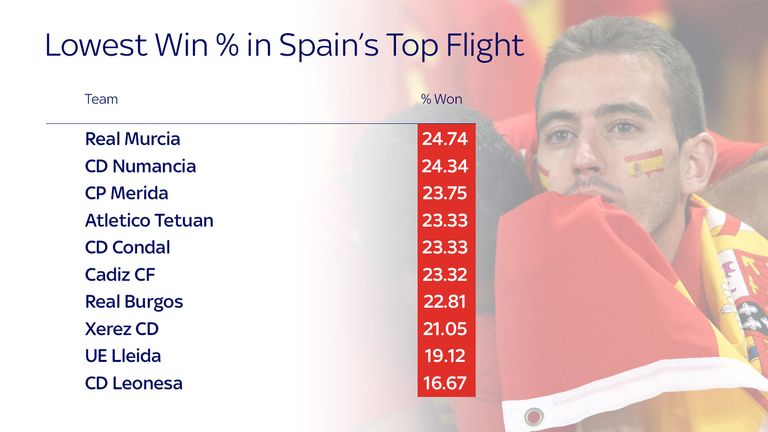 Italy's best and worst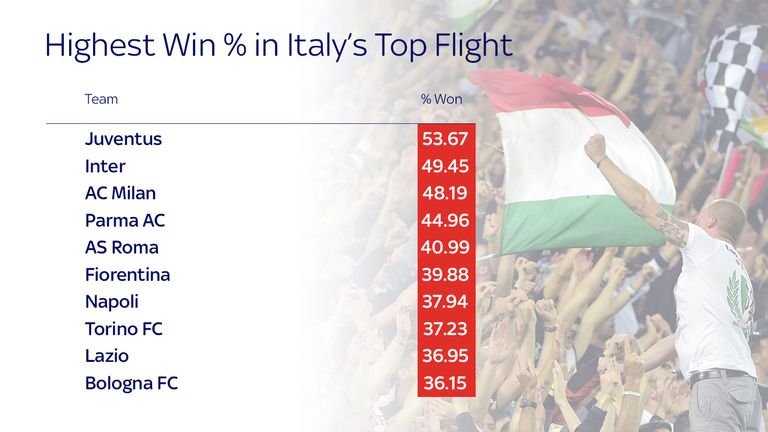 In Italy, Juventus - the reigning Serie A champions - have the best win record since their country's top flight was formed in 1929. The 'Old Lady' have won 53.67 per cent of their top tier games since then - the 10th-best record across the six European leagues in our study.
While Inter Milan (49.45 per cent) and AC Milan (48.19 per cent) complete the top three, spare a thought for Treviso who, on promotion to Serie A for the first time in their history in 2005/06 (thanks to the demotion of Genoa and Torino due to respective fraud and financial troubles), managed to win just three of their 38 fixtures.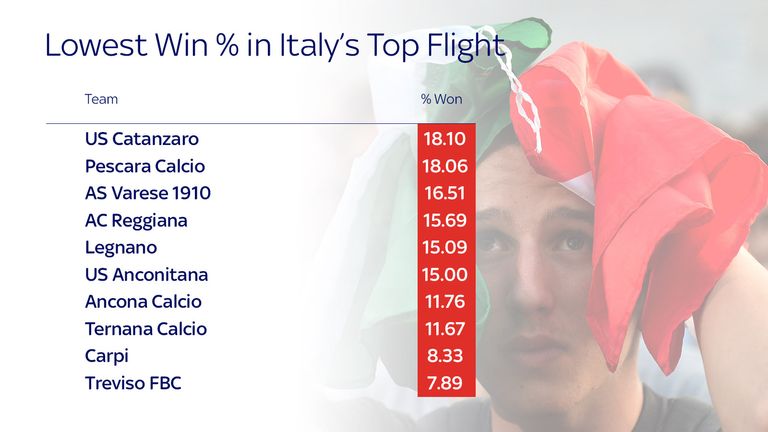 Germany's best and worst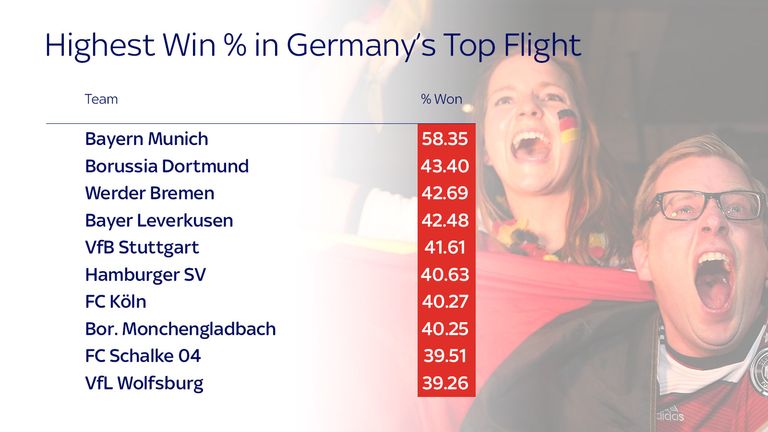 By winning 58.35 per cent of their 1,712 games in Germany's top flight, Bayern Munich are clear leaders in their country's standings, with Borussia Dortmund (43.40 per cent) and Werder Bremen (42.69 per cent) next on the list.
However, Tasmania 1900 Berlin - dissolved in 1973 - hold the record for not only the worst win percentage in Germany's top flight but the worst win percentage across the six European leagues in our study.
They managed just two wins from their 34 games in the 1965/66 season - their one season in Germany's top division. That equates to a win percentage of 5.88 per cent.
Portugal's best and worst
While the familiar names of Benfica (with a win percentage of 67.77 per cent), Porto (66.01 per cent) and Sporting (61.40 per cent) lead the way in Portugal, the fourth team may come as a surprise - Os Belenenses (41.48 per cent).
The club were relegated to Portugal's second tier in 2010 and took three seasons to return. However, they have a rich history, having won the first division title in 1945/46 - becoming the first team to win the Portuguese title outside of 'The Big Three'. As well as Belenenses, Benfica, Porto and Sporting, Boavista (38.91 per cent) are the only other side to have won Portugal's top division. 
At the other end of the scale, the worst win percentage recorded by a team in Portugal's highest tier is held by Casa Pia AC - they took just one win from their only season in the top flight in 1938/39.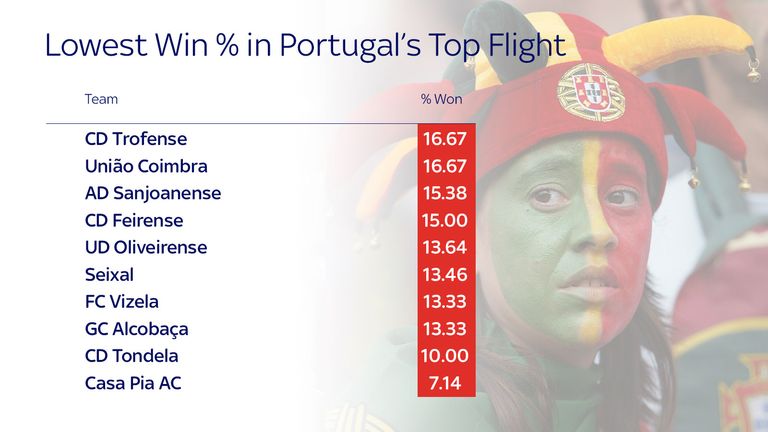 Netherlands' best and worst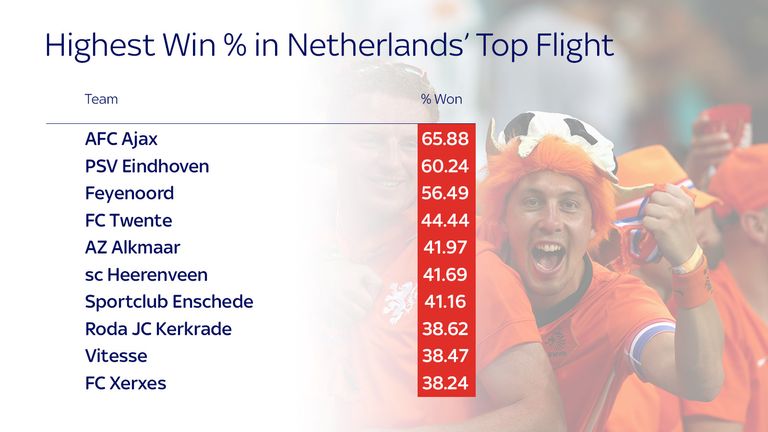 Ajax's win percentage record - which puts them third in our study - is testament to their consistency over the years. However, their performances in the 1971/72 and 1972/73 seasons stand out, when they won 88.24 per cent of their domestic fixtures in each campaign (30 wins from 34 games) and claimed their second and third European Cups in a row.
FC Dordrecht have the worst win percentage of sides to have competed in Eredivisie, only winning 15.2 per cent of their 204 top-flight games. The current Eerste Divisie club merged with SVV (19.12 per cent) in June 1991.