Almost 600 young players travelled from all over Ireland to Croke Park last Saturday to discuss and learn about Player Welfare issues at the 2017 #GAAYouth Forum in partnership with Sky Sports.
The young male and female players, aged 12-21, were selected on foot of an online process, which had more than 900 applicants. This year, Sky Sports came on board as partner for the #GAAYouth Forum, one of the three GAA grassroots initiatives that the broadcaster will support over the next 5 years.
Young players started the day by participating in the interactive demos at the Exhibition Village where they learned about everything from preparing healthy smoothies to hurley care and repair!
They also had the opportunity to meet and greet some stars of our games including Sky Sports mentors - Brendan Maher, Cora Staunton and Paul Geaney.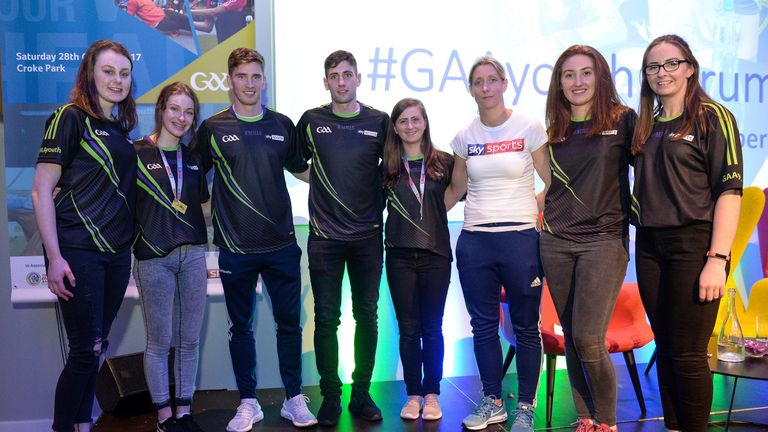 The delegates were then given the opportunity to attend a number of different workshops throughout the day where speakers, including Sharon Courtney, Cathal Cregg, Andy Moran, Podge Collins, Orlagh Farmer, David Herity, Mick Bohan, Ciarán Kilkenny. Juliet Murphy addressed a range of issues from Food as Fuel, Understanding your Fitness to Becoming a Coach as well as Injury Prevention & Recovery.
The event was a resounding success. Busy workshops were held throughout the day and a key part of the event was a segment on 'Becoming a Coach - Stories from the Field.'
This piece incorporated the thoughts of Dublin's All-Ireland winning Ladies football manager, Mick Bohan.
"I never achieved what I wanted as a player," Bohan said. "But I went into coaching determined to make a difference. I quickly learned that one size does not fit all when you are coaching. Assuming different roles - coach, arm around the shoulder, mentor, tactician - they are all important. Another thing I learned is to stay quiet until I know more, until I get evidence based statistics. I don't voluntarily offer up feedback to players like I once did; I tend to wait to be asked nowadays. I am learning all the time."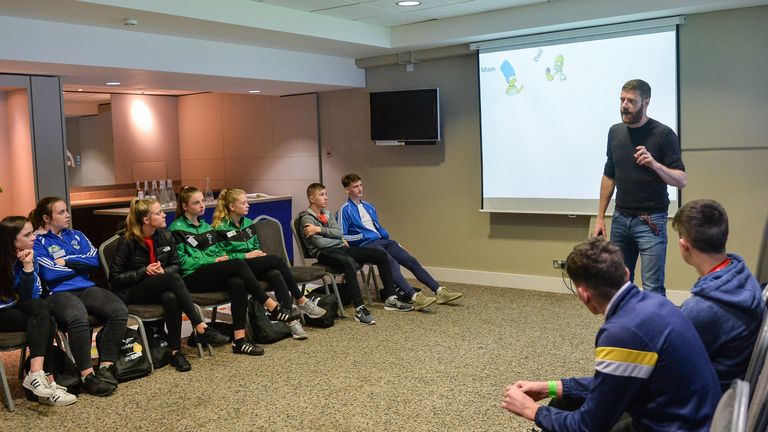 This talk was also graced by eight time All-Ireland winning Ladies Footballer, Juliet Murphy. The Cork star paid tribute to Eamon Ryan as the greatest coach she has known. "He went over and above the call of duty," Juliet said. "He told me I should re-train as a primary school teacher, I replied that my Irish wasn't of high enough standard and Eamon gave me grinds in that subject and helped me improve my Irish to get to where I wanted. Did I try harder for him on the pitch? Absolutely I did."
Four-time All-Ireland winning Dublin footballer Ciaran Kilkenny was also on hand to offer his thoughts. "The key thing for me is to keep improving all the time - as a player and a coach. Everyone in the GAA has to give something back, even if it means carrying the water for a team. We all have to put it back in. That keeps the wheel turning."
Mayo star Andy Moran and former Galway hurler Tony Og Regan joined Roscommon's Cathal Cregg and Clare hurling legend Podge Collins to impart their knowledge to the young members throughout a busy afternoon.
GAA President Aogán Ó Fearghail, was also on hand to officially open the conference and noticed that the numbers had almost tripled from last year's event.
"I am delighted that the #GAAYouth Forum is now the largest annual off-field event for young players in Ireland," he said. "In fact, the GAA is the only sporting organisation in the world to hold a Forum of this size for young players. I believe that this reflects the deep commitment by the Association to support and assist its young members to achieve their full potential both as players and people. I hope that this Forum goes some way to showing you how much young players are valued and respected by the GAA."
Former Kilkenny goalkeeper David Herity was another keynote speaker of the afternoon. Herity replayed a video segment of a half-time teamtalk by a US NFL coach. The speech was laden with expletives and served little. Herity interacted with delegates to help comprise the 'perfect teamtalk'. It was an extraordinary exercise and captured the attention of all the attendees.
In the grand conclusion to the 2017 conference three Sky Sports mentors took part in a thirty-minute questions and answers session with the purpose of further educating and empowering young people around Player Welfare issues that were important to them.
I hosted the Forum with the Sky Sports mentors and discussed: managing a good balance between study, work and GAA; communicating effectively with adult coaches; the highs and lows of a sporting career and how the Sky Sports mentors prepare themselves on the day of a game.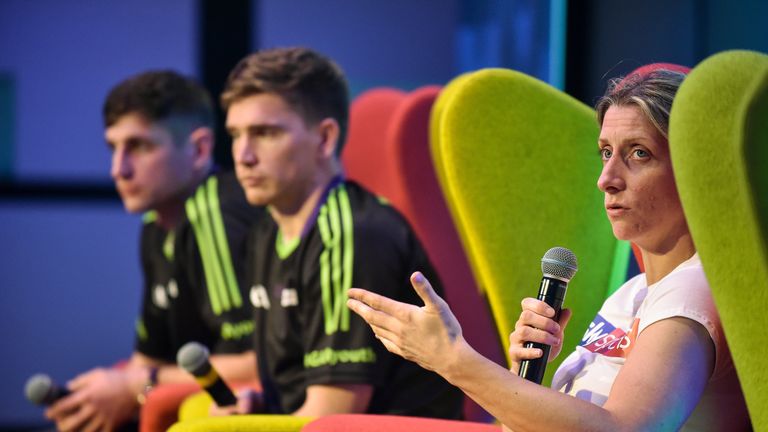 "I found it difficult at the start to get the balance right," said Sky Sports mentor and Kerry forward Paul Geaney. "I opened a business and was trying to look after that whilst preparing for Kerry. We have a young baby as well, so it was difficult. But you learn to prioritise as you go," he said.
Regarding the issue of managing highs and lows of a career, former Tipperary captain Brendan Maher revealed how he broke down in tears when he met his family at the Louis Fitzgerald Hotel in Dublin after losing the 2014 All-Ireland final replay to Kilkenny. "It was only when I met the family that the enormity of the whole thing hit me," he said. "I was captain and it was tough to take. Contrast that with the high of finally getting over the line again in 2016. Huge comparisons."
Cora Staunton addressed the challenges ahead for her as she faces into a new career in the Australian Ladies AFL with Greater Western Sydney Giants. "It was a tough time, coming off losing an All-Ireland final with Mayo and then dealing with news of the move to Australia which broke in the media. But through sport you learn to deal with such challenges," Cora said.
The 2017 GAA Youth Forum in partnership with Sky Sports, was a fun and informative mix of interactive exhibitions, workshops, high profile speakers and Q&A sessions. The event was organised by the National Youth Committee in partnership with An Cumann Camógaíochta, the Ladies Gaelic Football Association (LGFA), GAA Handball and Sky Sports.