NFL playoffs schedule, Super Bowl basics and everything you need to know about when and where can you watch on Sky Sports
The road to Super Bowl LVII in Arizona on February 12 continues with the Conference Championship games this Sunday, live on Sky Sports NFL; here is all you need to know about the NFL playoffs, including which teams will play each other, as well as the key dates and timings for the games
Last Updated: 24/01/23 10:48am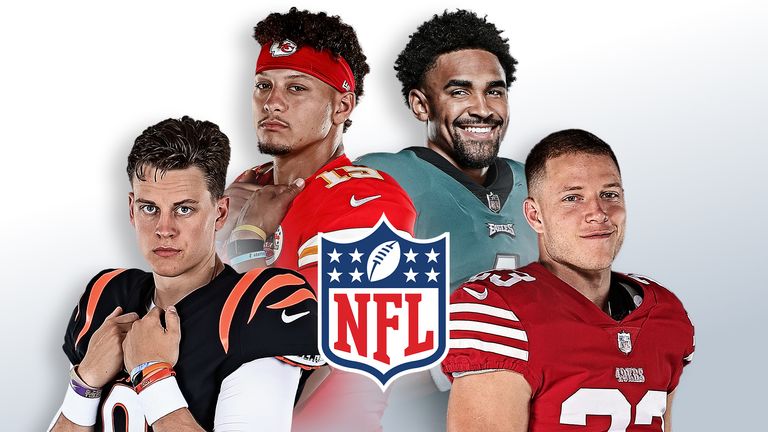 We have our final four in the NFL playoffs! Conference Championship Sunday is upon us this Sunday, with Sky Sports showing both games live.
Starting with the NFC, No 1 seeds the Philadelphia Eagles host a red-hot San Francisco 49ers side who have won their last 12 straight (8pm kick-off), while the Cincinnati Bengals then travel to Arrowhead Stadium to take on the AFC No 1 seeds, the Kansas City Chiefs, in a repeat of last season's title game (11.30pm kick-off).
But what actually are the playoffs and how do they work? Here is all you need to know about the NFL's postseason, as well as the key dates and timings - with every game shown live on Sky Sports NFL - in the run-up to Super Bowl LVII in Glendale, Arizona on Sunday, February 12.
How do the playoffs work?
The NFL is made up of 32 competing teams which are separated into two conferences: the American Football Conference (AFC) and the National Football Conference (NFC).
The AFC and NFC are then further divided by region to comprise four divisions with four teams each: AFC East, North, South and West and NFC East, North, South and West.
NFL division-by-division breakdown
AFC East: Buffalo Bills, Miami Dolphins, New England Patriots, New York Jets
AFC North: Baltimore Ravens, Cincinnati Bengals, Cleveland Browns, Pittsburgh Steelers
AFC South: Houston Texans, Indianapolis Colts, Jacksonville Jaguars, Tennessee Titans
AFC West: Denver Broncos, Kansas City Chiefs, Las Vegas Raiders, Los Angeles Chargers
NFC East: Dallas Cowboys, New York Giants, Philadelphia Eagles, Washington Commanders
NFC North: Chicago Bears, Detroit Lions, Green Bay Packers, Minnesota Vikings
NFC South: Atlanta Falcons, Carolina Panthers, New Orleans Saints, Tampa Bay Buccaneers
NFC West: Arizona Cardinals, Los Angeles Rams, San Francisco 49ers, Seattle Seahawks
At the end of the regular season, a total of 14 teams advance to the playoffs, including the teams with the best record in each of the respective four divisions per conference, plus a further three 'wild card' teams determined by which teams own the next-best records in each conference.
The 2022 season is only the third time that 14 teams qualify for the playoffs, after the format was changed from 12 teams in 2020.
Confirmed NFL playoff picture
| | | |
| --- | --- | --- |
| AFC | Seeding | NFC |
| Kansas City Chiefs (14-3) | 1 (division winners) | Philadelphia Eagles (14-3) |
| Buffalo Bills (13-3) | 2 (division winners) | San Francisco 49ers (13-4) |
| Cincinnati Bengals (12-4) | 3 (division winners) | Minnesota Vikings (13-4) |
| Jacksonville Jaguars (9-8) | 4 (division winners) | Tampa Bay Buccaneers (8-9) |
| Los Angeles Chargers (10-7) | 5 (wild card) | Dallas Cowboys (12-5) |
| Baltimore Ravens (10-7) | 6 (wild card) | New York Giants (9-7-1) |
| Miami Dolphins (9-8) | 7 (wild card) | Seattle Seahawks (9-8) |
| | *teams in BOLD remain in playoffs | |
The No 1 seeds in each conference (the two teams with the best win-loss records in the AFC and NFC) receive a first-round bye, while the No 2 seeds host the No 7 seeds, the No 3 seeds hots the No 6 seeds and the No 4 seeds host the No 5 seeds on Super Wild Card Weekend to open the postseason.
The No 1 seeds enter the fold during the subsequent Divisional Round when they will host the lowest remaining seed from their respective conferences, while the second-lowest remaining seed visits the second-highest remaining seed from the winners of the wild card round.
The respective winners of those two matchups then meet in the Conference Championship games, in what effectively amounts to the semi-finals for the Super Bowl as we find out who advances from each conference to play in the big game which, this year, will be held in Arizona on Sunday, February 12.
Who will meet in the playoffs?
*All games to be shown live on Sky Sports NFL (timings listed in UK time)
Conference Championships
Sunday, January 29
NFC: San Francisco 49ers (No 2) @ Philadelphia Eagles (No 1) - KO, 8pm
AFC: Cincinnati Bengals (No 3) @ Kansas City Chiefs (No 1) - KO, 11.30pm
Divisional Round results
Saturday, January 21
AFC: Jacksonville Jaguars 20-27 Kansas City Chiefs
NFC: New York Giants 7-38 Philadelphia Eagles
Sunday, January 22
AFC: Cincinnati Bengals 27-10 Buffalo Bills
NFC: Dallas Cowboys 12-19 San Francisco 49ers
Super Wild Card Weekend results
Saturday, January 14
NFC: Seattle Seahawks 23-41 San Francisco 49ers
AFC: Los Angeles Chargers 30-31 Jacksonville Jaguars
Sunday, January 15
AFC: Miami Dolphins 31-34 Buffalo Bills
NFC: New York Giants 31-24 Minnesota Vikings
AFC: Baltimore Ravens 17-24 Cincinnati Bengals
Monday, January 16
NFC: Dallas Cowboys 31-14 Tampa Bay Buccaneers
Super Bowl LVII
Sunday, February 12 - Kick-off 11.30pm - State Farm Stadium, Glendale, Arizona
What do we know about Super Bowl LVII?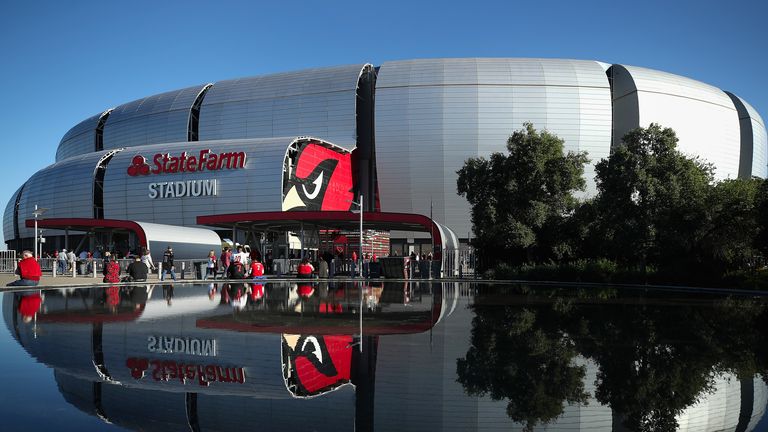 This year's Super Bowl will be the 57th in the history of the NFL. It is to be held at State Farm Stadium in Glendale, Arizona, on Sunday, February 12 - live on Sky Sports NFL.
The stadium, home to the Arizona Cardinals, has a capacity of approximately 73,000 and has played host to two Super Bowls previously - both epic encounters.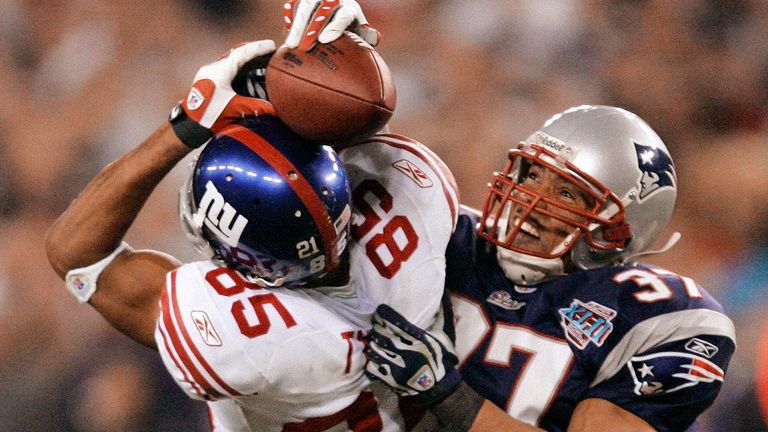 The New York Giants defeated the New England Patriots 17-14 in the first of those, to cap the 2007, as David Tyree's famous 'helmet catch' helped deny Tom Brady and the Patriots a perfect, undefeated season. Then, seven years later, New England were back again and this time ran out 28-24 winners over the Seattle Seahawks after Malcolm Butler's incredible interception on the goal line in the final throes of the game.
The Los Angeles Rams defeated the Cincinnati Bengals 23-20 in last year's title game, while the Patriots and Pittsburgh Steelers share the record for the most Super Bowl wins, with six. Brady, however, tops the lot. He has more Super Bowl victories than any one team, with seven to his name.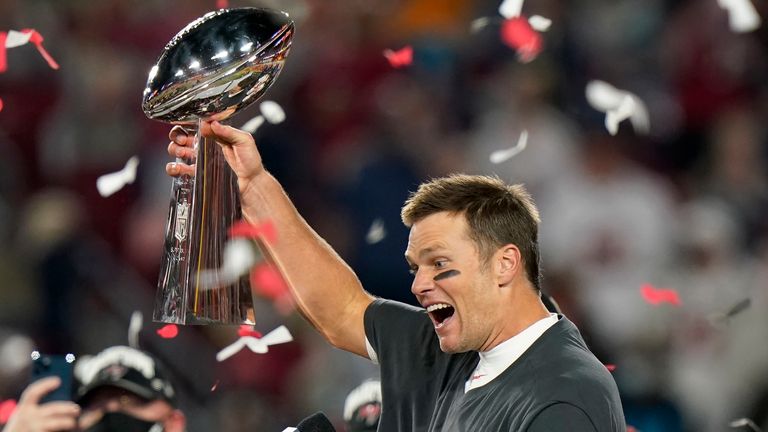 Rihanna will perform at this year's Super Bowl half-time show, having previously declined the invitation in 2019 in a show of solidarity with former player Colin Kaepernick, who left the league two years earlier after he began to take a knee during the pre-game national anthem in protest at racial injustice in the US.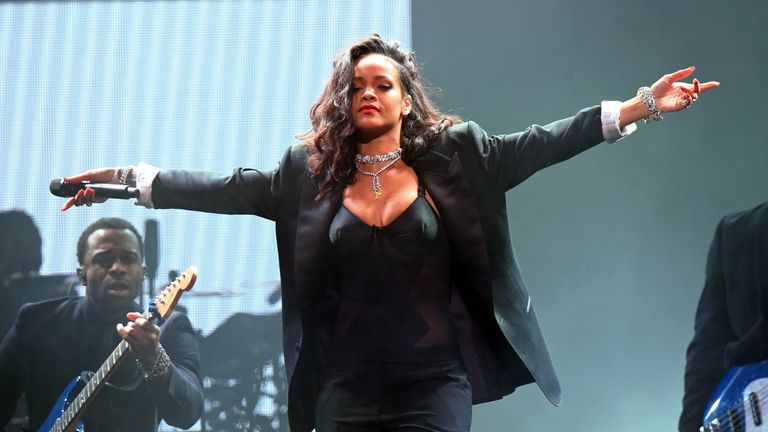 Last year's half-time show was headlined by Dr. Dre, Snoop Dogg, Eminem, Mary J. Blige, and Kendrick Lamar, along with a surprise guest appearance by 50 Cent. Notable performers in the past include The Rolling Stones, Coldplay, Beyonce and Katy Perry.
Sky Sports NFL is your dedicated channel for NFL coverage through the season - featuring a host of NFL Network programming. Don't forget to follow us on skysports.com/nfl, our Twitter account @SkySportsNFL & Sky Sports - on the go!