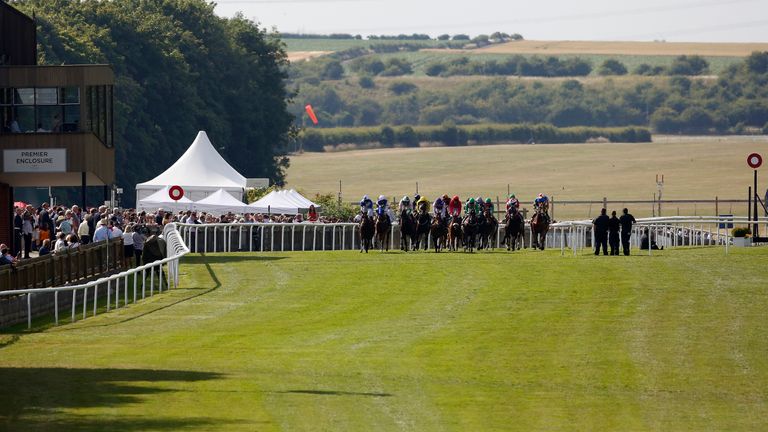 The use of drones on British racecourses has been suspended indefinitely following an incident at Newmarket on Thursday.
Frankie Dettori raised concerns after he was unseated from Oh So Terrible prior to the first division of the British Stallion Studs EBF Maiden Fillies' Stakes. The Wesley Ward-trained filly subsequently got loose and was withdrawn.
Dettori said he heard the drone at the same time Oh So Terrible reared and collided with the rail.
Ryan Moore, who rode the unplaced Believable, said the sound of the drone was "very noticeable".
RaceTech were responsible for the drone, which was being used to provide overhead shots, and the pilot said in an inquiry he had adhered to the guidelines agreed by the British Horseracing Authority.
BHA spokesman Robin Mounsey said: "The concerns raised at Newmarket clearly needed to be taken seriously.
"While the testing procedures for the introduction of drones have been rigorous, and have received NTF (National Trainers Federation) and PJA (Professional Jockeys Association) sign off, it is still relatively new technology and we must show caution with its use if issues have been raised.
"As such, we have made the decision to suspend using the drone on all British racecourses until the incident has been properly assessed. Welfare of horse and rider must always come first.
"The RaceTech drone has been used regularly over the past 14 months. Before it can be used a signed agreement is reached between the BHA and RaceTech which includes a risk assessment, site assessment and flight plan.
"The requirements for the drone are that is must fly at a minimum height of 30 metres and 30 metres away from the track laterally, then to follow the field from the side and behind the horses and not directly over the track."