Limestone Lad and Solerina are both enjoying their retirement
Limestone Lad and Solerina are both enjoying their retirement at trainer Michael Bowe's County Tipperary base.
Last Updated: 19/02/13 10:08am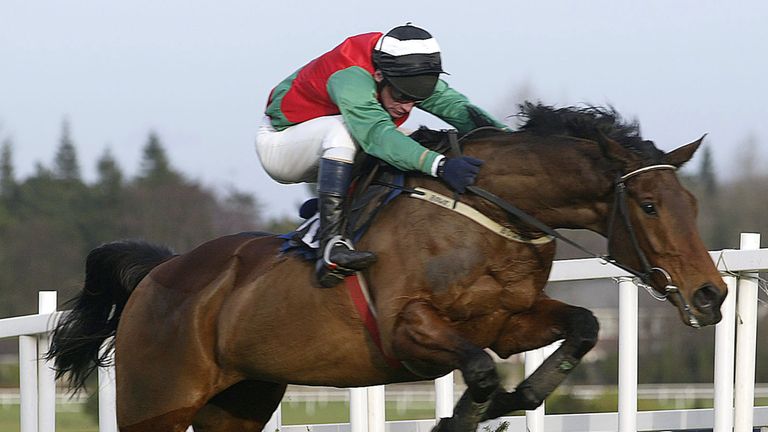 Limestone Lad, now at the ripe old age of 21, won an astonishing 35 races in a six-year career between 1997 and 2003, with his incredibly tough front-running style endearing him to the National Hunt faithful.
He had no little ability to go with his tremendous will to win, landing numerous Grade One prizes, including the Hatton's Grace at Fairyhouse in 1999, 2001 and 2002, as well as being placed in two renewals of the Stayers' Hurdle at Cheltenham.
Bowe, whose late father James officially trained Limestone Lad, points to his 1999 Hatton's Grace victory over the legendary Istabraq as possibly the greatest day of them all.
"Limestone was a one-off. He still is," said Bowe. "We were very lucky to have him and we'll probably never have another like him. He's probably in as good a health now as he ever has been. He's enjoying a well-earned retirement and sometimes you'd love to go and throw a saddle on his back.
"We had a lot of big days with him, but I suppose beating Istabraq in the Hatton's Grace is a day that sticks out. At the time I probably didn't appreciate him as much as I do now. He was a handful to deal with, but an incredible horse."
Just as Limestone Lad's career was coming to a close, along came the wonderful mare Solerina. Another horse who went out in front and wore her heart on her sleeve, she also won the Hatton's Grace Hurdle three times between 2003 and 2005.
Now a 16-year-old, Solerina has given birth to a number of foals and Bowe is hoping at least one of them can take him back into the big time.
"Unfortunately Limestone is a gelding, so I can't breed off him, but Solerina is in foal now to Doyen and that foal is due in April," said the trainer.
"We also have a lovely four-year-old filly by Milan. I don't like talking up horses but I do think she could be quite nice. She'll tell us when she's ready to run. We also have a three-year-old filly by High Chaparral, and a yearling, so hopefully they'll turn out to be good, but they have a lot to live up to.
"If they're half as good as Solerina, that will do me. I only have one horse to run at the moment, a mare called Akatara. She's been placed 11 times and I think I've seen her quoted as the most frustrating horse in training.
"If I can get her to win a race, that will probably be my biggest achievement since winning the Hatton's Grace!"