Tottenham are in talks with Nuno Espirito Santo over their vacant managerial position.
The Portuguese was not a candidate when he left Wolves at the end of the season as Spurs pursued other targets, but has now emerged as a strong contender.
Spurs' new director of football, Fabio Paratici, is driving the club's search for a new permanent manager.
Ryan Mason led the team on an interim basis following Jose Mourinho's sacking in April and the Spurs board have evaluated a number of names to succeed the Portuguese since.
Spurs had discussions with former Inter boss Antonio Conte and outgoing Roma manager Paulo Fonseca but on both occasions, talks over a potential appointment broke down.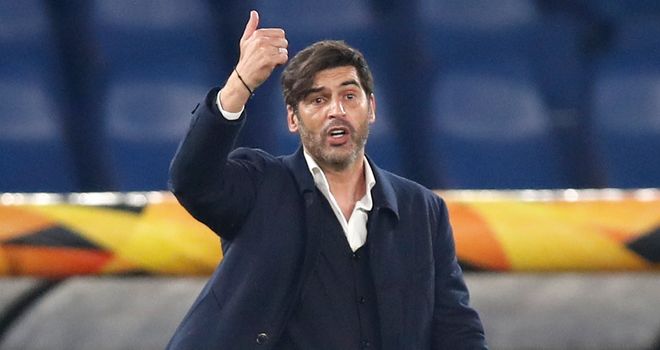 The club had ended negotiations with Fonseca in order to pursue Gennaro Gattuso, who had suddenly terminated his deal at Fiorentina, with Paratici seeing him as a more appealing option.
However, following a fan backlash on social media with the 'No to Gattuso' hashtag trending, the club decided to end their pursuit of the Italian World Cup-winning midfielder.
Spurs also tried to persuade Paris Saint-Germain head coach Mauricio Pochettino to return to the club a year and a half after his exit, but failed in their attempts.
On Wednesday, Sevilla president Jose Castro claimed head coach Julen Lopetegui turned down a "dizzying" offer from Spurs to become their new manager.
'Spurs running thin on candidates'
The Athletic's David Ornstein says it will be interesting if Tottenham appoint Nuno as he is not the type of coach they initially wanted.
"He's not the sort of manager they were looking to go for but it appears the conversations are happening, like they have with many other candidates," he said.
"I do think it's important to point out that, in what has been a difficult process and one that has brought Tottenham a lot of criticism, not everybody who has been linked with the position has been offered the job.
"Conversations take place at every club in every managerial situation. Some candidates have come closer than others but it has played out more publicly than pretty much any other managerial situation I've ever reported on in my career.
"That's led to a circus feel to it, which I don't think is fair on Tottenham. Of course, they would have wanted to get an appointment by now.
"It seems like there are two in the frame according to reports, Nuno and Graham Potter. I think it's more likely Potter will stay at Brighton.
"More managers may come into the frame after the Euros when they are not with their international teams and negotiations can take place.
"Daniel Levy and Tottenham will want to wrap it up as soon as possible but they're running a bit thin on candidates now."
Di Marzio: Paratici never sleeps
Speaking to Sky Sports News, Sky in Italy's Gianluca di Marzio shed some light on Spurs' new director of football Fabio Paratici, who he believes is close to appointing Nuno as the club's next manager.
"He works 24 hours a day - he doesn't sleep," di Marzio said of Paratici. "He's a machine - every day with the phone.
"He started late and so he started with Antonio Conte. Conte was the first choice because he knew Conte, so it's normal for him to call Conte. Conte was not convinced of Tottenham, to come back immediately after he left Inter Milan.
"Then they tried with Fonseca, with Gattuso - a lot of problems. But now I think they will have their choice, and it's Nuno Espirito Santo. With Nuno the talks are advanced.
"I cannot say, 'it will be Nuno' because when we said, 'it will be Fonseca', 'it will be Gattuso', something changed. But I think now Nuno could be Tottenham manager.
"I think they will do a very good transfer session. The priority will be a central defender, and I think [Jules] Kounde of Sevilla could be the first target."