Joshua vs Whyte: Chris Eubank Jnr forced Gary O'Sullivan stoppage
By James Dielhenn
Last Updated: 13/12/15 5:24pm
Chris Eubank Jnr won an aggressive tear-up against Gary 'Spike' O'Sullivan by forcing the Irishman to retire after the seventh round at The O2 Arena.
The pair engaged in a non-stop exchange of punches worthy of the pre-fight bitterness until O'Sullivan's cornermen called a halt to the bout with their fighter taking too much punishment and refusing to go down.
Eubank Jnr is now the mandatory challenger to Daniel Jacob's WBA middleweight title after accepting O'Sullivan's offer to stand in the pocket and find out who hits the hardest. When the dust settled, there was a handshake and a mutual respect but there was rarely a doubt about whose hand would be raised.
Eubank Jnr and his elaborate father demanded the spotlight in a typically extravagant ring-walk but once the younger man found himself alone in the ring, he was met by 'Spike' who seemed happy to continue their personal feud after the bell rang.
The opening moments were cautious as a smiling O'Sullivan baited his opponent to step into the pocket. Eubank Jnr would oblige willingly but ate a left hand that he didn't like, before nifty footwork on the bell proved that he hadn't lost his cool.
The second period emerged into a violent back-and-forth exchange like there was no tomorrow. Eubank Jnr flurried with uppercuts and hooks that looked to have ended O'Sullivan's night but he bravely remained on his feet, although his demise seemed close.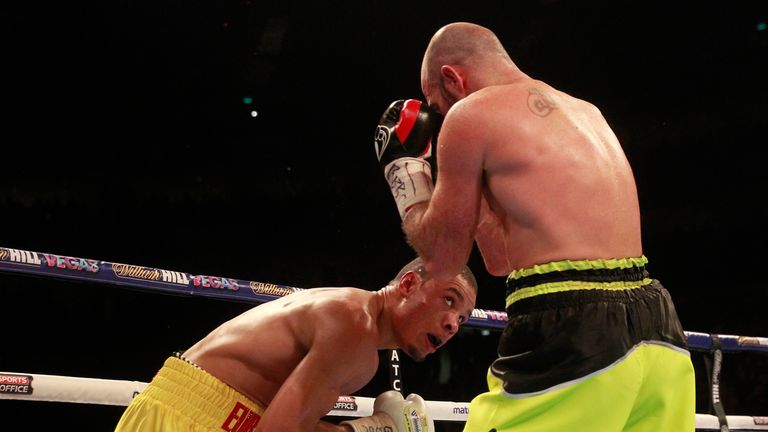 It wasn't to be - the Irishman had forced the type of fight that he had hoped for, and stepped back into the firing line to land a looping left hand that threatened to cause a shock comeback. Eubank Jnr absorbed it and came back for more, landing a brutal uppercut before both men returned to their corners.
O'Sullivan hurt Eubank Jnr badly with a left hook in the third, with every punch designed to end the fight immediately. The Brighton fighter wobbled but wouldn't be deterred from engaging in the slugging duel that had the London crowd in awe.
The showmanship runs in the Eubank family and the next generation of that boxing heritage ducked his head, hands nowhere to be seen, daring O'Sullivan to take a free shot. The bad blood that existed prior to this bout erupted in the sixth and they swung with vicious intentions, Eubank Jnr always getting the better of things.
With the fight getting more and more dangerous due to their refusal to calm the aggression, O'Sullivan's corner wouldn't allow their man to return for the eighth round. Paschal Collins quickly removed his fighter's gum-shield and informed the referee that there would be no more.
Eubank Jnr and O'Sullivan, with their esteemed cornermen in tow, shook hands and acknowledged each other afterwards.