Cricket World Cup - AB de Villiers and Mitchell Starc among best players
Who would make YOUR top five from 2015 tournament?
Last Updated: 29/03/15 3:15pm
We've picked our top five players from the Cricket World Cup. Does our star-studded list match yours?
AB de Villiers
South Africa skipper De Villiers cut a disconsolate figure after his Proteas side were edged out by New Zealand in a thrilling World Cup semi-final, but his exploits in this tournament will live long in the memory. The 31-year-old lit up the competition against West Indies in the group stage when he smoked the fastest 150 in ODIs – off just 64 balls – just over a month after he had plundered the quickets hundred in ODI history – off 31 balls – against the same opposition.
De Villiers, who thumped 21 sixes across his eight World Cup innings, also demonstrated his batting brilliance with quick-fire fifties against Pakistan and New Zealand and a dazzling yet agonising 99 versus UAE. There's very little this sporting genius cannot do, as proven by him snaffling four wickets with his medium pace as well as pouching three catches, a diving effort in South Africa's opening victory over Zimbabwe an absolute pearler.
Mitchell Starc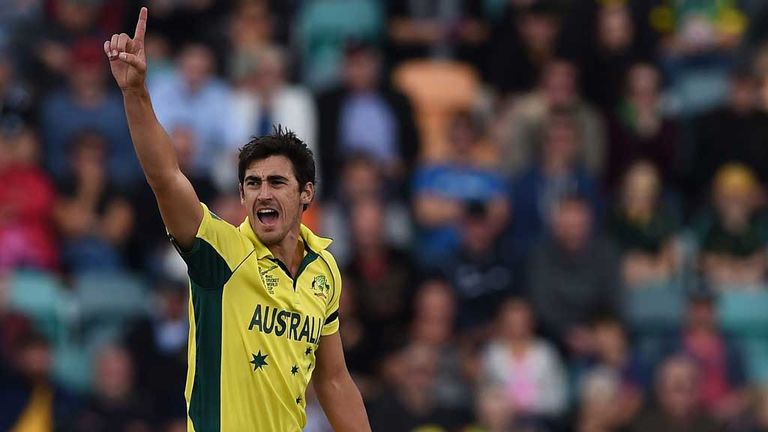 We've become accustomed to one Australian left-arm quick called Mitchell skittling out the opposition and now the Baggy Greens have two of them, with Starc joining Johnson in becoming a batsman's nightmare. Starc, though, has outperformed Johnson – and, in truth, just about every other bowler – finishing this tournament with 22 wickets at a staggering average of 10.18 and strike rate of 17.4.
The Sydney seamer has also been the most economical bowler at the World Cup, with his bamboozling swinging deliveries meaning players have only been able to score at 3.50 runs per over against him. Starc's finest hour came in the Pool A clash against New Zealand in Auckland when he tore through the Black Caps to record figures of 6-28 from nine overs, while he was later dubbed Wasim Akram's 'heir' by former England all-rounder Derek Pringle.
Brendon McCullum
Starc guaranteed his status as Player of the Tournament by bowling McCullum in the first over of the final, setting the tone for a dominant Australia display. The defeat was tough on the Black Caps skipper, whose lack of respect for reputations has galvanised his side and lit up the tournament. His mantra will no doubt remain 'see ball, hit ball', whatever the situation. The right-hander clubbed an astonishing 77 off just 25 balls in New Zealand's game with England earlier in the tournament – Steven Finn taking particular pongo on that occasion, going for 49 runs from his TWO overs – and played a crucial role in the co-hosts' triumph over South Africa on Tuesday, coming out blazing with 59 runs from 26 deliveries to give his side lift-off.
McCullum was as adventurous – when is he anything but? – when drilling rapid half-centuries against Sri Lanka (65 from 49) and Australia (50 from 24), handing him a tournament strike rate of a whopping 191.81. Still, there is more to McCullum than walloping runs, with his aggressive and game-changing captaincy helping New Zealand to within touching distance of a first World Cup.
Trent Boult
Left-armer Boult has been a jewel in McCullum's side's crown down under, with his 22 wickets more than anybody else has managed. The 25-year-old snatched a five-for in that pulsating group-stage dust-up with Australia, made light work of Afghanistan, Scotland and West Indies, and removed South Africa openers Hashim Amla and Quinton de Kock early in the semi-final.
Boult is a demon at the beginning of innings, where he gets the ball to swing around corners in tandem with Tim Southee (15 wickets), and has bowled 14 maidens in the World Cup, the most by a considerable distance. The paceman has certainly caught the eye of IPL franchise Sunrisers Hyderabad, who snapped him up despite competition from Mumbai Indians and Royal Challengers Bangalore.
Rohit Sharma
India's seamers played a crucial role in the 2011 champions defying their pre-tournament results to make the semis this time around, but graceful opener Rohit was also vital. The Nagpur native navigated his way to 330 runs in the tournament, with fifties against UAE and Ireland mere tasters for a beautifully elegant 137 versus Bangladesh in their Melbourne quarter-final.
Sure, Rohit had a slice of luck when, after hitting a lofty full toss straight to mid-wicket when on 91, he saw umpire Aleem Dar call for a controversial no ball due to height. But his soaking up of pressure as wickets fell intermittently around him, a partnership of 122 with Suresh Raina, and then with some electrifying hitting at the end, saw India conquer a tricky test. Not that we should be surprised. This is a man, remember, with TWO one-day international double hundreds to his name, one of which, his 264 versus Sri Lanka last autumn, is the highest-ever ODI score.
Who are your players of the tournament? Let us know by Tweeting @SkyCricket.