Brock Lesnar has threatened to quit WWE if he fails to retain the Universal Championship at SummerSlam.
Lesnar and his advocate Paul Heyman confronted RAW general manager Kurt Angle at the start of Monday night's show to let their frustrations be known.
"You have a board of directors to answer to, you have a demanding chairman who says 'protect the RAW brand at all costs'," Heyman claimed in front of thousands of fans in Pittsburgh.
"You've been told to make Brock Lesnar pay the ultimate price. If Brock Lesnar loses the Universal Championship at SummerSlam, he leaves WWE."
Lesnar will line-up in a Fatal 4-way match against Samoa Joe, Roman Reigns and Braun Strowman at SummerSlam, live on Sky Sports Box Office, in the early hours of August 21.
But Lesnar, whose contract with WWE expires next year, has been called out for a potential UFC super fight by light-heavyweight champion Jon Jones.
Jones reclaimed the title against Daniel Cormier at UFC 214 at the weekend and is determined to step up to heavyweight to take on the former champion in the octagon.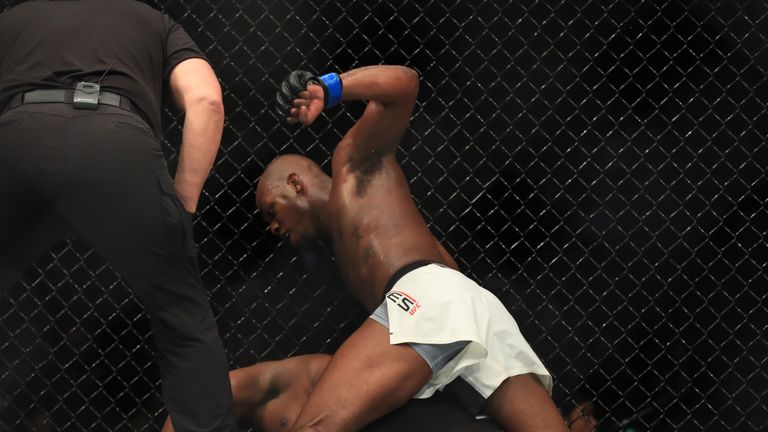 Lesnar issued a short statement in response to Jones' demand on Sunday, claiming: "Be careful what you wish for, young man."
Heyman, however, insists Lesnar will not have to fulfil his promise to leave WWE as he will walk out of Brooklyn's Barclays Center next month with the title around his waist.
"There will be an announcement at the end of WWE SummerSlam and that announcement will be... 'Ladies and gentlemen, your winner and still reigning, defending, undisputed Universal Champion... Brock Lesnar'."
With that, Heyman threw his microphone to the mat and walked away, along with the champion, before Angle had a chance to respond.
Lesnar officially retired from MMA after a failed drug test following his win against Mark Hunt at UFC 200 last year.
But as we've seen with Mayweather v McGregor, big fights will be made if the price is right.