WWE to hold all-women Box Office event Evolution in October
Last Updated: 24/07/18 7:44am
WWE will hold their first all-women Box Office event - Evolution - in October, Stephanie McMahon has announced.
McMahon, the company's chief brand officer, made the announcement during the live transmission of Raw on Sky Sports Arena in the early hours of Tuesday morning.
Hall of Fame members Trish Stratus and Lita have been confirmed for the event, which takes place at the Nassau Coliseum in New York on October 28.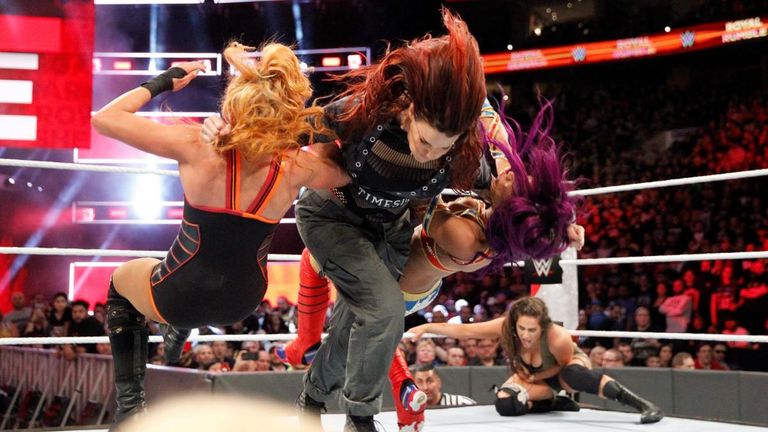 Every women's title in the company will be on the line, which means championship matches from Raw, SmackDown, NXT and NXT UK will take place at the event.
The finals of the all-women's tournament the Mae Young Classic will also feature at the event.
"This unprecedented event marks another milestone in WWE's women's evolution," said McMahon. "These athletic, talented women will showcase to the world that they alone can steal the show and continue to break down barriers."
In January, the women's Royal Rumble match was the main event at the Box Office event of the same name and the following month there was a women's Elimination Chamber match for the first time in WWE history.
At WrestleMania, the match which saw McMahon and Triple H team up to take on Ronda Rousey and Kurt Angle was rated the best of the night, and is a match-of-the-year contender.
Triple H said of the Evolution event: "I wish in some way this wasn't even a conversation. If you want equality then the conversation doesn't happen about equality. To me, do the women need to have their own pay-per-view? No. Can they? Yes. That's what's so big about this event.
"Will we do it again? Probably, I don't know but the proof point is that we can. Can the women wrestle a guy? Sure. Can you do inter-gender matches? Ronda Rousey and our match at Wrestlemania, sure it can be done.
"Women don't need a man in their match to steal the show. They just need the platform and the opportunity, equal platform and opportunity, no different and if the women have it they will work just as hard, if not harder than anybody else to steal that show.
"Right now they still have stuff to prove and that's what this event is. But once they've proved it all hopefully the conversation goes away and it's not seen any different than anything else."