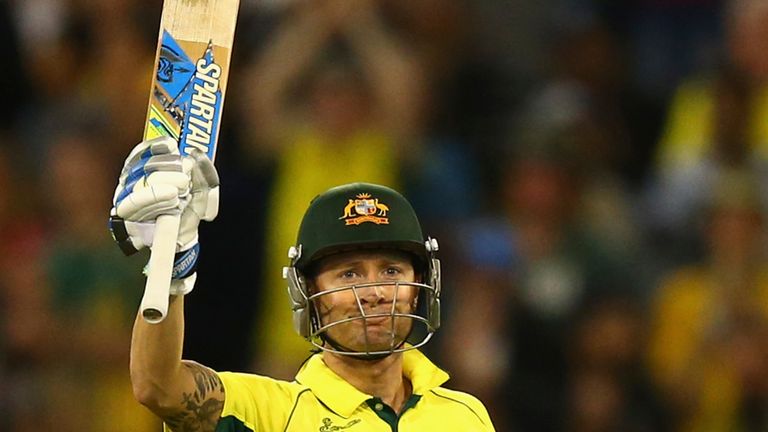 Michael Clarke has dedicated Australia's World Cup win to former team-mate Philip Hughes, who died tragically in November last year after being struck by a cricket ball.
Clarke - in his final one-day international appearance - was wearing a black-armband with Hughes' initials as he hit 74 in Australia's seven-wicket win over New Zealand in Sunday's final in Melbourne.
"I'm sure everybody standing on this stage will say we played this World Cup with 16 players," said an emotional Clarke. "This victory is dedicated to our little brother Phillip Hughes.
"Hughesy used to party as good as any of them so I guarantee we'll celebrate hard tonight.
"The armband has got PH on it. I will wear it every game I play for Australia. It's been a really tough few months.
"Thanks to all the supporters out there, and most importantly, thanks to our amazing team - the way they've stood up and played tonight, they deserve to be here.
"We played really well, the guys were ready. It has been an honour and a privilege to represent my country in both Test and ODI cricket but the time is right for me to step down from ODI cricket."
Clarke, who was given a standing ovation as he left the field after being dismissed, also paid tribute to his opposing captain, New Zealand's Brendon McCullum.
"The New Zealand team deserve a lot of credit - they're always a tough team to beat," added Clarke. "In any sporting event, Australia versus New Zealand is always an exciting contest and tonight was no different.
"Congratulations to Brendon personally - throughout the tournament you've been outstanding - and to your team, well done."