Australia bowler Mitchell Starc named player of World Cup after final victory
Last Updated: 29/03/15 3:54pm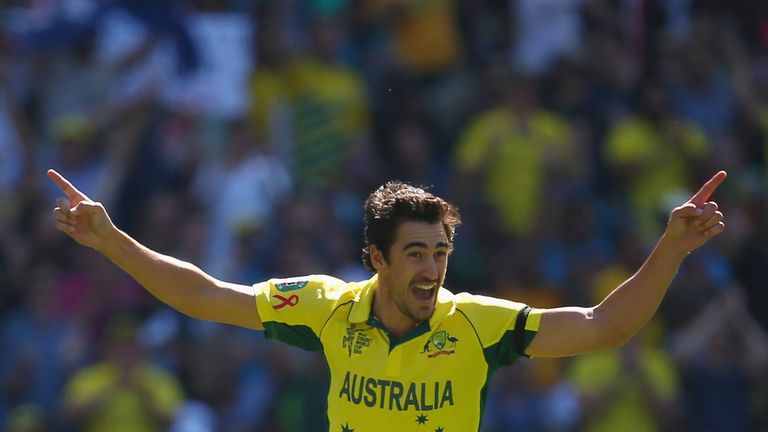 Australia bowler Mitchell Starc has been named player of the tournament at the Cricket World Cup after they defeated New Zealand in Sunday's final at the MCG.
Starc impressed in claiming 22 wickets in a tournament that was dominated by big batting performances and his dismissal of Black Caps' talismanic captain Brendon McCullum in the first over of the match helped Australia to a comfortable seven-wicket victory.
But the 25-year-old has had to work hard to achieve success, with Shane Warne describing his body language as 'soft' as he returned figures of 2-110 in the second Test against India in Brisbane last December.
That led to his being dropped from the Test side but he has shown his fighting spirit in the World Cup after working hard to improve his game.
"I've worked really hard at it for a number of months now with (bowling coach) Craig McDermott in the background," said Starc.
"A few series ago we sat down and found out a little plan, and to see that come to fruition has been phenomenal."
As for the crucial dismissal of McCullum, he added: "There was a lot of luck involved I think, but it was a little plan that Craig and I had going a couple of days ago.
"Brendon has been really fantastic through the whole tournament so I think there was a lot of luck involved. I'm just happy to get that one."
McCullum himself was quick to praise Starc, despite his team-mate Trent Boult also picking up 22 wickets in the tournament.
"He deserves the man of the tournament for me. He was outstanding, bowled at good pace, he swung the ball late and he was incredibly accurate all the way along, as well," said McCullum.
"Sometimes a guy is just too good for you, and that's the beauty of this game.
"That's why when you do have success, you've got to enjoy it along the way because it is a contest, and sometimes the other guy is a bit (too) good for you."