Team Europe: The 12 players to make up Thomas Bjorn's Ryder Cup side
By Ben Coley
Last Updated: 24/09/18 3:13pm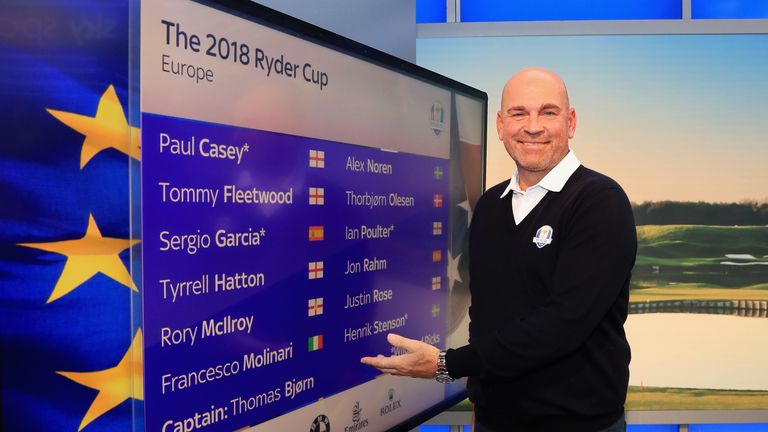 Ben Coley profiles the 12 players who will represent Team Europe in the Ryder Cup in Paris.
Paul Casey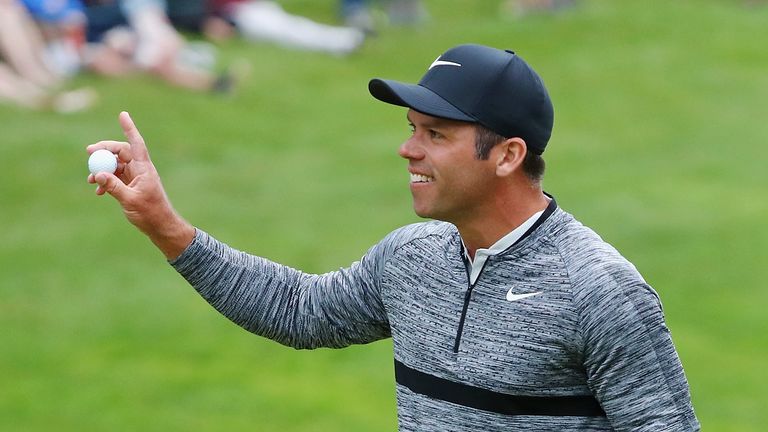 Ryder Cup record
Overall: 3-2-4
Foursomes: 1-1-0
Fourball: 1-0-3
Singles: 1-1-1
Course form: 10-MC
Back in the side following a decade away after Keith Pelley and captain Thomas Bjorn made the trip to Casey's Arizona home to come to an arrangement, the feeling having been that Europe were shooting themselves in the foot by not making him eligible.
Once Casey's path to the side was opened up, he showcased his intentions by taking part in the EurAsia Cup and from there went on to win on the PGA Tour for the first time in almost a decade, at which point his return appeared certain. In the end, a quiet spell during late summer meant he needed a wildcard but the hard yards were done in the early part of the year.
Casey's record in the competition is solid, certainly when it comes to avoiding defeat which he has done in seven of nine matches. Tellingly, he is unbeaten in fourballs.
Tommy Fleetwood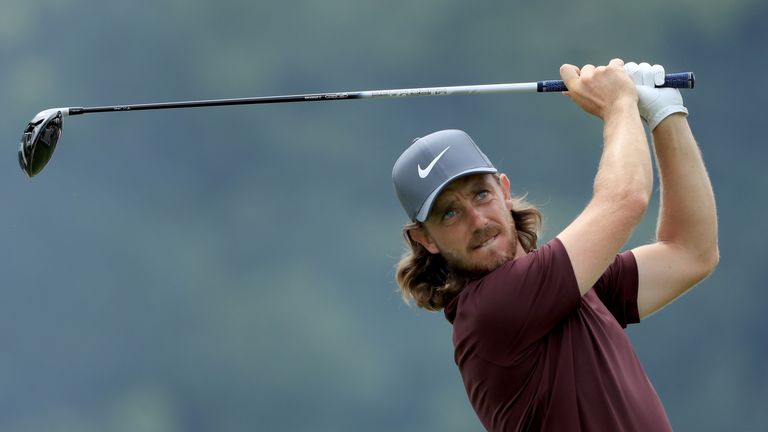 Ryder Cup record
Debut
Course form: MC-MC-MC-1-MC
A rookie qualifier but one who is more than comfortable at elite level now and seems to play well just about every week wherever he is in the world. That is largely due to an outstanding long game, but do not underestimate the value of his attitude, the relationship he has with his caddie and wider team (including wife, who is also manager) plus the definite improvements made in his short game.
Combine all that with a victory here at Le Golf National in 2017 and you have a potential stalwart for Europe. That said, his course record is far from flawless and in fact away from last summer's victory, he has failed to break 70 in 10 rounds or to make a weekend in five visits.
Now a fully-fledged member of the world's elite and a player who has taken so much in his stride over the last two years, expect Fleetwood to cope well with the unique pressure of a Ryder Cup and, all being well, play four matches minimum, proving that his course form is a red herring in the process.
Sergio Garcia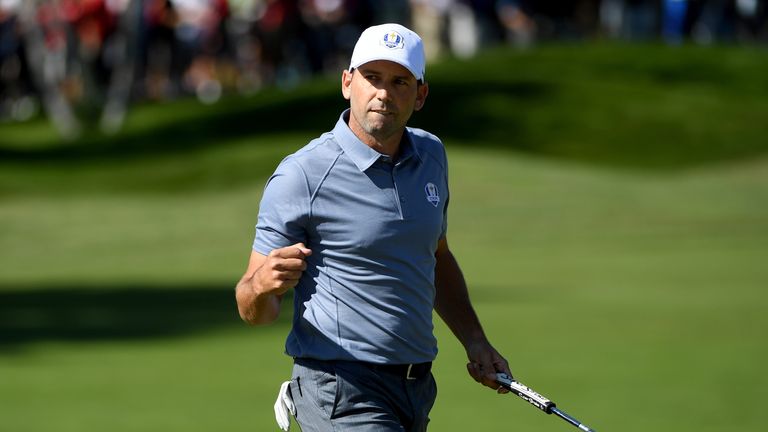 Ryder Cup record
Overall: 19-11-7
Foursomes: 9-3-3
Fourball: 7-4-3
Singles: 3-4-1
Course form: 8
Undoubtedly the selection which has caused most controversy, despite the fact that a good Ryder Cup here and Sergio Garcia could become the most successful European player in history. Of course, that is only worth so much but let us remember that since the last Ryder Cup, he has won four times, including the Masters.
The case against his selection, then, rested solely on a poor summer, yet even that included eighth place at Le Golf National, while his final start prior to Bjorn's announcement saw him start really well on the PGA Tour, where eight of his last 10 rounds have been par or better. At his best, he is not. Gone at the game? Don't be ridiculous.
Garcia has been selected for reasons beyond form, and that should be easy to understand. He is an especially effective foursomes player who could develop a devastating partnership with Jon Rahm, and who either way will surely prove a major asset in the team room, something which cannot be said of those who missed out.
Tyrrell Hatton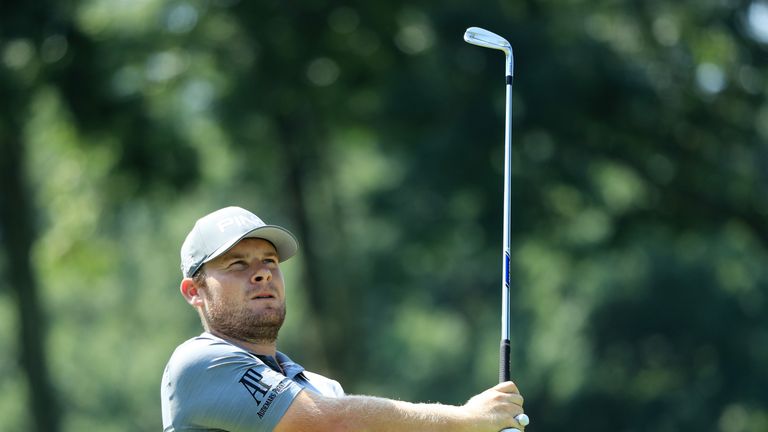 Ryder Cup record
Debut
Course form: MC-12-33-MC-16
He won two strong events soon after qualifying began to all but secure a debut appearance. He knows Le Golf National well and should be suited to it, but there have to be some doubts as to how he will cope with this unique pressure and just how big a role he will be expected to play.
Given that Hatton is prone to fallow periods it is encouraging that he has made every cut since early summer and having closed out two recent PGA Tour starts with scintillating 64s, including when securing his second major top-10 of the year, it is hoped that he will arrive in Paris somewhere near the top of his game.
Rory McIlroy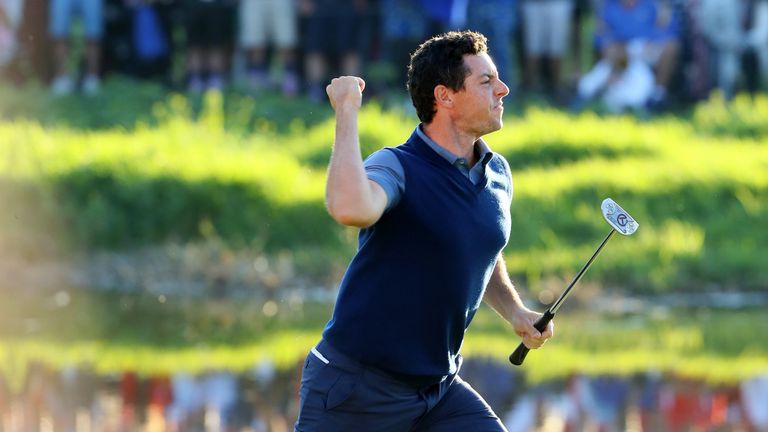 Ryder Cup record
Overall: 9-6-4
Foursomes: 4-3-1
Fourball: 3-2-2
Singles: 2-1-1
Course form: MC-4-3
Europe's most decorated player and a potential lead-off man on Sunday, having taken that role for the first time at Hazeltine where he suffered his first singles defeat at the hands of Patrick Reed. Prior to that, he had thumped Rickie Fowler in 2014 having also beaten Keegan Bradley in 2012 and it is likely that, as with the very best players in history, his singles record continues to impress.
McIlroy has also proved an able partner, though, first with mentor Graeme McDowell before flying the nest to form a key partnership with Ian Poulter at Medinah, a winning one with Sergio Garcia at Gleneagles and a devastating one with Thomas Pieters at Hazeltine. There is talk of McIlroy pairing with Thorbjorn Olesen this time and Bjorn will hope it is more Pieters than Andy Sullivan, the latter having been alongside McIlroy as USA completed a clean sweep of the opening foursomes two years ago.
Away from the Ryder Cup, it is clear that McIlroy has not been able to reach the dizzying heights of 2014 but he has still won again this year and contended in two of the four majors.
McIlroy has played every match in each of the last three editions, just like Rose. It is possible to argue that at Hazeltine, in a highly-charged environment, this cost him half a point or more on Sunday. Yet back on European soil it is likely that he is again sent out five times and if Europe are to win, they will need a positive return on that investment.
Francesco Molinari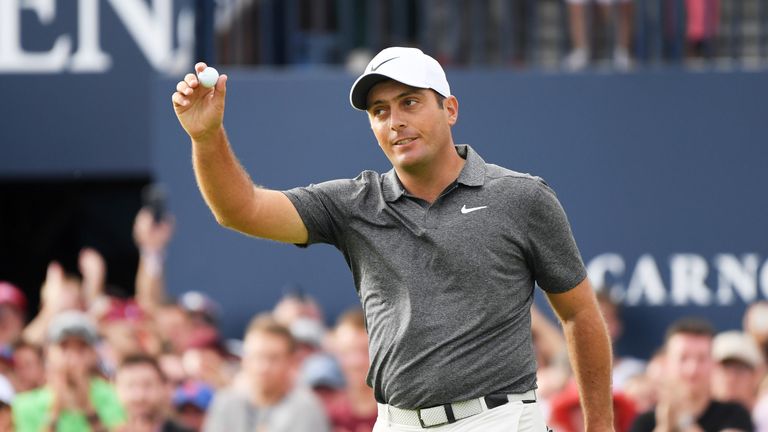 Ryder Cup record
Overall: 0-4-2
Foursomes: 0-2-0
Fourball: 0-1-1
Singles: 0-1-1
Course form: 26-21-MC-13-25-2-MC-2-18-26-6-2-38
Third time as a Ryder Cup qualifier and so far he has been involved in two of the most dramatic renewals in memory, first when playing alongside brother Edoardo at Celtic Manor in 2010 before effectively completing the Miracle in Medinah for Europe in 2012, when Martin Kaymer's putt kept the trophy and very much stole the headlines, but Molinari's half against Tiger Woods ensured outright victory.
Despite that, so far Molinari's contribution has been limited. He was the lowest scorer on the team in 2010 and ahead only of Peter Hanson in 2012, managing a half in each renewal from three games played; in other words, he has yet to win a full point in six tries. Yet, six years on from his latest appearance, the Italian not only returns a major champion but also takes part in a renewal staged at Le Golf National, where he has three times been second and owns a game made for the golf course.
If he comes here with the confidence of a major champion, which he should, then there is no reason he cannot become a key part of any European success. Long enough to keep up and straighter than anyone else here, there are no excuses and he will be expected to play a key role. That's a new kind of pressure.
Alex Noren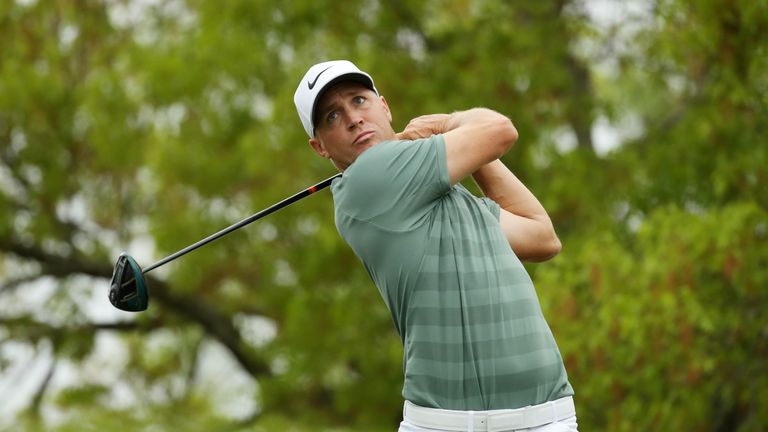 Ryder Cup record
Debut
Course form: MC-MC-MC-78-37-15-MC-8-10-1
Similar career path to Fleetwood and effectively sealed his place in the side by succeeding the Englishman as Open de France champion in June, courtesy of his now trademark Sunday charge, the like of which also saw him win last year's BMW PGA Championship.
Between those two efforts, the Swede demonstrated his skills to a wider audience in a play-off defeat to Jason Day at the Farmers and in beating Justin Thomas to third place in the Match Play, although it must be said that his form of late has nosedived and that will be a concern given his potential to do serious damage.
Team golf record is not particularly encouraging, especially his failure to win a pairs game against inferior opposition at the EurAsia Cup earlier this year, and suddenly looks one of the Europeans to be a little worried about despite a generally reliable, malleable game and a personality which means he could team up with anyone, not just compatriot Henrik Stenson.
Thorbjorn Olesen
Ryder Cup record
Debut
Course form: 2-MC-MC-MC-WD-3-MC
Clung on to the final qualifying spot and deservedly so, having sprung to life with victory in the Italian Open and held that form through the summer, notably when third in elite company at Firestone. Given the pressure he has been under, and all the talk about his relationship with captain Bjorn, it is a tremendous achievement to have taken an awkward decision out of his mentor's hands.
Just how big a role he will now play remains to be seen, but his hyper-aggressive approach, waywardness off the tee on occasion and excellent putting would appear to mark him down as more of a fourball candidate while his ability to win tournaments from the front regardless of the opposition hints that he could make for a surprise package in the singles.
There have been suggestions that he will pair up with McIlroy and that could make for a killer combination, Olesen having shown he can take care of this golf course twice before with his putting in particular likely to complement McIlroy's obvious talents.
Ian Poulter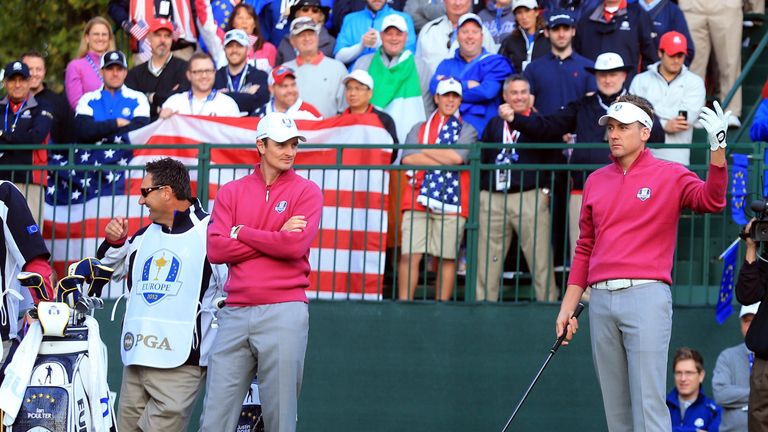 Ryder Cup record
Overall: 12-4-2
Foursomes: 4-1-0
Fourball: 4-3-1
Singles: 4-0-1
Course form: 73-55-30-14-3-9-30-3-18-4-25-45-21
Nicknamed 'The Postman' after his Medinah heroics, as he scraped Europe off the canvas with golf which left Saturday partner McIlroy in awe. He had already built up a reputation as a Ryder Cup specialist and went on to play a key part on Sunday as Europe completed a miracle comeback.
Poulter was less effective at Gleneagles, where his singles winning run was ended in a half with Webb Simpson, but there were still moments of chest-beating brilliance and perhaps Europe were just too dominant to get the best out of a player at his most dangerous when his back is against the wall.
That was certainly the case earlier this year, when Poulter birdied the 72nd hole of the Houston Open to force a play-off he would go on to win, securing the final place in the Masters field. He has held his form well since and was guaranteed a place in the side as soon as it was clear he would require one.
With a deep bank of Le Golf National form - he has played the Open de France there no fewer than 13 times and, as he has never missed the cut, that is 52 competitive rounds - expect him to play a major role, especially as a foursomes player. He will be a marked man, but that only serves to make him more dangerous.
Jon Rahm
Ryder Cup record
Debut
Course form: 10-5
The closest thing Europe has to an equivalent of Justin Thomas, in that he is a rookie in literal terms but is currently inside the world's top 10 and, as well as having won all across the world in little more than two years as a professional, he has also started to threaten that first major which to many seems inevitable.
With what some would term a Spanish temper to go with his power and flair, it is easy to see why Rahm is expected to follow in the footsteps of Ballesteros, Olazabal and Garcia in building a career around this event and there is no reason to doubt his allegiance despite having received his golfing education in Arizona and, quite understandably, spending much of his time on the PGA Tour.
As well as winning in Ireland, Dubai, California (twice) and Spain, Rahm marked our cards with his run to the final of the WGC-Match Play in 2017, less than a year into his professional career, and if Europe are to win this thing back they will need him to do what is expected of him - and possibly more.
Justin Rose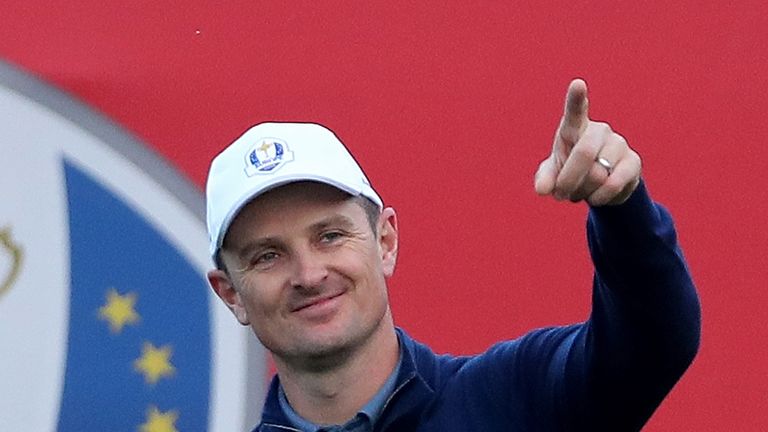 Ryder Cup record
Overall: 11-6-2
Foursomes: 5-2-1
Fourball: 4-3-0
Singles: 2-1-1
Course form: MC-3-72-9
A brilliant Ryder Cup performer ever since his 2008 debut, in which he beat Phil Mickelson in singles having previously struck up a winning partnership with Ian Poulter. Repeat performance in 2012 (again beating Mickelson, again having fared well with Poulter) until he was paired with close friend Henrik Stenson at Gleneagles, the pair winning all three games before they were split up on Saturday afternoon.
At Hazeltine, Rose and Stenson bounced back from defeat to the star Reed/Spieth pairing on Friday morning to gain revenge on Friday afternoon and it remains surprising that they did not play together again, but where Rose is concerned he has now featured in all 15 sessions across the 2012, 2014 and 2016 editions and has built a remarkably impressive record along the way.
As for his play in 2018, he has been typically consistent and headed to France on a high after securing the FedEx Cup on Sunday. His major form reads 12-10-2-19 and again demonstrates that he is one of the most reliable players in the sport, inside and outside the Ryder Cup. Sure to be a feature again here, it will be interesting to see whether it is Stenson, Poulter or perhaps someone else who gets the benefit of playing with the European with perhaps fewest questions to answer.
Henrik Stenson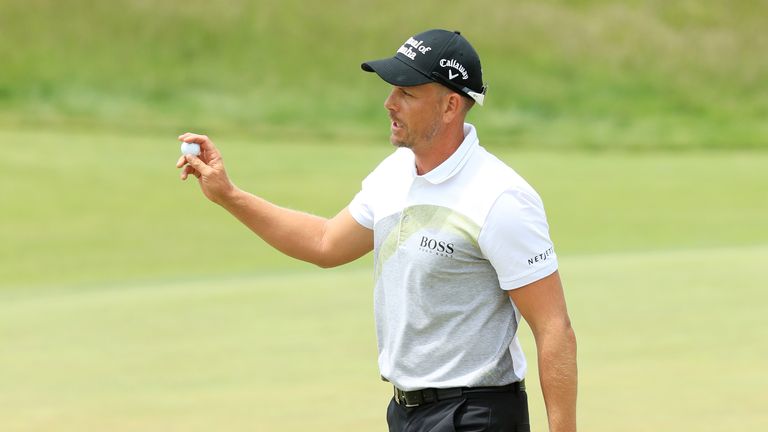 Ryder Cup record
Overall: 7-7-2
Foursomes: 2-3-1
Fourball: 3-2-1
Singles: 2-2-0
Course form: MC-60-MC-55-29-7
Made his debut with a 1-1-1 record at the K Club and has kept hold of that 50 per cent strike-rate since, playing a bigger role at Gleneagles and Hazeltine and impressing in particular at the former. Much of Stenson's recent success has come courtesy of a partnership with friend Rose, and while they won just one of three matches at Hazeltine there is every chance they are sent out together once more.
The concern with Stenson would be that he has been nursing an elbow injury, one which has undermined what could have been another excellent year given that he registered his best ever Masters performance in the spring and also played well in the US Open. But reports suggest he is back close to full health and while he surely will not play five times as was the case two years ago, he will be a big part of the team room.
Stenson has limited experience of Le Golf National but was seventh on his only visit this decade and it is a course where three-wood off the tee and precision on approach, very much his modus operandi, is a working formula. If he is able to prepare well, he will prove hard to beat.
Get the dedicated Sky Sports Golf channel to watch every minute of the Ryder Cup. Find out more.