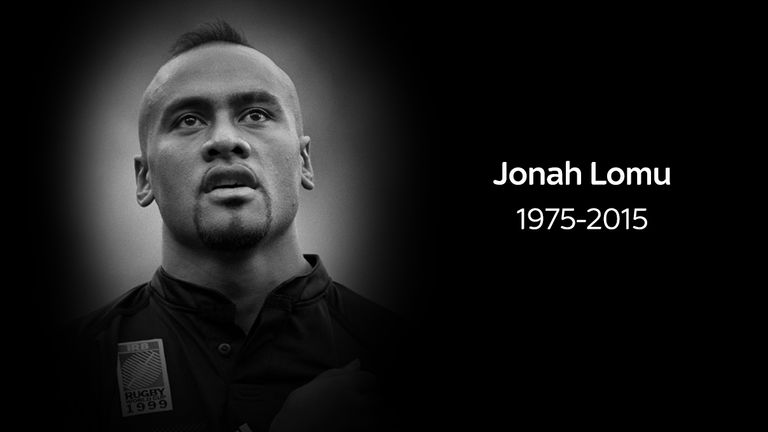 Jonah Lomu changed the face of rugby union wing play and was the first real global icon of the game.
Standing taller than 6ft 4in and weighing more than 18 stone, Lomu was a brutal combination of pace and power. He won 63 caps for the All Blacks, in which he scored 37 tries.
The impact he made on the 1995 World Cup was felt not only by the England team, against whom he scored four tries in a memorable semi-final win, but also by the whole newly-professional game as he harnessed its worldwide reach by becoming the code's first superstar.
Lomu was born in South Auckland to Tongan parents and spent much of his early childhood back in Tonga, but in his autobiography he revealed those early years were troubled and he endured an abusive relationship with his father.
Back in Auckland he was involved in gang culture that might have led to a different life had it not been for his enrolment in Wesley College, where his athletic prowess was recognised and developed.
His imposing frame meant he was soon making an impression on the rugby pitch.
However, when he represented New Zealand schoolboys, it was as a No 8. He soon moved to the left wing and he made his first impact on the worldwide game at the 1994 World Sevens.
Aged only 19 years and 45 days, Lomu became the youngest ever All Black when he made his debut in a defeat to France in Christchurch in June 1994. His record still stands and may never be broken with new protocols for teenagers playing professional rugby.
With only two caps to his name he was included in the All Blacks squad for the 1995 World Cup in South Africa and it is his performances at that tournament, most notably in the semi-final against England, for which he will be remembered.
He opened the tournament with two tries in a 43-19 demolition of Ireland. His impact would first be felt by Irish flanker Dennis McBride, who he bulldozed out of the way as he created New Zealand's first try for Walter Little.
He later scored the first of two tries by bouncing over opposite winger Richard Wallace in a style that would give nightmares to many opponents in the future, most notably England and Tony Underwood.
Although tryless against Wales his impact and pace was felt as he created a try for flanker Josh Kronfeld and he then set up another and scored one in similar style against Scotland in the quarter-finals.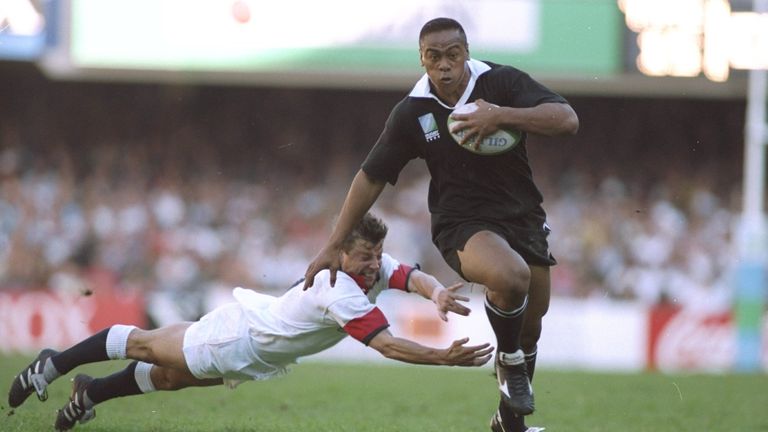 Then came his defining moment. Lomu scored four tries as the All Blacks blasted their way into the final with a 45-29 win over England in Cape Town. The first of the quartet is the one for which England still bear scars.
Taking a bouncing ball outside England's 22 he scored a try with his trademark balance of speed and brute force. First he went around the outside of Underwood, his opposite wing on the day, and then evaded a tap tackle from England captain Will Carling that unbalanced him. Still 10 yards out, he recovered to run over the top of full-back Mike Catt and over the line.
New Zealand would go on to lose the final to hosts South Africa in Johannesburg and defeat to France in the 1999 semi-final means the most iconic of All Blacks ended his career without a World Cup winner's medal.
Later on he admitted that he was already suffering from the kidney illness, against which he battled for more than 20 years, when he took to the field in the '95 World Cup. Ominously he said: "Imagine what I could have done healthy."
The first news of this illness, a rare kidney condition called nephrotic syndrome, came in 1996 and meant he missed most of the 1997 domestic campaign.
His international career ended in 2002 and the following year he spent the first of many hours receiving kidney dialysis treatment. The year after that Lomu revealed he needed a transplant. He had it - but his body rejected it in 2011 and the dialysis continued.
In his club career in New Zealand Lomu played for North Harbour, Wellington and Counties Manukau and he represented Wellington Hurricanes, Waikato Chiefs and Auckland Blues in Super Rugby.
Away from New Zealand he was a stellar signing for the Cardiff Blues in the Celtic League for the 2005-06 season.
In his last All Black tour of Europe in 2002 Lomu came back to torment England one more time, scoring two tries at Twickenham, but he ended up on the losing side for the first time against a home nation, England winning 31-28. His final two matches resulted in a draw against France in Paris and he bowed out without scoring a try in a 43-17 win over Wales in Cardiff.
Lomu was in the United Kingdom for the recent World Cup, where he tweeted passionately about the sport he still loved. The success of "the brothers in black" was relished publicly by someone who had lived the moment himself.
Tragically, less than three weeks later, others were tweeting with the same passion about Lomu.
He is survived by wife Nadene and their young sons Brayley and Dhyreille.