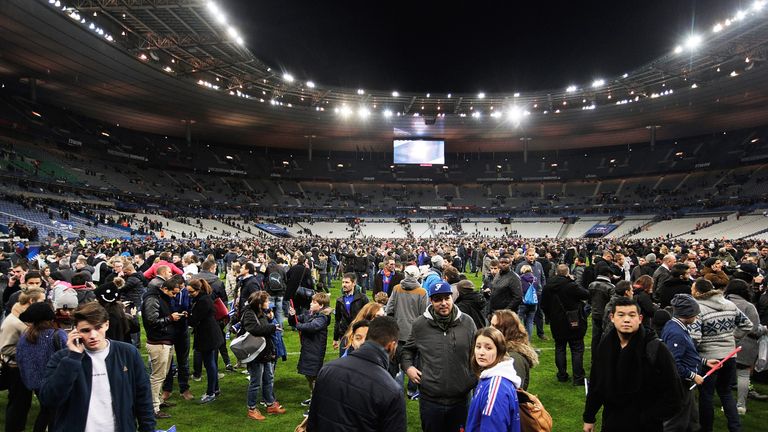 Glasgow's European Rugby Champions Cup match against Racing 92 in Paris has been postponed, along with all sporting events in the region.
The cancellations come in the wake of Friday night's terror attacks in the French capital, including one at the Stade de France where a football friendly against Germany was being held.
Three people were killed in suicide attacks at Gate J, with several other attacks across the city claiming the lives of at least 127.
Because of the international break, no Ligue 1 fixtures were scheduled this weekend, but there were due to be matches in other sports, including the opening weekend of rugby union's premier club competition.
Glasgow had already advised supporters who had not started their journey to France to stay at home, with the country's president Francois Hollande having tightened borders and declared a state of emergency.
Their players were reported to all be safe in a hotel on the outskirts of the city, and Germany players who were caught up in Friday's chaos at the Stade de France have left for home after spending the night at the stadium.
Glasgow Warriors announced the postponement on the club account on Twitter: "Today's @ChampionsCup game against @racing92 has been postponed. We'll provide further updates when we get them."
A statement on the Racing 92 website read: "Racing 92 vs Glasgow match is cancelled today following the tragic events of last night. We expect more information about a possible rearrangement and will get back to you as soon as possible."
The Glasgow squad had travelled to France for their Champions Cup opener against Racing, which had been due to take place at the Stade Yves-du-Manoir in Colombe outside Paris on Saturday afternoon.
"We're all safe in our team hotel on the outskirts of Paris," a team spokesman said.
Glasgow coach Gregor Townsend tweeted: "Really sad to hear what's happening in this beautiful city. Hope all Warriors fans are safe tonight."
It was announced later on Saturday morning that the Champions Cup game between Oyonnax and Ulster had been postponed, while Sunday's match between Bordeaux-Begles and Clermont Auvergne has also been called off. Toulon have also called off their home clash with Bath on Sunday.
The race meetings at Saint-Cloud on Saturday and Auteuil on Sunday have also been called off, along with the French Open taekwondo tournament. The British team due to compete in that event are all safe and hoping to return home on Sunday.