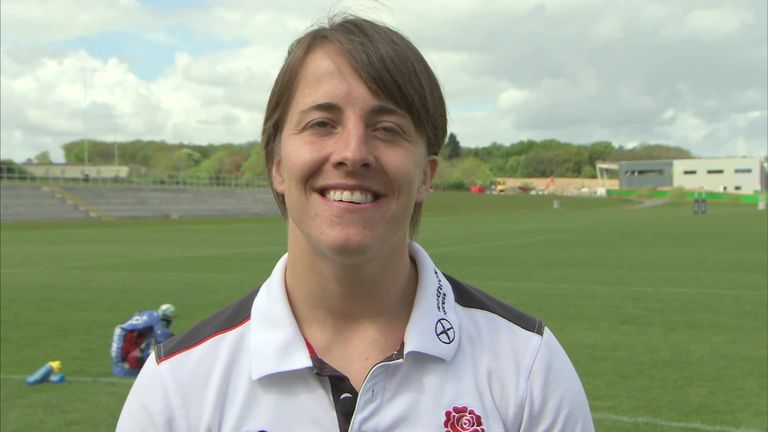 England captain Katy McLean says women's rugby is going from 'strength-to-strength' in this country.
McLean skippered England to Women's Rugby World Cup glory last August and also played for the Sevens side who last month sealed Team GB's place at the Rio 2016 Olympic Games.
The 29-year-old is expected to lead the squad that will tour Canada in the Super Series later this month and McLean admits it's an exciting time for England women's rugby.
"Nine months ago I was getting an opportunity to lift a World Cup and the women's game has just gone from strength-to-strength," McLean told Sky Sports News HQ.
"And it's not just the XVs, it's the also the Sevens and especially being involved in the Olympics which is fantastic for our sport. It's not something you'd naturally associate rugby with and the fact we have an opportunity for both women and men to go the Olympics is phenomenal.
"We're in a really good period for women's rugby now, off the back of a World Cup win and building towards another World Cup in 2017.
'Phenomenal'
"The opportunity now to go to Canada and play against Canada, America and New Zealand, who are three of the top teams in the world, is fantastic.
"Obviously we have a new head coach in post in Simon Middleton, and he'll be looking to blood some new players during a tour which is going to be really tough for us."
McLean cites another fly-half in Jonny Wilkinson as one of her childhood heroes when she was growing up, but is pleased that girls who now aspire to play top-level rugby have female players they can look up to as role models.
"I started playing mixed rugby when I was five but when I hit 12 there was no provision for girls," she said.
"Now girls can play mixed rugby but they have the opportunity to filter into U13s, U15s and U18s before they go to senior rugby.
"The growth of the game has been phenomenal. I think it has been something like a 100 per cent increase in the recent uptake of women's sport, and rugby in particular.
"I wanted to be like Jonny Wilkinson when I was younger but there are now young girls who want to be like Maggie Alphonsi or Emily Scarrat and that is phenomenal."