Women's rugby momentum must grow, says Sarah Hunter, Rocky Clark and Katy McLean
By Michael Cantillon
Last Updated: 16/01/18 6:35pm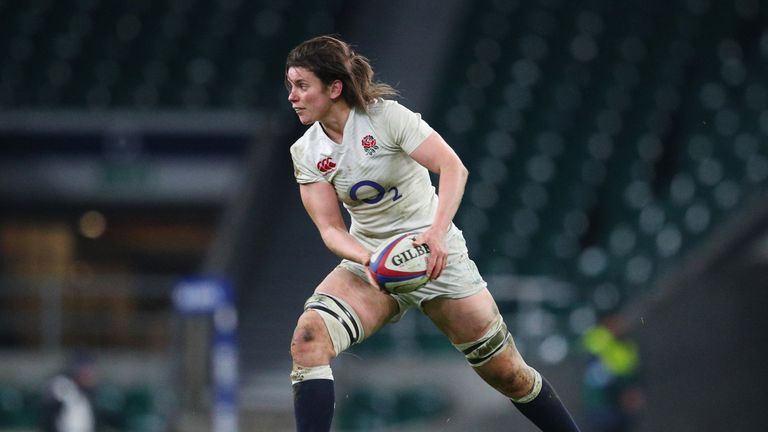 The England Women's team head into the 2018 Six Nations as champions after last year's Grand Slam and their title defence is live on Sky Sports.
Sky Sports Rugby sat down with three stalwarts of the England team, skipper Sarah Hunter, record cap-holder Rochelle 'Rocky' Clark and pivotal fly-half Katy McLean to talk about some of the most important days in their careers to date.
With Hunter having earned 101 England caps, McLean 94 and Clark 132, and all three of them World Cup winners, each has already written their names into the record books.
Debuts
Sarah Hunter: "It was back in February 2007. Katy [McLean] and I got our first cap together against Scotland at Old Albanions and Rocky was there as she always has been! And I remember being really excited, yet absolutely petrified at the same time.
Katy McLean: "We got capped under Geoff Richards and he wasn't a big cap giver. So there had been a lot of people who had previously sat on the bench and never got on.
Hunter: "I'm not really an emotional person, or I wasn't then, and I remember during the anthem getting a bit teary as it was really special.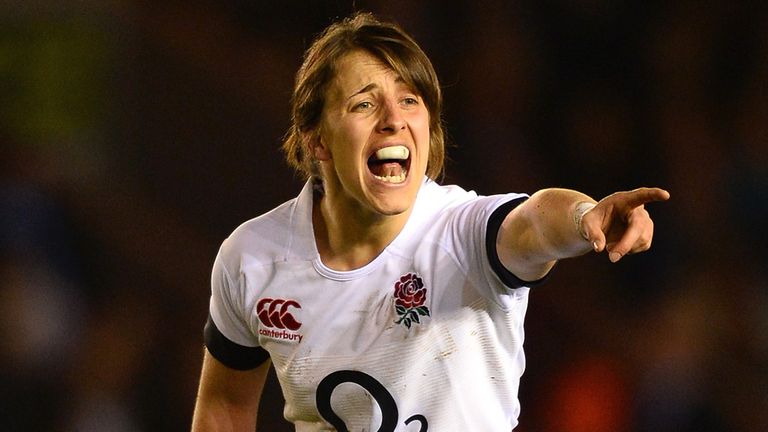 "You've dreamt of it and worked really hard to get to that moment, and then it happens and you're like: 'oh my god, is this really happening?'
McLean: "There were four of us (uncapped) on the bench and three started and I remember thinking: 'He's not going to put us on', and I was watching the clock thinking: 'please just let me get on the pitch'.
Hunter: "I think I only got five or 10 minutes at the end, but it was the fastest five or 10 minutes I'd ever played.
"I was literally out of breath the whole time thinking: 'Am I even going to survive this?', but it was brilliant.
McLean: "As Sarah [Hunter] says, he put us on the pitch with about 15 minutes to go and I kicked a conversion from the touchline and I genuinely remember thinking: 'I just want to get the ball off the ground. Just get it into the vicinity of the posts and that'll be alright!'
Hunter: "I saw my parents after, loved the occasion, and then there was a moment of panic set in because after all the euphoria of getting your first cap, all first cappers have to sing a song…and I'm awful at knowing any words, awful at singing, rhythm, nothing!
McLean: "I sang The Time of My Life from Dirty Dancing, and similar to Sarah, I've got no musical ability. It was probably the most stressful thing about being capped.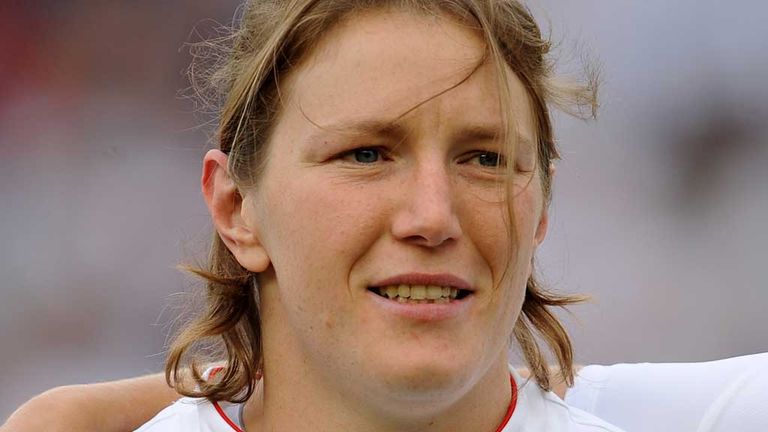 Rocky Clark: "My debut was June 2003 against Canada and was very traumatic because I was overweight and been given this opportunity, but being 109 kilos in 30 plus degrees heat was not fun. I just remember trying not to die on the pitch!
"I got to half-time and the girls laughed at me. Georgia Stevens always says she was feeling knackered and remembers looking across at me and I was purple.
"It was during that game I knew I had to get fitter and lose weight and look at me now!"
Centurions
What can Clark and Hunter remember from their century matches?
Clark: "It was in the Six Nations against France at Twickenham…
McLean: "We all lived through it, Rocky's 100th. We celebrated it a lot, for about three weeks before it and about six weeks after…
Clark: "We did, thanks. But you try not to think about it too much because it's just another game and you always worry you might get injured in the warm-up or not picked.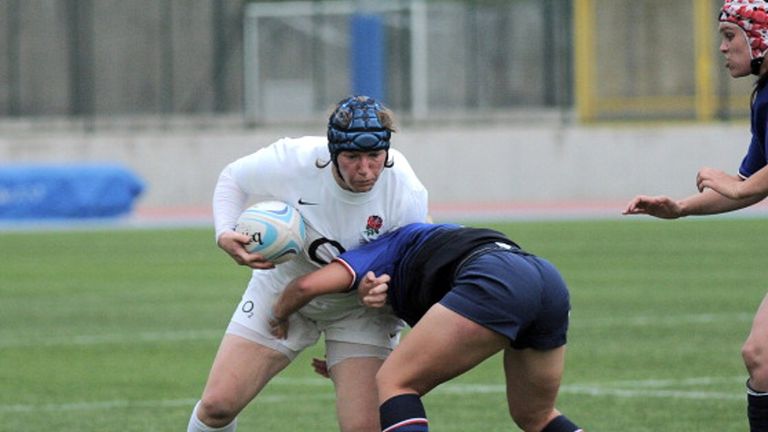 "As I came out the spotlight was on and I was just thinking: 'don't cry, don't cry' and lots of the crowd went wild and I remember the lights in my eyes and it was just a magical moment.
"Jason Leonard presented me my cap and shirt after the game and the French gave me a signed shirt as well so it was really sweet."
Hunter: "Mine was against Canada just recently in the autumn at the Stoop.
"I wasn't sure what was going to happen because it was a midweek game in a three-Test series with a new squad, so I really didn't know what the coaches were going to do.
"Then when the selection came through I just burst into tears because I was so overwhelmed that it was actually going to happen.
"For me, to get one was what you dreamt of but to get 100 was just unthinkable.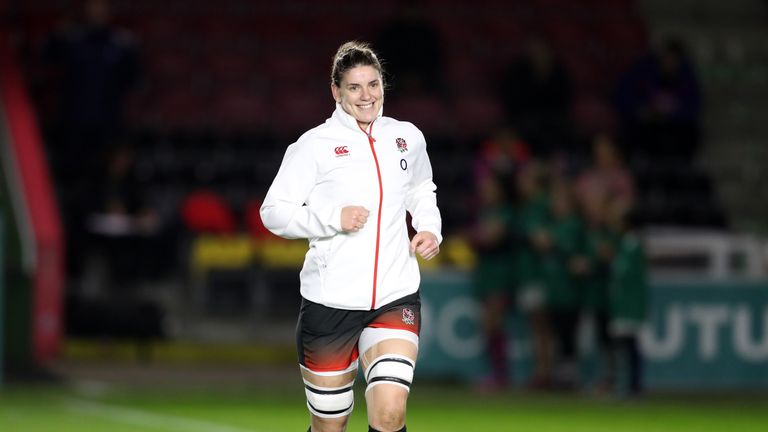 "But then you've got training to get through and you start to get cards and messages, and the night before the game this one here [points at McLean] gave me a card and 100 Pick & Mix which was amazing…
McLean: "And I made her get them all out and count!"
Hunter: "You have little moments where you can't but help being emotional. Like the shirt presentation, I'm not sure I've cried in one before and I was having to hold it together. My bottom lip was trembling.
"It's a moment I'll always cherish. And Rocky's hero is Jason Leonard and my rugby hero growing up was Richard Hill and he came to present me with it which was really special and it kind of topped the day off."
World beaters
With the Red Roses having suffered final heartbreak in the finals of the 2006 and 2010 World Cups, and having not won it since 1994, 2014 was the year they finally reached the pinnacle.
McLean: "Yeah that day was a really stressful day. I think possibly one of the most stressful days of my life ever.
Clark: "The morning of the game, you're really trying not to think about it but it's in the back of your mind and every so often your heart will just go like a million miles an hour, but you don't want to waste loads of energy stressing about it.
McLean: "I remember the biggest thing for me was that New Zealand had already been knocked out by Ireland, and so there was all this pressure.
"The media was like: 'it's England's time' and all of this but it made it even worse.
"My clearest memory is being in the tunnel with everyone behind me ready to go and the World Cup is right there, and I genuinely wasn't sure I could move.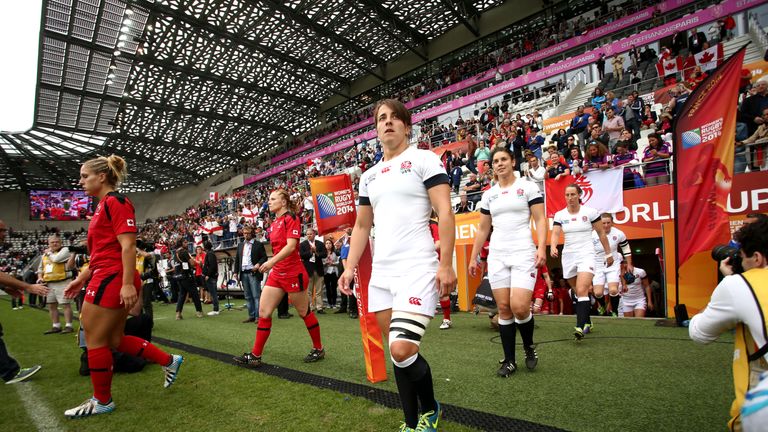 "I was going to burst into tears and was standing there thinking: 'I literally can't do this, they're going to have to walk round me'.
"Honestly even now looking back, it makes me quite teary because I so badly wanted us to win it."
Clark: "When we went out onto the pitch I was really nervous. Been here a number of times and we hadn't managed to seal the deal.
McLean: "I remember looking at the clock, there was 74 minutes on it, and we were clear and had a lineout and Claire Allan just came on to the pitch and was in my ear: 'mate, what's the call?!', and I was just like: 'we've won it'.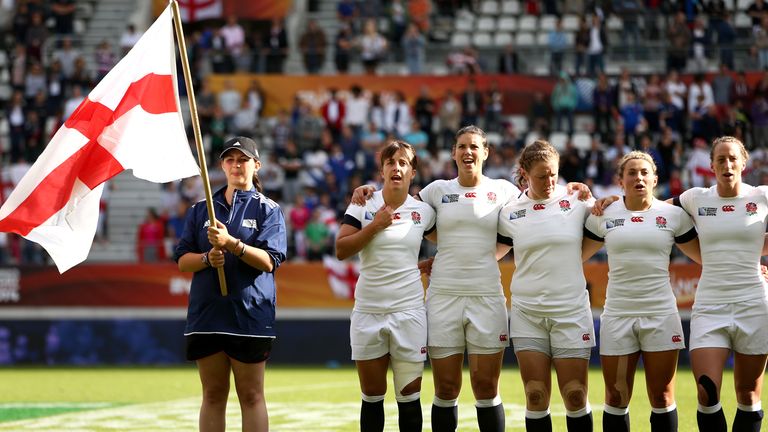 Clark: "Still though in that last 30 seconds I was thinking we could still lose it even though we physically couldn't.
McLean: "There was panic! And then it was just about enjoying the moment after the whistle goes, we're all going mad and it's flipping amazing.
"Then when we lined up for the trophy, I was at the back and had another absolute wobble because there was so much relief to winning it because we'd done so many interviews about always being the bridesmaids and 20 years since England won it.
"We were finally going to put that to bed for everybody and nobody else was going to have to go through this for that period of time. And I couldn't speak, because if I spoke I was going to cry. The bottom lip was seriously going.
"We'd finally done it for everyone who had come before us."
Clark: "Just the utter relief to actually have finally done it. It was the best feeling in the world, absolutely amazing, and one of the best days in my life.
Hunter: "When the whistle went I had a slightly different feeling. Obviously, I played in 2010 and had lost it, but there wasn't even that thought, I just had this sheer happiness that we'd won it rather than the relief that I know a lot of people had.
"Your friends and family were there but for me, I think that was the first time you saw people come away to support us who had no connection to us, proper rugby fans. And doing that lap of honour was just incredible."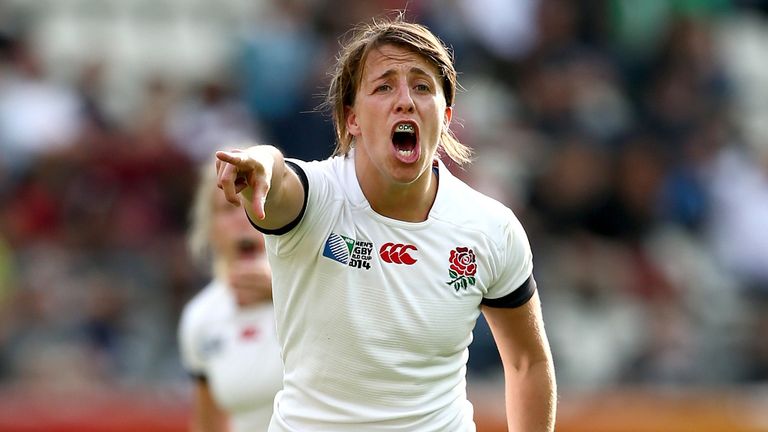 McLean: "We got on the bus and as we were heading back they named the supporters bar.
"It was a random French pub, on a roundabout and they dropped us off. And this bar had literally run out of beer and everyone was out onto the side of the streets and had been buying beer from this local supermarket.
"Sarah and I got off last with the trophy and they were singing Swing Low Sweet Chariot, and honestly, in the middle of the most random part of France, there were people just really happy to be English because we'd won it."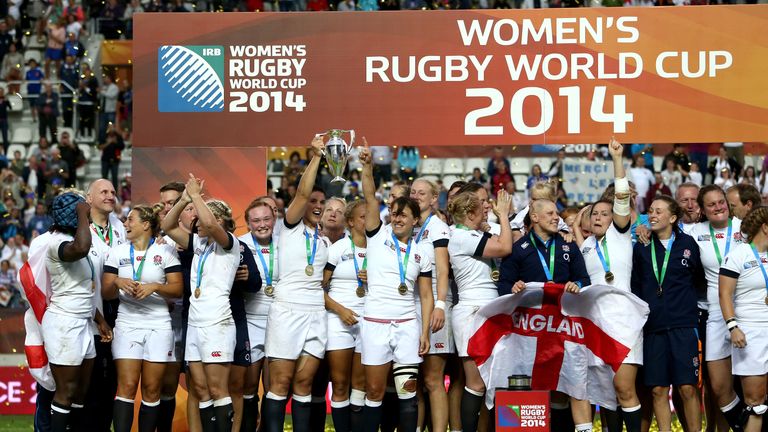 From the incredible high of 2014 came the low of the 2017 World Cup, where the Red Roses succumbed to New Zealand in the final. What are the memories from that day?
Clark: "It was a different perspective for me being on the bench, and stressing that I couldn't do much.
"I went on and was trying to do what I could but it was slipping away unfortunately and when the final whistle went, it was just that gutted, horrible, haunting feeling that reminded me of the first time we lost it in 2006, because it was like having your heart ripped out.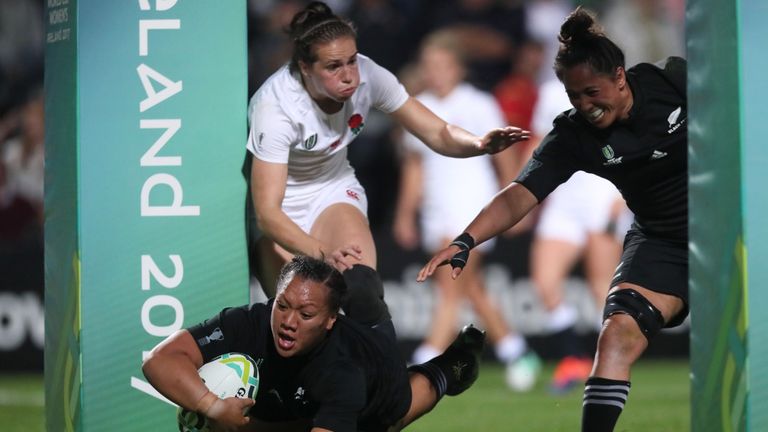 "So having that again brought up old memories and it's something that's really hard because you try your best to forget about it. You're motivated by it but you don't want to keep wallowing over it because you'd end up in a bad place, so it's hard to almost go back to that day and think about.
McLean: "I agree. The memory is nowhere near as clear and there's not many points of that day that really stand out.
Clark: "We just couldn't get the ball could we? Because they just kept it so tight. There was no way we could get the ball back at all.
McLean: "The only thing that makes it slightly better and different to 2010 is that New Zealand deserved to win that World Cup on that day. They were by far the better team in the second half.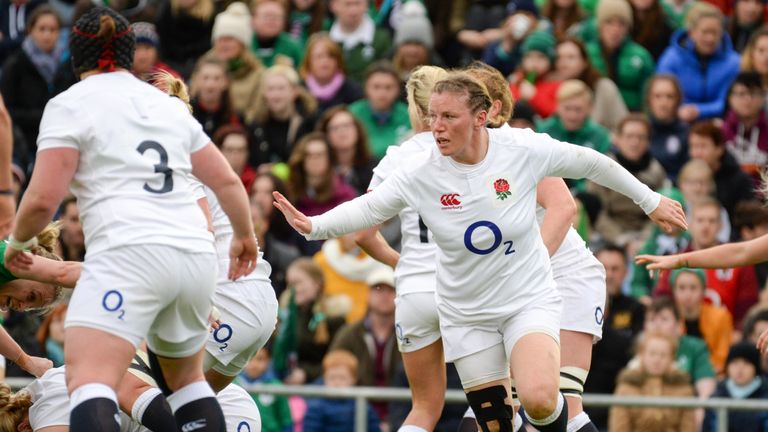 "Whereas in 2010, we got beaten 11-9 and it could have gone either way. In 2017 they deserved it because of the way they came out and for me that makes it slightly easier to think about.
Hunter: "There's just a sense of massive, massive disappointment, particularly after the time we'd been together and I think if they hadn't scored before half-time in the way they did, they wouldn't have changed their gameplan.
"They came out and played a completely different gameplan. I've never seen a team in any sport go in at half-time, change their game so much and come out and execute it.
"It was completely different to the game they'd played throughout the entire tournament."
Clark: "They'd done their homework on us from when we played in New Zealand hadn't they?"
Hunter: "Like Katy says, fair play to them. That's what sport is. You know when you're getting into an elite sport that that can happen, especially in World Cup finals.
"It was absolutely devastating. I was probably a hysterical wreck for days after. And every time I thought I was alright, I'd find myself in that place again.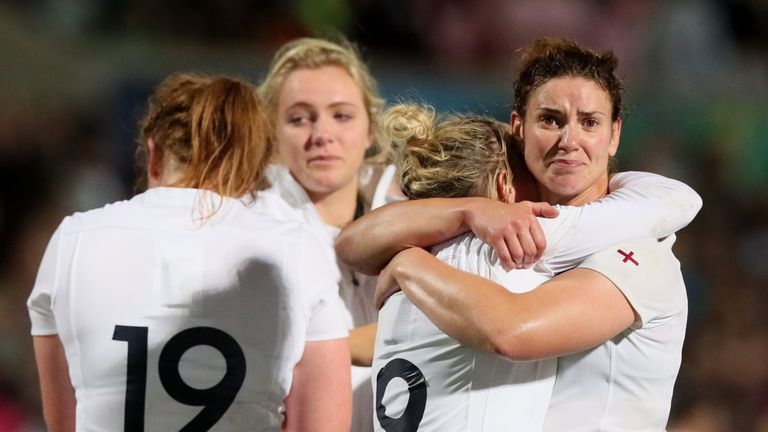 "But I remember I hadn't really looked at any messages because I just couldn't bring myself to read them and then actually reading back, the bit that makes it slightly easier was what we'd produced.
"I know finals aren't normally very good games, but actually for the neutral and someone watching women's rugby for the first time, we'd shown what women's rugby was capable of and put ourselves in this new space. We showcased ourselves and the game.
"It was a fantastic occasion for women's sport as a whole and that can't wait for another four years. The momentum of it needs to carry on and grow, not plateau."
McLean: "My international career started in 2006 and it's grown absolutely phenomenally. There's no similarities between when I started to now because the game itself has just moved on.
"The coverage, the support, fitness, agility of the girls, support systems, money in the game. The change is just huge.
"And in another 10 years' time, you'd hope to see just as much change for the better."
Clark: "It's huge getting that exposure and people having the access to it is massive and hopefully numbers will keep increasing.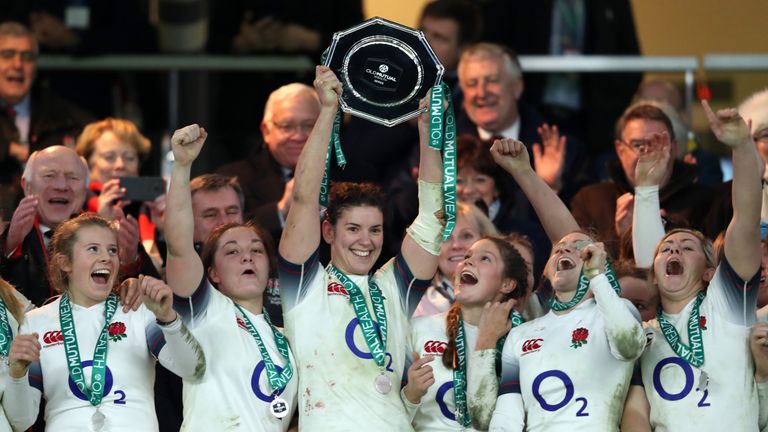 McLean: "And I think for us, we're used to the occasional game but I think now that people can follow us through a campaign allows them to be part of it rather than just seeing bits and pieces.
"With the support of Sky Sports, it's got such credibility as a broadcaster and that also lends itself to us because Sky are pushing us and saying women's rugby is something to be proud of and we want to be part of that as well."