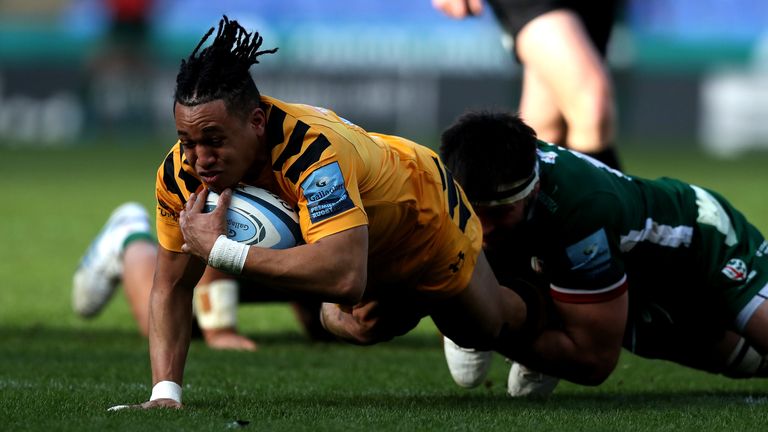 Wasps and Worcester will cut their players' salaries by 25 per cent as part of measures in the wake of the coronavirus crisis.
The Rugby Football Union (RFU) has confirmed that 2019/20 season has now ended for all league, cup and county rugby in England except for the Gallagher Premiership.
The RFU says it is still in talks with the Gallagher Premiership about whether they will continue their season, which has been suspended for the next five weeks as part of sport's response to the coronavirus pandemic.
As a result, both clubs will give their players' salaries by a quarter, effective from April 1.
In a statement, Wasps said: "We are having to make difficult decisions to navigate these unchartered waters and ensure the Club is in a position to continue its exciting journey when we come through this global emergency.
"We would all love the season to be back under way immediately, but all rugby activities are currently suspended and there are no guarantees as to when we might start playing again. In light of the latest advice and information from the Government, along with the pattern of escalation we have seen in the last few days, businesses around the world are being heavily impacted and we, Wasps, are no different.
"With this in mind, we need to take some extremely difficult and significant action to reduce costs immediately so we can resume doing what we love when this is all over. The impact of these decisions is going to be felt across the whole business.
"Having discussed this situation at length with my colleagues from across the league, as well as Premiership Rugby, we are putting in place salary reductions of 25 per cent across the majority of the Rugby department until we are playing Gallagher Premiership matches again."
Earlier on Friday, before news of Wasps' decision was confirmed, the club's back-row Brad Shields spoke exclusively to Sky Sports News.
"It's a pretty unique situation." Shields said. "It's not just rugby, it's not just sport that's been affected by this.
"It's small businesses, it's big businesses, it's employees all over the country that it's starting to affect, which is really tough.
"There has been a bit of chat amongst the team, but I think within the next day or so, we'll have some more detail around that.
"Whatever it is, it's going to be tough to swallow. Hopefully we can come back out on the other side and all work together, but i'd imagine it's going to be really tough for some people."
"At the moment, we've been advised to stay away from the training facility until further notice," The England international continued.
"We're due to come back in on April 9th, but we're not really sure when that will change.
"We're kind of training by ourselves and most people are at home spending times with their families, trying to keep busy, to stick to a routine as much as we can and to try and stay fit because I guess we never know when the season might start up again, its up in the air.
"We know as much as everybody else.
"It's obviously a very tough time for everybody and just on the sporting front, it's something that we're used to doing all the time and to have that taken away, like a lot of people, is quite tough.
"So we thought, and some of the guys in the offices put their heads together and in consultation with a few of the players, about doing something nice for people and some of our fans.
"So some of our fans who are in isolation or a little bit lonely, we wanted to give back by giving them a call to see how they're going, try and make their day a little bit and give them a bit of a smile.
WBecause we know how tough it;s going to be. We've only been at home for a couple of days but some people could be at home for the next three or four weeks. It's quite a tough time."